If you like #SabreSim2012, please follow presenting sponsor Oogie Games!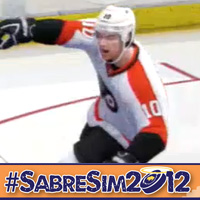 (BUFFALO, NY) Two first period goals were enough to deal Jhonas Enroth his first loss of the season as the Flyers beat the Sabres 2-1 at First Niagara Center.
Enroth's 27 saves earned him the First Star of the game.  The Sabres managed 21 just shots on Ilya Bryzgalov, who was named the game's Third Star.
The Flyers took the lead at 8:23 of the first when Ruslan Fedotenko set up Brayden Schenn for a shot through traffic that Enroth never saw.
Less than four minutes later, Jakub Voracek made it 2-0 when he created space by putting a move on Sabres defenseman Mike Weber and fired a slapshot over the blocker of Enroth.
Jason Pominville scored at 1:35 of the third, beating Bryzgalov from a bad angle on the rush.  It was Pominville's fourth goal and eighth point of the season.  He leads the Sabres in both categories.
Buffalo played without defenseman Tyler Myers, who is expected to miss about two weeks with a lower body injury.
Buffalo has lost two in a row to go to 3-4-0, dropping below .500 for the first time this season.
The Sabres next face the Bruins.  The game is scheduled for Tuesday night in Boston, weather permitting.
*****
SCORING:
FIRST PERIOD
PHI 8:23 – B. Schenn (1), (R. Fedotenko, A. Meszaros)
PHI 12:34 – J. Voracek (2), (Unassisted)
THIRD PERIOD
BUF 1:35 – J. Pominville (4), (Vanek)
THREE STARS
*****
Sabres Lineup:
Forward Lines
Vanek – Hodgson – Pominville
Foligno – Ennis – Stafford
Leino – Grigerenko – Gerbe
Ellis – Ott – Kaleta
Defensive Pairings
Regehr – Sekera
Ehrhoff – Leopold
Sulzer – Weber
Goaltender
Enroth
*****