I'm not typically a "wear my favorite player's jersey" guy.  But when the Bills unveiled their new/old look, I wanted in.
Here's the problem…  you can't buy a blank football jersey.  Even if you could do it, you'd look like a player doing a non-sanctioned commercial for a local auto dealership.  So, it's time to bet on a player and make a commitment.
In rationalizing the purchase, I immediately had to violate self-imposed rule #1:
Don't wear the jersey of a guy who is younger than you.  It's weird enough to walk around with somebody else's name on your back like a high school girl wearing the star quarterback's letterman jacket.  At least if the athlete is older, there's still an innocent, childlike element to the admiration.  Steer clear of accidentally telling people "when I grow up, I want to be just like this guy who is 17 years younger than I am."
At age 37, rule #1 put me in a tough spot but I managed to hold firm on the rest.
(To be clear, I'm not trying to tell you what to do.  Make your own choices.)
The rest of my rules:
Be a little creative.  Don't get something that 6 of the 10 guys at your tailgate party will be wearing.
Don't get cute/ironic.  Your choice of Chidi Ahanotu made one person smile once.  After that, nothing.
Plan ahead.  Try for a guy who is unlikely to be benched, cut, traded, or incarcerated in the near future.
Consider body type–  both his and yours.  A 5'4″ adult male in a Tyler Myers jersey looks ridiculous.  So does a 400 pounder crammed into a Roscoe Parrish uni.  (There's a part of me that thinks they should only sell jerseys in the size that the actual player wears, but that would eliminate kids…  and, really, kids should be the ones wearing jerseys–  not us.  I mean, come on, what are we doing?)
Anyway, here's where I wound up.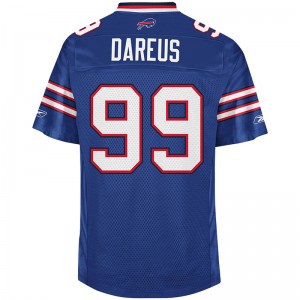 One year into owning a Marcell Dareus jersey, I'm very pleased with my selection.
After listening to the interview Dareus did with Howard Simon and Jeremy White this morning, I'm even happier.