In July, I posted a piece with the headline "Learn About Khalil Mack Now Or Feel Stupid Later."
If you didn't read it then, now's a decent time to get caught up because one game into the 2013 season, the college football world has taken notice of the future NFL LB.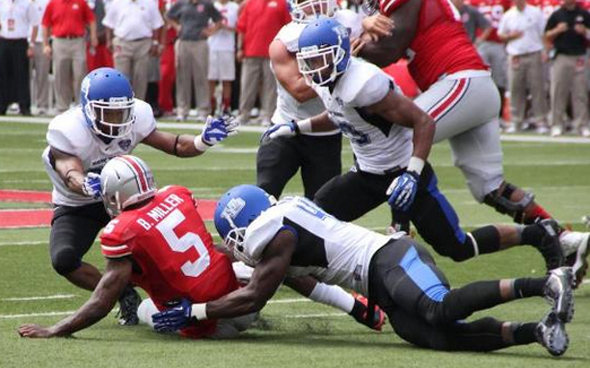 In the opener against #2 Ohio State, Mack totaled 9 tackles (it felt like 19), 2.5 sacks (plus another which was called back due to penalty), and an interception followed by a 45 yard return for a TD.
It looked like this.
Ohio State head coach Urban Meyer commented on Mack after the game.
"They've got a kid that kicked our tails, that outside linebacker, had a couple of sacks [and] pressures. I know he beat guys that I expect to play very well on our offensive line."
For his effort, Mack was named MAC East Defensive Player of the Week (no brainer) and cbssports.com picked him its NATIONAL Defensive Player of the Week.
Buffalo's defense might not have been ready for Ohio State's 23-point explosion in the first quarter, but Khalil Mack and his teammates locked down the Buckeyes for the rest of the game. The Bulls outscored Ohio State 20-17 in the final three quarters, thanks in part to Mack's pick-six in the second quarter. The future NFL linebacker chased Braxton Miller all over the field, finishing the game with 9.5 tackles, 2.5 sacks and the interception returned for a touchdown. For a great story on Mack's recruitment (or lack thereof), check out Bruce Feldman's Big Picture.
That's the kind of thing that can happen when your game is nationally televised and happens to be the first one to kickoff on the first Saturday of football season. In 2013, people go online to talk about things they see on TV… and anyone tuned in saw a lot of Khalil Mack.
46 Mack LB for Buffalo #beast

— Chris Spielman (@chris_spielman) August 31, 2013
Khalil Mack's stock is only getting higher. Sack on Miller to force a three-and-out. #BUFFvsOSU

— Austin Ward (@AWardESPN) August 31, 2013
A half hour ago, we were discussing when to bench Braxton. Now he has to play just to keep pace with Khalil Mack in the Heisman race.

— Ben Axelrod (@BenAxelrod) August 31, 2013
Og Buffalo har LB Khalil Mack, der har været dominerende i kampen i dag. Pick-six og netop sacket Miller #nfldk

— NFLXpert.com (@NFLXpert) August 31, 2013
Khalil Mack is putting on an NFL tape, Mel Kiper, Todd McShay and MY MAN Mike Mayock CAN'T WAIT to get their hands on!

— Troy McDonald (@TheImpactPanda) August 31, 2013
Khalil Mack is very attractive to me

— Daijaa (@DaijMonay_) August 31, 2013
Glad people are getting to see Khalil Mack on a national stage today. Dudes been a terror in the MAC.

— Jordan Strack (@JordanStrack) August 31, 2013
Lunch-time thoughts: Most impressive players today (draft wise) are Khalil Mack, Jake Matthews, Dom Easley, Braxton Miller.

— Matt Miller (@nfldraftscout) August 31, 2013
Up next for the Bulls– a trip to Texas to take on the Baylor Bears. Head coach Art Briles compares Mack to the guy who went 2nd overall in the 2011 NFL Draft.
'All the talk that he's generated for himself, he certainly deserves,' Briles said about the linebacker. 'He's a big time, good football player. If I had to compare him to somebody, I watched two or three plays and said Von Miller.'
Kickoff at Floyd Casey Stadium in Waco is this Saturday at 3:30PM (ET) on Fox Sports Network and Sportsradio 1270 The Fan.