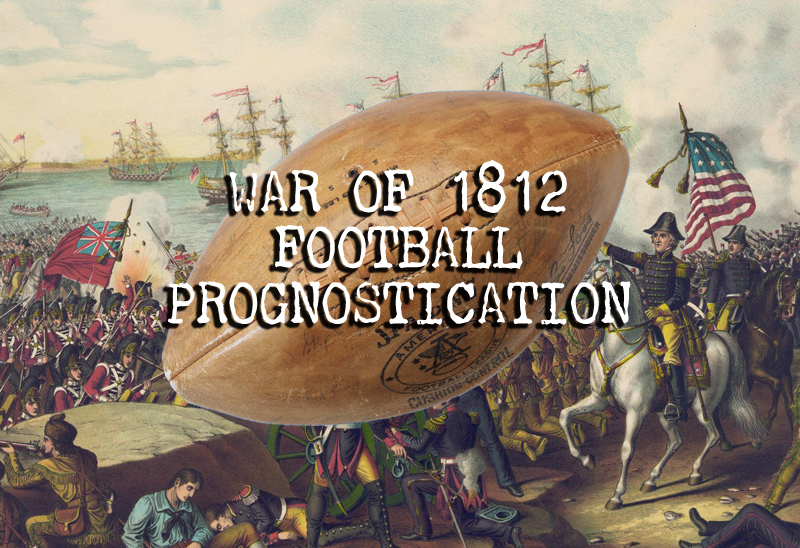 (Editor's note: Mixed into a rambling narrative about the current state of affairs in the NFL loaded with historical and pop culture references, Mr. Brutal makes some football picks. Why does he call it the "War of 1812 Football Prognostication"? He likes history, he's Canadian, and it probably has something to do with those two facts. That's all we've got.) 
The 2014-2015 Season begins.
After recent public outcry and stinging criticism, Commissar Roger "Goody Two Shoes" Goodell reacted almost immediately (by medieval NFL standards) and increased the penalties for domestic violence. It has become quite obvious how public image conscious the "new" National Football League has become (if not genuinely concerned all that much about the actual crimes/offenses committed by its players and owners or the well being of the victims.)
In an attempt to sway public opinion while simultaneously appearing proactive, the NFL has concocted a list of potential and repeat offenders of various transgressions this season. In a preventative move, they have filmed ready made public service announcements starring the likely perpetrators for release throughout the upcoming season, ……
1. Cowboys Owner, General Manager, Ringmaster, Shadow Coach and All Around Bagman Jerry Jones
It's a PSA outlining the dangers of MPMC (male post menopausal crisis) including the dangers of having plastic surgery conducted by a surgeon with a Waylon Flowers & Madame obsession and a 1-800 help line number for septuagenarians who cannot stop taking questionable selfies with teenage girls in bathrooms.
2. Jets Coach Rex Ryan
It's a heartfelt appeal from the American Podiatrist Association regarding the importance of good foot health and the often overlooked, unappreciated and understated beauty of fallenfemale arches.
3. Ravens Running Back Ray Rice
It's a PSA for proper elevator safety.
---
Thursday, September 4, 2014
8:30 pm Green Bay @ SEATTLE (-6) 46.5
In the very capitalist world of big time professional sports, the Green Bay Packers existence is fraught with irony. It is a testament to the success of the very socialist revenue sharing-salary cap business model of the NFL and the left wing community ownership of the Green Bay franchise that the Packers can compete year after year without the constant threat of relocation. In no other major league sport could a relatively geographically-isolated city with a population smaller than Peoria, Illinois maintain a competitive roster and franchise stability.
Even though he has a lop-sided Super Bowl win under his belt as Coach of the Seahawks, Pete Carroll is still aware that he is perceived by many within the aristocracy and landed gentry circles of the upper echelons of the NFL as a very lucky, intellectual light-weight strategist and one-shot-wonder glorified varsity pep squad leader of a coach.
He has vowed to rectify that perception. In a rousing and confusing team meeting earlier this week, Pete challenged his team to be hungrier and more motivated than ever this year. He declared that the Seattle Seahawks were already the greatest team in the history of professional competition despite the fact that they have only won a singular championship. When a couple players questioned the wisdom of such a grandiose statement, stating it could seen as an absurd observation, Mr. Carroll replied:
"Of course it is an absurd observation but I expect you to believe it because I've told you it is the truth! In the words of Voltaire:
'Those who can make you believe absurdities can make you commit atrocities.' So let's get out there on Thursday and eviscerate those stinking Packers and skewer that overrated Cal Bear Aaron Rogers!"
Pick: SEAHAWKS (-6)
Bob: Packers
---
Sunday, September 7, 2014
1:00 pm
New Orleans @ ATLANTA (-1) 52.5
Every year the swallows return to Capistrano, the buzzards return to Hinckley, Ohio, and after losing several consecutive games in the autumn, the fair-weather Falcon fans leave their seats in the Georgia Dome for the safety of their man caves on Sunday afternoons.
Pick: Saints (+1)
Bob: Falcons
---
Minnesota @ SAINT LOUIS (-4) 44
The Vikings have a potentially great new QB in Teddy Bridgewater, but he won't start. New boss Mike Zimmer has waited a long time to be a head coach, and he doesn't want to destroy his meal ticket by feeding him to that rabid Rams defensive front seven in his pro debut. That's what journeymen like Matt Cassel are for.
Pick: RAMS (-4)
Bob: Vikings
---
Cleveland @ PITTSBURGH (-6.5) 40.5
Questions abound around the Browns in the proposition wagering market. Which will occur first this year– Johnny "Hancock" Manziel gets arrested after a Pac Man Jones-caliber dust-up in some night club, owner Jimmy Haslem is indicted by a grand jury on federal racketeering charges, or wide receiver Josh Gordon enters Ricky Williams' California Ashram & Commune to find himself in the year of his discontent, persecution, suspension and exile? Gordon's case is especially distressing because although he initially indicated his positive reading was due to secondhand smoke, it has since been revealed that he thought he was performing an act for charity, but misunderstood the "ALS Ice Bucket Challenge" for the "THC Ice Water Bong Challenge."
Speaking of chronic cannabis sativa imbibers, we'll know more about the Steelers chances this year after the playing status of their running back duo of "Cheech & Chong" (Bell & Blount not "Blunt") has been dealt with by the legal system and his excellency, the Great Goodell. ….
Pick: STEELERS (-6.5)
Bob: Browns
---
Jacksonville @ PHILADELPHIA (-10.5) 53
Eagles Coach Chip Kelly is quite the genius. He has successfully brought the Oregon Ducks' bi-turbo supercharger offense to the NFL without missing a beat. This despite the fact he insists on having it directed by PAC 12 quarterbacks who are slower than average. If Nick Foles continues to play poorly like he did in the pre-season, there could be trouble.
Wild Prediction Number One for the Year: No one believes that Jets' quarterback castoff, the post traumatic stress disorder suffering back-up Mark Sanchez is going to be an improvement. So we'll see the true Newtonian Chip Kelly brain in action when he takes G.J. Kinnie off the practice squad and hands him the keys to the Testarossa. In college he threw for a third of a marathon in a non-stop uptempo attack at the University of Tulsa.
Pick: EAGLES (-10.5)
Bob: Eagles
---
Oakland @ J-E-T-S JETS! JETS! JETS! (-5.5 ) 40
The Jets have given up on WR Stephen Hill. He was recently cut by the team after two mostly mediocre seasons in Gotham. This really shouldn't be a surprise to anyone who saw him play at Georgia Tech where he only caught 49 passes in his entire three year college career in their Naval Academy offense that throws the ball about as often as cicadas meet for mass mating rituals. But things should be okay. The crack Jets scouting staff and management has surrounded sophomore QB Geno Smith with a group of under-achievers, has-beens and unknown quantities to function as targets in their new "stealth" passing attack. A recent off-the-record comment by a Jets assistant coach explains:
"We don't know if any of them can play, so the opposition won't know either and thus won't know how to prepare and prioritize their defensive strategy. The element of surprise looms as a game-breaker for us."
Pick: Raiders (+5.5)
Bob: Jets
---
Cincinnati @ BALTIMORE (-1.5) 43
The Bengals have signed the heart of their roster (Andy Dalton, A.J. Green and Vontaze Burfect) to long term deals in the offseason. The Ravens have Joe Flacco signed to an eternity contract that has consumed most of their salary cap like a bad strain of necrotizing fasciitis. On the positive side for the Edgar Allan Poes, RB Ray Rice has been accepted back by the fans and has cemented his street cred for his post retirement acting career playing Stanley Kowalski.
Pick: Bengals (+1.5)
Bob: Ravens
---
Buffalo @ CHICAGO (-7) 47
Potential all over the Bills' roster but QB is a question. Buffalo fans can just hope the preseason disaster tire fire offense is just a meaningless mirage perpetrated by the paranoid pointy-headed strategists on the coaching staff to not show the opposition any of their new formations or tendencies. Unfortunately it seems more likely that QB and chief arsonist E.J. Manuel is set to start his sophomore season holding a gas can and box of matches.
Pick: BEARS (-7)
Bob: Bills
---
Washington @ HOUSTON (-2.5) 45.5
It takes quite a bit of doing to seize the title of "Densest Public Figure" in Texas. Lone Star Governor Rick Perry may be the least intelligent state boss in America and Texas Representative Louis Gomert is a shoe-in for stupidest Congressman in the United States. But the collective brain-trust that is involved in planning, drafting and running the Houston Texans' offense is giving them both a run for the money.
(In an effort to respect the dignity of Native North Americans, we at the War of 1812 Prognostication will cease to use the historically derogatory, racist and purposefully violent and graphically demeaning official team name for the squad from the District of Columbia. In its place we offer the most awkward to pronounce, grammatically unacceptable, farcically concocted and euphemistic nickname possible. Hopefully this will encourage Washington owner Little Lord Fauntleroy Snyder to get on the right side of an issue for the first time in his SHORT, privileged, self-centered life and his subsequently bullying and vainglorious tenure as owner of the National Football League's franchise in the Nation's Capital.}
Pick: Rufescent Epidermis (+2.5)
Bob: Redskins
---
Tennessee @ KANSAS CITY (-4) 44
When the Oilers moved from Houston to Nashville, owner Bud Adams changed the team name because he wanted no bad memories to linger and a new start in a new city begat a new moniker even though the Oilers label was still a geographically relevant term in Tennessee due to Jed Clampett's 1962 Texas Tea strike in Pigeon Forge.
The Titans have not played like Greek gods recently so maybe they should change the name again. In an effort to reflect prevailing mercantile realities and attract much needed economic investment in the Volunteer State while simultaneously respecting the team's sobriquet and petroleum product history, we propose they rename the team the Tennessee Fighting Frackers.
Pick: CHIEFS (-4)
Bob: Chiefs
---
New England (-4.5) @ MIAMI 47
The Patriots will still most likely win the weak and wobbly AFC East despite Bill Belichick trading away anyone with more money on their contract than tread on their joints. Tom Brady has had no plausible deep threat since the Oracle of Foxboro jettisoned WR Randy Moss out of town several years ago.
Pick: Patriots (-4.5)
Bob: Patriots
---
4:25 pm
Carolina @ TAMPA BAY (-1) 39.5
Is Superman going to lead the Panthers to success with none of last years receivers on the roster? Maybe, if the management had drafted wisely and added prudent free agents to compliment Cam Newton's strengths and abilities. ROTFLMAO LOL HA HA HA and every other acronym that denotes incredulous amusement.
Pick: BUCCANEERS (-1)
Bob: Bucs
---
San Francisco (-5) @ DALLAS 51.5
With the recent arrest of DE Ray McDonald, the 49ers rap sheet is starting to replicate that of the Urban Meyer-era Florida Gators. Many fans and media await Commissioner Judge Roy Bean's exercising of his new policy of extended suspensions for domestic abuse by players. Officially, San Francisco is the statistically most felonious team in the NFL over the last five years. Fans across the Bay Bridge in Oakland can only look on with nostalgic envy.
Pick: NINERS (-5)
Bob: Niners
---
8:30 pm
Indianapolis @ DENVER (-7.5) 56
Broncos' WR Wes Welker has been suspended four games for amphetamine use… shocking! Wes claims someone slipped something into his drink. He may be right, since the oft-concussed and diminutive pass catcher never appeared to have a weight problem or was known to attend rave parties or listen to mindless hypnotic Euro-Pop on his headphones before games. On the good side, aging cyborg-automaton Peyton "Gort" Manning has a deep roster of pass catchers including the recently acquired Emmanuel Sanders to throw to and Welker has a month to rest his oft-bruised brain.
Pick: COLTS (+7.5)
Bob: Colts
---
Monday, September 8, 2014
7:10 PM
New York Football Giants @ DETROIT (-5) 47
The Meadowlands Giants have a goal this year: to have Eli Manning complete 70% of his passes. Good Luck! Only George Clooney in his bachelor heyday exceeded that number.
Intense, erratic and sometimes reckless head coach Jim Schwartz has been replaced in Detroit. The Ford family has opted for kinder, gentler leadership in the person of new head coach Jim Caldwell. This fits right in with the zeitgeist of the Motor City which is known as a patient, peaceful, prosperous and philosophically pacifist metropolis. We'll see how this plays out as an NFL career .500 and Collegiate sub .300 record field marshall guides the Good Ship Simba through the coming season.
Pick: LIONS (-5)
Bob: Lions
---
10:20 pm
San Diego @ ARIZONA (-3) 45
The Honolulu blue & gold Frankenstein neck bolts head to the southwest desert to open the season in the twi-night half of the 2014-15 Season Monday Night Double Header. Although the Cardinals are often perceived as geographically ill-named due to only a very small population of "Cardinalis cardinalis" actually residing in the state (mostly in Southeast Arizona), they are hardly the poorest named professional sports team that retained a name more relevant to their previous franchise location.
The only "lake" in Los Angeles is that stagnant swamp in MacArthur Park and damned if anyone can find a decent Jazz Club in Salt Lake City.
Pick: CARDINALS (-3)
Bob: Chargers