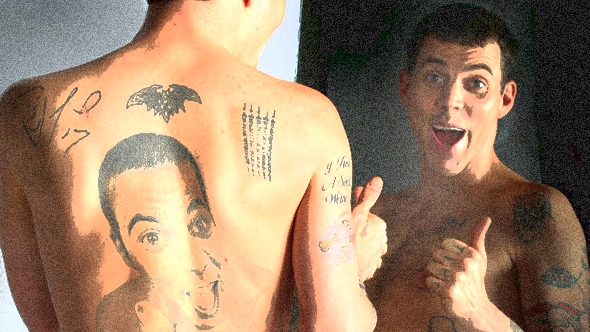 Yes, Steve-O (of MTV's Jackass fame) has a giant tattoo of his own face on his back… but that doesn't crack our list of his 5 greatest "accomplishments".  With no research whatsoever, these 5 came to mind immediately.
5.  STEVE-O EATS RATS

4.  STEVE-O'S NOSE vs MIKE TYSON

3. STEVE-O vs a BB GUN

2. STEVE-O'S NOSE vs WASABI

1. STEVE-O vs A CEILING FAN

How on Earth is the ceiling fan number one on the list? Two words– elegant simplicity.
So… what does Steve-O do when he performs live on stage? We have absolutely no idea. Good news– we've got 5 chances to find out. He rolls into Buffalo this weekend for one show Thursday night and two per night on Friday and Saturday at Helium Comedy Club.
Yeah, dude.