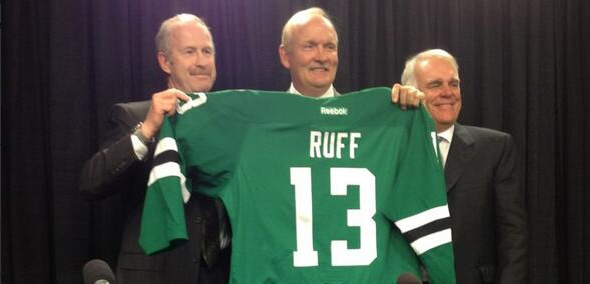 Dallas Stars General Manager Jim Nill announced today that the team has hired Lindy Ruff as the 22nd head coach in franchise history and the seventh in Dallas Stars history. All nine Dallas Stars fans took to The Twitter to express their approval.
Lindy Ruff FTW! I love this hire.

— Alex Haralson (@InternAlex2008) June 21, 2013
Lindy Ruff, eh? Nice job @DallasStars

— Chris Apaliski (@RedefineChris) June 21, 2013
Lindy Ruff!! Love this hire for the Stars!

— Gregg McBride (@RangersFanGregg) June 21, 2013
Ruff is a great hire by the @DallasStars. Building their identity by the day. Who wants to go in on a ticket package for next season?

— Blake Friis (@BlakeFriis) June 21, 2013
5hoke her while I stroke , she say she like that ruff shit …

— La'$avage#PG (@HighLifeKrew_Yc) June 21, 2013
@MacEngelProf Great write-up on Ruff. Just what the Doctor ordered for this team.

— Shane Kelly (@NewfieTweet) June 21, 2013
Awesome, Lidy Ruff welcome to the Big D.

— Dustin Andrew Wilson (@DJdizziedustie) June 21, 2013
Like the Ruff hire. In Buffalo, constantly losing players to bigger markets yet always competitive. Great work ethic as player and coach.

— Bruce LeVine (@BruceLeVine22) June 21, 2013
@Trudo Would be a full dickslap to Buffalo if Dallas won a cup with Ruff.

— Chris Hair (@Shockticus) June 21, 2013
Let's Go Suf-fer-ing. Clap, Clap, Clap Clap Clap!