With an ever-expanding network of websites, affiliates, partners, and social media platforms, Trending Buffalo reaches more than 100,000 Buffalonians every month (and we're just getting started). We create Buffalo-focused web content designed for viral distribution across social networks.
HERE ARE 4 SIMPLE WAYS WE CAN HELP YOUR BUSINESS
$25 – Tweets or Facebook posts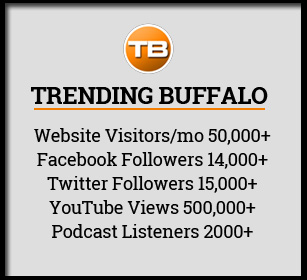 Want to get the word out about a special event, sale, new product, or happy hour specials? Our "sponsored message" is more valuable than traditional advertising so let us tweet it to our 17,000+ followers or post it to our Facebook page with 21,000+ likes for you.
For the $25 fee, we'll post your message two times (at different time slots – i.e. morning & evening) to maximize your reach.
$250 – Feature Post or Review
Let us talk about your business is for you! We'll visit your business or try your product and create an entertaining piece about the experience. It can be a one-time thing, an ongoing series, or anything in-between.
We'll create a "Sponsored Post" and share the articles across our social networks to get your business exposure to thousands of potential new customers. We'll also reinvest $50 of your fee to promote the post through Facebook advertising to get you even more exposure.
In addition, this "3rd party endorsement" is great content to share on your own social networks and our external links to your website will provide a boost for your business's Google search rankings.
Here are a few examples of feature posts we've created for clients in the past.
$500 – Feature Video
We can create videos for your business, too! We'll shoot and edit the video, post it through our youtube channel and then share it through our social networks. Whether it's a one-time business overview or ongoing feature series, we have the creativity and capabilities to make it happen.
Here's an example of a feature video we created for a client.

$100/mo – Website Display Advertising
We have multiple locations and sizes available to place display ads on www.trendingbuffalo.com starting as low as $100/month.
Let Us Help You Now!
These are four straight-forward options to help your business, but we'd also be up for creating a custom plan that works specifically for your business. Package pricing discounts are available. 
Contact david [at] trendingbuffalo.com to have a chat about how we can help.
Let's Go Buff-A-LO!