So, you work downtown and you find yourself getting hungry in, like, the middle of every day?
Here are 5 lunch spots you should think about checking out.
E Cafe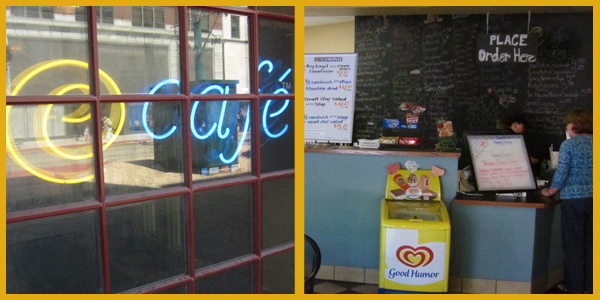 E Cafe (487 Main Street at Mohawk) is the absolute perfect downtown lunch destination. Whether you're thinking hot or cold, you'll find something to your liking on the gigantic chalkboard menu– and you'll get it quickly. Even if you're one of those annoying people who is far too important take a quick break for sustenance, E Cafe's got you covered with free wi-fi. Now the world doesn't have to be without your brilliance during your turkey reuben. If you're in or around Fountain Plaza and haven't tried E-Cafe, you're doing it wrong.
Emerson Commons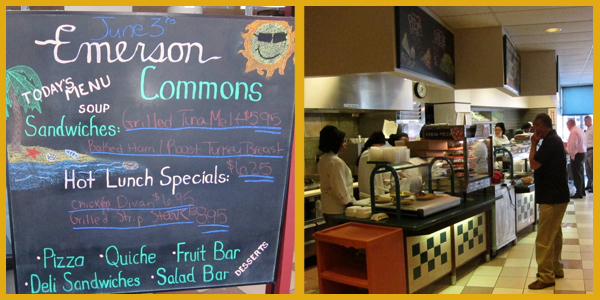 Emerson Commons (70 West Chippewa between Delaware and Franklin) is a cafeteria-style restaurant operated by staff and students of the Emerson School of Hospitality. The daily specials are probably great but we wouldn't know because we're hooked on the soup (5 varieties daily), pizza (4 varieties), carving stations (beef and turkey), salad bar, and cookies. Show up with exactly seven dollars and leave with entirely too much delicious food. Show up with less and you'll be fine, too. Lunch runs from 11:15 AM until 1:30 PM. (Note- After this week, Emerson shuts down for a month– something about the school year and graduation blah blah blah. We'll anxiously await its return.)
Rachel's Mediterranean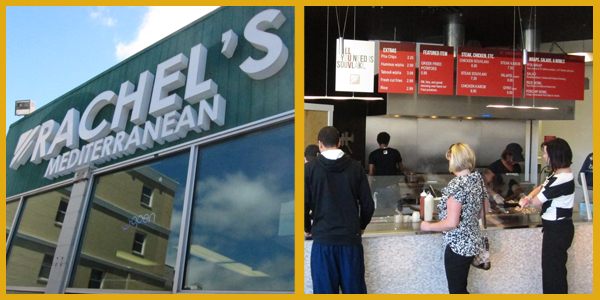 We can almost see Rachel's Mediterranean (235 Delaware Avenue at Chippewa) from our office… but not quite. Because Starbucks is in the way, we're not sure how long Rachel's was sitting there before we stumbled across it. Yes, we're holding a grudge, Starbucks. Rachel's is essentially Greek Chipotle. Pick a salad, wrap, or bowl, choose your meat (chicken, steak, gyro, falafel), and then coach the person behind the counter through a large variety of toppings and sauces. (Yes, we know, falafel isn't meat. It's actually kind of the opposite of meat, but tasty nonetheless.) First time through, go with the gyro on Greek flatbread. If you can bring yourself to order something different the next time, start working your way through the options.
Canalside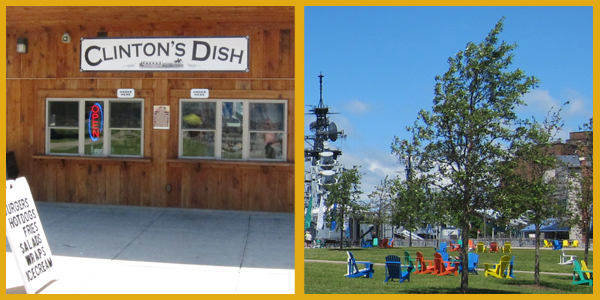 With food trucks now allowed to operate down at Canalside, we're picturing an ensemble cast forming a virtual food court on wheels this summer. For now, the old standby of Clinton's Dish will do just fine. Burgers, dogs, fries, salads, wraps, and ice cream (we read the sign) don't require seating or silverware. Just grab a few extra napkins and walk away the calories nearly as quickly as you ingest them. BYOF is also an option. This is about the venue, not the food itself.
Hot dog carts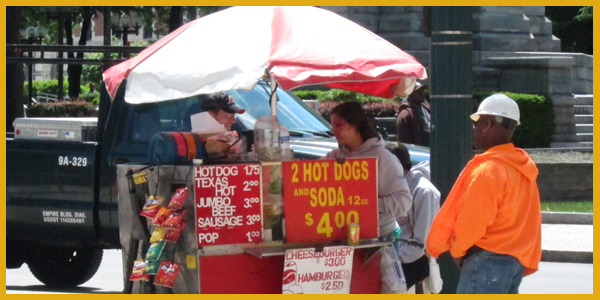 The hot dog cart (located EVERYWHERE) is the original food truck. While hot dogs aren't an "every day food," 4 bucks for 2 dogs and a drink is a freaking steal. Go nuts and spend an extra 50 cents to turn them into texas hots. You deserve it. At that price, we're not even offended by the tip jar.
You can't go wrong with any of these options but…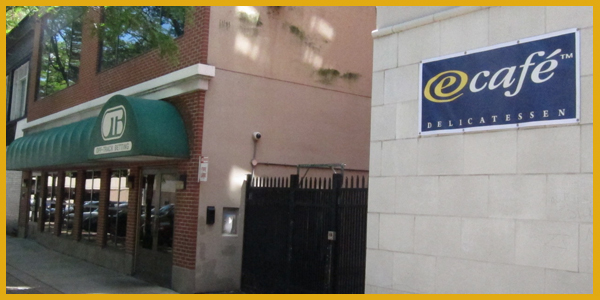 … only one of the places we listed is adjacent to an OTB.
We BET you'll enjoy lunch.
***SPONSORED POST***