Podcast: Play in new window | Download
Subscribe: RSS
Prediction I'm making in pencil: Bobby Hurley will be the new #Buffalo basketball coach.

— Jonah Bronstein (@lebronstein) March 26, 2013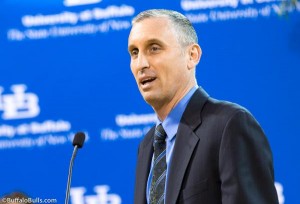 Former Duke point guard Bobby Hurley is in as the successor to Reggie Witherspoon as the UB men's basketball coach.
Yes, THAT Bobby Hurley.
Really.
The official Bulls press release includes quotes from Hurley's father, his brother, Jay Bilas, Christian Laettner, and Coach K.
"I am incredibly happy for Bobby and for the Buffalo Basketball program. What a great marriage it will be for Bobby to work with Danny White. The two will form an incredible team that will take Buffalo Basketball to another level of success. Bobby Hurley is as good of a competitor and the equal of any guard to play in the history of college basketball." – Mike Krzyzewski, Duke University Head Men's Basketball Coach
Jonah Bronstein of HomeBase Buffalo joins me to discuss Reggie, Hurley, the UB football program, and AD Danny White's vision for the future of UB athletics.
Follow @HomeBaseBuffalo on Twitter.