I won't call The Tragically Hip my favorite band because I won't call anybody my favorite band.
But they're one of a handful that, when I'm listening to their music, I sometimes wonder why any other bands even need to exist.
Suffice to say that receipt of this email was a pretty lousy start to the day.
---
An Important Message From The Band

Hello friends.

We have some very tough news to share with you today, and we wish it wasn't so.

A few months ago, in December, Gord Downie was diagnosed with terminal brain cancer.

Since then, obviously, he's endured a lot of difficult times, and he has been fighting hard. In privacy along with his family, and through all of this, we've been standing by him.

So after 30-some years together as The Tragically Hip, thousands of shows, and hundreds of tours…

We've decided to do another one.

This feels like the right thing to do now, for Gord, and for all of us.

What we in The Hip receive, each time we play together, is a connection; with each other; with music and it's magic; and during the shows, a special connection with all of you, our incredible fans.

So, we're going to dig deep, and try to make this our best tour yet.

We hope you can come out and join us this summer – details and dates will be coming this week.

And we sincerely thank all of you, for your continued love and support,

Paul, GordD, Johnny, Rob, GordS
---
Setlist.fm lists a total of twelve Tragically Hip shows in Buffalo but:
a) shows are clearly missing (see below) and
b) twelve shows wouldn't come close to explaining the connection between five dudes from Kingston, Ontario and what certainly became their American "hometown."
When you add Darien Lake, Lewiston, quick trip cities (Rochester, Syracuse, Erie) and, you know– Canada, there have been scores of opportunities for Western New Yorkers to catch The Hip live.
We've loved them all along. It's sure felt like they've loved us back– and not just because of our shout-out in "At the Hundredth Meridian."
As The Hip are Canadian, OF COURSE there's hockey entrenched in their aura… and it's produced some distinct Sabres connections over the years.
Here are a few memorable moments where Buffalo's love of The Tragically Hip and the Sabres have crossed paths.
---
1. THAT NIGHT IN ERIE
May 19, 2007. The Sabres trail the Senators 3 games to 1 in the Eastern Conference Finals. My friend Jeremy Noeson and I head to Erie, PA in the afternoon, find an empty bar, and– as Hip showtime approaches down the street– watch the place slowly fill up with Sabres fans.
It felt like we were all tailgating for game five and the atmosphere noticeably carried into Warner Theatre as we awaited the show. The band– Gord Downie, in particular– picked up on the pro-Sabres vibe and went with it.
From John Vogl of The Buffalo News:
During the song "Fireworks," which starts off by detailing a young man's transition from hockey to girls, Downie paid homage to the Sabres. The original lyrics, "You held my hand and we walked home the long way, you were loosening my grip on Bobby Orr," suddenly and shockingly became, "You held my hand and we walked home the long way, you were loosening my grip on Derek Roy."
More from Vogl, just after the show:
Gord Downie and his legendary Canadian band members said good night, walked off stage and waited for the fans to call them back for an encore Friday night in Erie's Warner Theater. The fanatics cheered and shouted, but it wasn't the usual "Hip, Hip, Hip" that serenaded the band. The sellout crowd — a good 35 percent of which was wearing some sort of Sabres gear –chanted and clapped, "Let's go, Sabres!"

The Hip came back for its encore and ripped into a cover of the Sabres' entrance theme: "Street Fighting Man" by the Rolling Stones.

After the spellbinding set and Downie's brilliantly over-the-top antics were complete, the streets of Erie echoed with shouts of "Em-ree" and horns blaring to the beat of "Let's go, Buffalo."
STREET FIGHTING MAN?!?! Did they know? Was it a coincidence?
Who cares? STREET FIGHTING MAN!
Nonetheless, the Sabres would be eliminated less than 24 hours later on a Daniel Alfredsson OT clincher.
It was the last time we'd see Chris Drury and Daniel Briere in blue and gold.
But that night in Erie, it sure felt like they were going to win the Cup.
(Note: I remember the chant as "Let's Go Buffalo" as opposed to the deplorable "Let's Go Sabres" that briefly infiltrated our fan base but I could be wrong– Vogl wrote about it that night and I'm writing this in 2016.)
---
2. THOSE NIGHTS AT TOWN BALLROOM
On a personal level, these two shows from March 2007 still haunt me.
Here was an opportunity to see one of the best pure rock bands to ever roll through town… at the the height of its power… at a CLUB… TWICE… and I missed both. Why didn't I catch either show?
Well, at the time, I was the host of the Sabres postgame show on the radio. And as luck would have it, the Sabres played back-to-back home games the same two nights The Hip were up the street so it just didn't fit my schedule.
You know whose schedule it fit just fine? The Sabres.
Play the game, answer a couple questions from Paul Hamilton, hit the shower, head to Town Ballroom– twice!
Several players attended both Hip shows. These were practically team field trips.
The Sabres lost both games (5-1 to Minnesota, 3-2 to New Jersey– two of just 22 regulation losses all season) and I'm convinced a chunk of the players weren't engaged either night because their cars were already running and pointed at Town Ballroom.
"No, that's cool guys. You take both nights off. I'll just hang back here and take phone calls about how you "suck" (during your President's Trophy season) while you grab some beers and watch The Hip at a bar. No worries."
---
3. FAREWELL TO DRURY AND BRIERE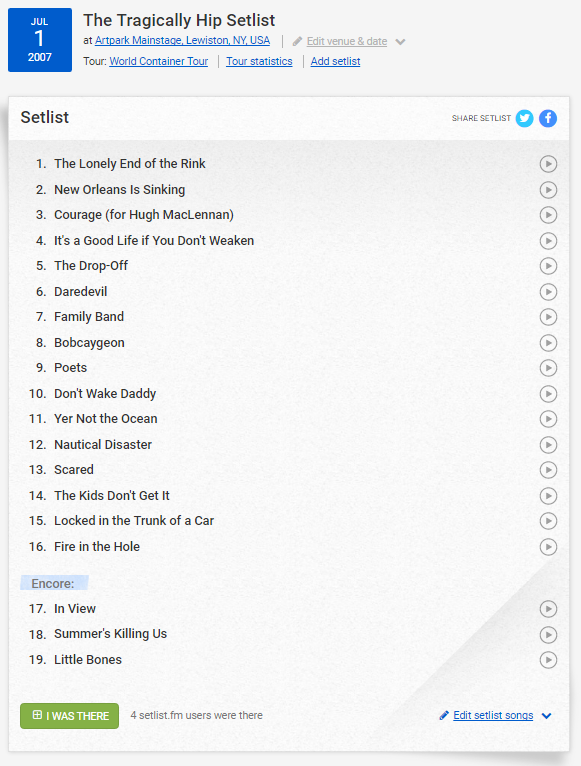 July 1, 2007 lives in infamy as the date Chris Drury and Daniel Briere, co-captains of the Sabres' thrilling two-season run, both skipped town via free agency. Many fans learned of this news while waiting for The Hip to take the stage at Artpark.
The Hip– with us in good hockey times and in bad hockey times.
Looking back at the setlist with the knowledge that it's from Drury/Briere departure day (DBD-Day?), it's tough not to link hockey life and art.
THE LONELY END OF THE RINK
We miss you already.
NEW ORLEANS IS SINKING
…and Buffalo's not looking so great itself.
COURAGE
Be strong, Buffalo.
IT'S A GOOD LIFE IF YOU DON'T WEAKEN
Perhaps this isn't the best time to tell you this, Sabres fans… because your team just weakened like a team trying to win a weakening contest.
THE DROP-OFF
If you look right in front of you, you should be able to make out a cliff AAAAAAAAAAAAAAHHHHHHHHHHHHHH
DAREDEVIL
Actual lyric: "plunging over the falls in a barrel."
NAUTICAL DISASTER
Frozen water is still water… and this was indeed a disaster.
SCARED
Be afraid because…
THE KIDS DON'T GET IT
I think he's looking at you, Drew Stafford.
FIRE IN THE HOLE
Why yes, this thing IS about to explode. Good call.
SUMMER'S KILLING US
I'll say.
---
BONUS CLIP 1:
Having missed the Town Ballroom shows, I had to travel a bit to catch the band in a smaller than (Buffalo) normal venue a year later. It's crazy what a two-hour car ride can do to shrink the size of the crowd when The Hip is involved.
The show was on my birthday so the marquee looked especially cool to me. I keep a photo of it on my basement bar.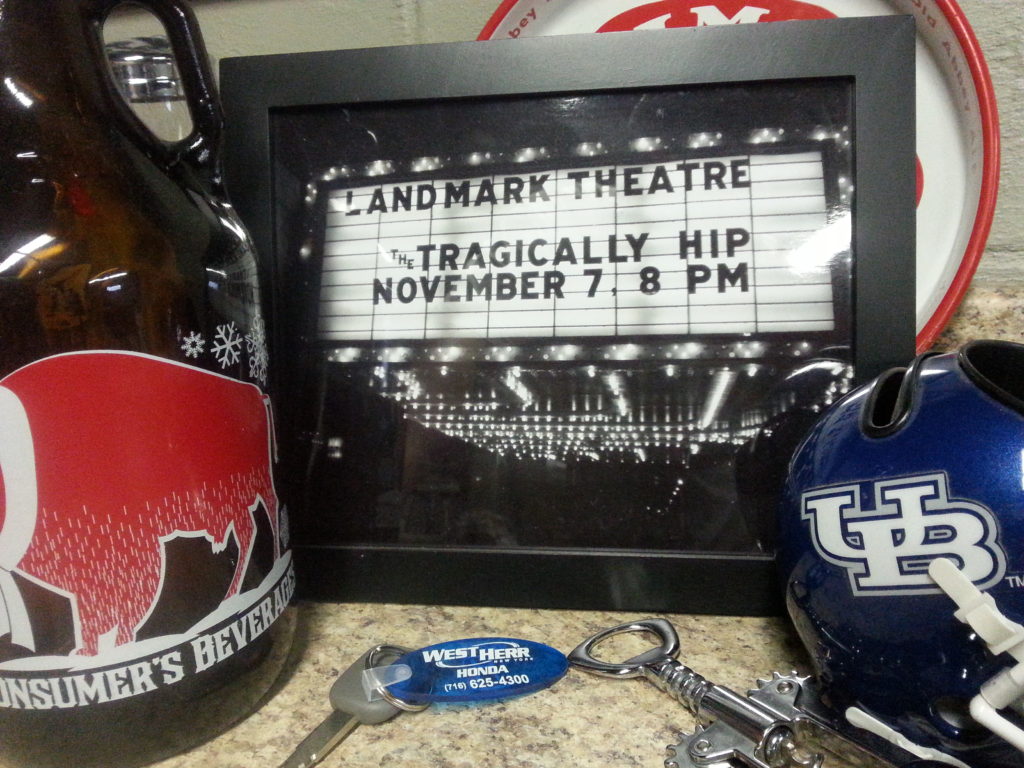 ---
BONUS CLIP 2:
In 2009, when The Hip released "We Are The Same," I was astonished to read descriptions from Buffalo News music critic Jeff Miers like "Downie delivers his finest lyrics and strongest vocal melodies yet" and (of "Now the Struggle Has a Name") "possibly the strongest, most viscerally imaginative and imagistic song in the Hip canon."
I'd not yet heard it but couldn't envision a scenario in which it took 25 years and twelve studio albums for The Tragically Hip to reach a creative peak– especially considering how strongly they'd come out of the gate way back when.
But Miers was right, just as he was right in stating "about the third time through the record… you realize that it now owns your soul, like it or not."
From the time I "got it"– and it took a few more than three listens before it really hit me– I've been calling "The Depression Suite" The Hip's best song to date.
"Are you going through something? I am, too."
Haunting, even then.
Thank you, Gord Downie.
We're all richer for having seen him.