I've seen a LOT of shows with my friend Sean but couldn't make it to Jane's Addiction/Alice in Chains at Darien Lake last night and the poor guy had to go alone. He passed along these notes.
********************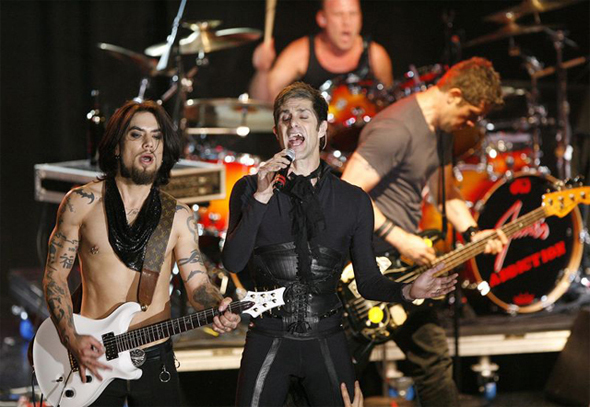 I went to the see 2013 Rockstar Uproar festival last night at Darien Lake, mainly to see Jane's Addiction for the first time.
A few thoughts:
I've solved the exiting Darien Lake in a timely fashion issue…borrow a Season Pass from your friend and you are allowed to park right near the entrance/exit to the park.  Total time to exit the park once I was in my car: 90 seconds.
I never really bought into the "Band A blew Band B off the stage" theory of concerts…until last night; Jane's Addiction was incredible and Alice in Chains was okay.
The set by Jane's Addiction, albeit an abbreviated 60 minute affair, was powerful, relevant, and mind-blowing.
Attending a concert by yourself is actually pretty cool.  I am usually the one to ensure that everyone else in the group is having a good time and properly educated as to what song the band is currently playing.  When you're by yourself, it's all about you and the band having a shared moment. (Editor's note: I'll assume you're not talking about me and just move on.)
Last night, Perry Farrell catapulted into my top 5 live frontmen of all time.
This ascension may have something to do with the "frontman drinking wine right from the bottle throughout the set" factor.  Have only seen two do this live– the other is Eddie Vedder.
I don't think Perry Farrell and Dave Navarro like each other much –they didn't made eye contact all night.
Hearing "Ocean Size", "Ted, Just Admit It…", "Stop!" and "Three Days" reminded me that Nothing's Shocking and Ritual de lo Habitual are downright classics and the band should be inducted in the Rock and Roll Hall of Fame yesterday.
As I mentioned, Alice in Chains were average.  Last time I saw them Layne Staley looked dangerous and sounded incredible as he tooled around the stage all night in a wheelchair suffering from god knows what.  That's a tough performance to top.
Perry Farrell is even cooler than I originally thought.  He can pull off being a crazy spiritualist who sings beautifully on stage, and then coach third base for his son's baseball team a few days earlier (courtesy of Jay Mohr's podcast with Farrell).
The night belonged to Jane's Addiction and their charismatic, wild, and unpredictable singer Perry Farrell.  They should be headlining by the end of this tour.