I hope you all enjoyed your extra family time on Sunday. Thanks, Thursday night football!
Smart Thing 1: Sabres University
Yes, Terry Pegula was one of the owners that voted unanimously to back Gary Bettman and the lockout. Whatever. That's his prerogative.
While we all helplessly sit around and pray the lockout ends soon, Pegula and Co. decided that sitting around is for chumps. So, they set up the clever "Sabres University" to fill the void and strengthen the franchise. From ESPN:
"Sabres University was an opportunity for employees to listen to lectures given in more than 30 areas of team operation, including ice making, public speaking, coaching strategy, scouting, marketing and fitness and diet.

The unique program, which features classes twice a week, has been a terrific boon to staff morale, which can wax and wane during a lockout, (Ted)Black told ESPN.com this week.

…The Sabres University initiative has helped staff, often focused entirely on its own duties, to understand how others in the organization do their job, (Darcy) Regier said.

'It's been very positive,' he said."
Strengthening a franchise during a lockout?
That's some real "Hockey IQ" being applied right there.
The cables holding up the video board up on the ceiling of @firstniagaractr! Great class today! #sabresuniversity twitter.com/kevinrkennedy/…

— Kevin Kennedy (@kevinrkennedy) November 15, 2012
For more insightful tweets from the program, use the Twitter hashtag #SabresUniversity.
Smart Thing 2: A Local Market Holiday Shopping Guide
S.J. Velasquez of Buffalo.com has set up a helpful holiday shopping guide, which is essentially a list of upcoming local markets – such as the "Black Friday Boutique Crawl" in the Elmwood Village, and the Broadway Market's "Kriskindlemart."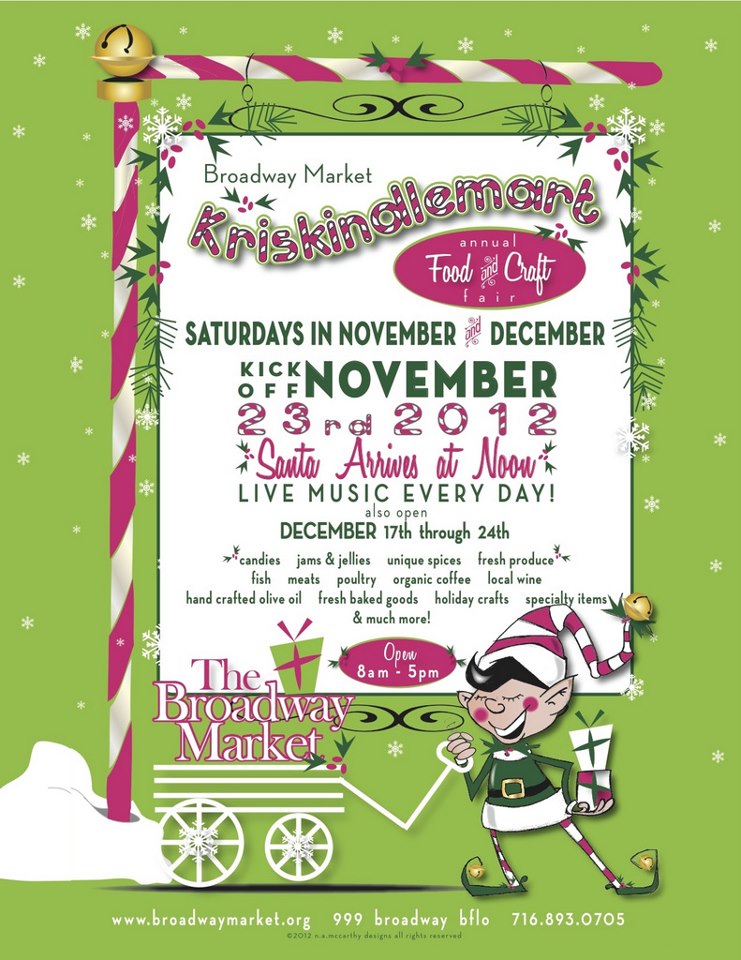 The best part about the list is that is being updated as events are made public, so keep checking in and shop local.
Smart Thing 3: Mapping our Buffalove
Add Reggie Bush to the growing list of athletes/personalities that have snubbed the City of Good Neighbors. We've been targeted so many, many times, that these days, it just rolls off like water off a duck's back. We know we've got a lot of Buffalove and plenty of great (and smart) things goin' on here, and one pair of Buffalonians want to map it all. From The Good Neighborhood:
"IDEA: We want to build a map of Buffalo (in zine form) with short vignettes about your experiences here. After all, even the smallest city ceases to exist without its people and their stories – good and bad. So let's make the most true-to-life map through our writings. Basically, we want a bit of non-fiction prose or poetry or something similar that somehow encapsulates what Buffalo feels like to you.

Maybe it's an experience or conversation that shaped the way you think about this city – a perception of Buffalo from abroad, or a specific location here (maybe it's Bird Ave, or The Amity Club, or your first apartment). Either way, relate it somehow to geographic area here. Let's define our neighborhoods with our own stories of what has happened in them.

We're going to push this at the Small Press Book Fair in March, so you've got time. If you want to submit something, please do so by Monday, January 7th. Keep it to two pages-ish, if you will. Feel free to pass this on to anyone else who you think would want in!

Send it here: Kristinedanielle77@gmail.com or here: msbrowntoyou11@gmail.com"
I absolutely love this idea, and I can't wait to see the end product (though I would love to also see an online, interactive version – but maybe that's in the works, too).
And no – this isn't something we need to show the buffoons that take shots at our town. This is just another example of a close-knit community coming together again to help make living here a more positive and empowering experience.
(I only wish Rob Ray's old bar, Rayzors, and its glorious buffet still existed. That's going to be my entry. Rob, if you're reading this, thanks for keeping me alive during my college years.)
******
Note: "3 Smartest Things" is being produced to go along with the "5 Dumbest Things" series here on TB. "Why three," you ask? Well – far be it from me to break our time honored tradition of berating each other on the progress of our fair Queen City. Tell you what, when the new Peace Bridge goes up, we'll go up to five. And of course, feel free to follow me on Twitter to discuss all things trending in Buffalo, and check out my blog "Buffalo Sabres Nation" when you're bored at work. Your boss will appreciate your increased productivity afterwards.