REASONS WHY I WENT TO SEE CINDERELLA AT A BAR NAMED BRAUN'S IN AKRON, NY
Sean, the guy I've been referring to as my best friend since roughly 1983, has been a HUGE fan of Cinderella since the release of Night Songs in 1986.
 I was aware of the show because I stopped at Braun's a couple months ago after playing golf at The Links At Ivy Ridge.  I saw a sign.  It opened up my eyes.  I saw this sign.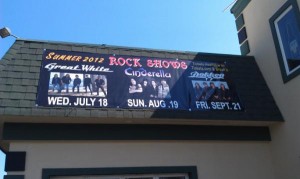 Sean had an extra ticket.
It was just a random Sunday night and…
CINDERELLA WAS PLAYING IN AKRON!
REASONS WHY YOU PROBABLY DIDN'T
Cinderella has some things working against them.  Terrible name.  Weird, screamy vocals.  Undeniable association with "hair metal" genre.
They played behind a bar in Akron.  Many of you don't even know that there's a town around here named Akron.
Zero promotion.
REASONS I'M GLAD I DID
It was fun.  There were moments when I felt 15 years old again, in a good way.
Great venue.  I'll keep an eye on this newly established concert destination.
Spent a few minutes in my vehicle after parking in the lot across the street.  I was making sure I had everything I needed…  phone, camera, money, ID, etc.  Guy managing the lot came up, knocked on my window, and assured me that I could "party" there as long as I'd like.  He probably thought I was shooting up, but I respect that.
I got to see merchandise FLYING off the shelves.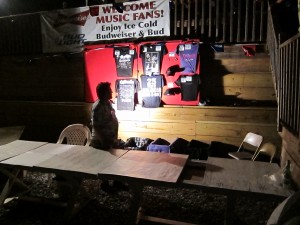 REASONS WHY I MIGHT NOT GO NEXT TIME
All of the "cheap pops" (say the name of the city you're playing in so as to get the "I'M FROM THERE!" crowd to scream) were dedicated to "New York" (presumably because it wasn't Buffalo enough to call it "Buffalo" and "LET ME HEAR YOU, AKRON!" sucks.)
Lead singer Tom Kiefer has had multiple surgeries on/near his vocal cords, preventing him from fully doing his thing.  (Note:  Nobody could possibly scream like that for 25 years.)
Short-ish show.  No covers or other interesting surprises.
In the end, I saw Cinderella play in Akron and that's all I have to say about that.