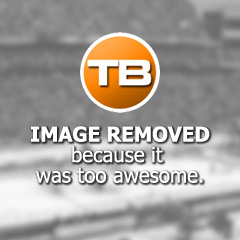 "With the third pick in the 2011 NFL Draft… the Buffalo Bills select defensive tackle Marcell Dareus."
And from that point on, the Bills would have the pleasure of plugging in a 330-pound professional disruptor for years to come.  A sure-fire perennial Pro-Bowler.  The kind of player plastered all over "The Wisdom of Solomon" as the guy that keeps offensive coordinators and offensive lineman up at night.  A new best buddy for Dan Dierdorf (see Vince Wilfork).
The Bills were clearly SET at defensive tackle.
But there's a problem.
It doesn't appear that Marcell Dareus is especially good at football and Bills Nation's assumption that he's a dominant force doesn't make it so.
When judging top draft picks, there's one simple measuring stick. Do they make a difference? And with the exception of one game last season against an injury-riddled Washington offensive line, Dareus clearly hasn't.
Does he make plays behind the line of scrimmage? Rarely.
Do you notice him routinely disrupting plays? Nope.
Do the Bills consistently stop the run? God, no.
Marcell Dareus is the close to becoming the next guy on the long list of Bills draft disappointments.
Here's a list of the top 12 picks in 2011.
Cam Newton
Von Miller
Marcell Dareus
A. J. Green
Patrick Peterson
Julio Jones
Aldon Smith
Jake Locker
Tyron Smith
Blaine Gabbert
J. J. Watt
Christian Ponder
It's common knowledge that the Bills badly wanted to select Cam Newton in this draft. Perhaps they should have considered some of these other playmakers as well.