We've given Channel 4 some flack over its incredibly depressing Twitter feed but we're sometimes reminded why we continue to follow.
EXHIBIT A
A man is dressed as the Joker from Batman in his mug shot, that was taken after an incident at a restaurant ow.ly/hqYak

— WIVB News 4 Buffalo (@news4buffalo) February 5, 2013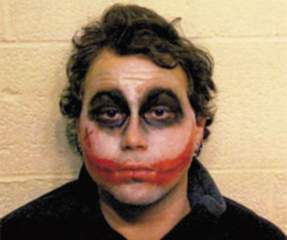 The Jamestown Post Journal reports 24-year-old Aaron A. Chase wore all black clothing, a green wig and face paint when he went inside the restaurant late Sunday night. According to the report, police say Chase was drunk, had no money and began harassing people at the bar.
What's wrong with a little harmless face paint on a Sunday evening?
As usual, it looks like this story comes down to the almighty dollar and you can't help but think it would've ended differently if only Mr. Chase had a few bucks in his pocket.