So, earlier today David Anderson went all David Anderson on us with the suggestion that now is the time to deal Thomas Vanek.
@trendingbuffalo Sounds like a defensible idea, but you'll never get the value back.Much like CBJ and Nash.

— Jeremy White (@JeremyWGR) February 5, 2013
Let's see if the idea has merit.
Assuming you don't deem Vanek 100% untouchable, here are some things to consider.
Many of the greatest players in the history of the NHL have been traded.
"Selling high" should ALWAYS be the goal.
Recent history is on the side of the dealer of the high end player, not the recipient.
Regarding point #3, let's look at the Boston Bruins.
Without question, the 2 moves that have defined the franchise over the past decade have involved shipping out players around whom the franchise appeared to be built.

Joe Thornton
Drafted by Boston Bruins, 1st overall in 1997.
Traded 8 years later to San Jose Sharks (November 2005) for Marco Sturm, Wayne Primeau, and Brad Stuart.
On the surface, this deal appears to weigh strongly in the Sharks favor but the decision to move Thornton didn't revolve around being a perennial contender. Without necessarily stating it as plainly as Terry Pegula, the goal was to win the Cup and Bruins management decided that if/when they could get it done, it wouldn't be with Thornton as the foundation.

Phil Kessel
Drafted by Boston Bruins, 5th overall in 2006
Traded 3 years later to Toronto Maple Leafs (September 2009) for 2010 1st, 2010 2nd, 2011 1st
The old axiom of  "the team that gets the best player wins the trade" has shown its logic, once again, to be shaky at best. This deal probably cost Brian Burke his job as Leafs GM.
From thespec.com:
Thank you, Kessel.

It's what Bruins fans chant whenever the Maple Leafs go to Boston. They are thankful the ever-impatient Toronto organization in 2009 traded two first rounders and a second for Phil Kessel. Those first rounders turned into studly centre Tyler Seguin and Dougie Hamilton, a top blueline prospect.
Does any of this mean that the Sabres should drop everything to get whatever they can for Thomas Vanek?
Certainly not.
But if you can't picture the Sabres hoisting the Cup as presently constructed, it's worth asking "what can I get in exchange for my best asset?"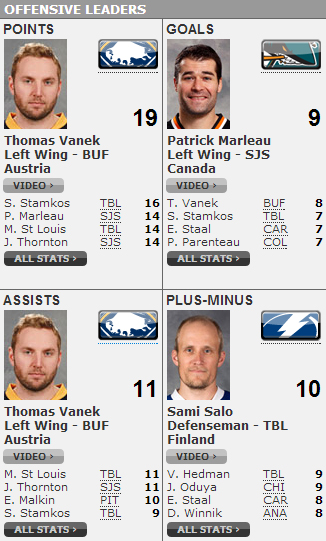 If you believe in "selling high" (who doesn't?)… here's your chance.