Bills fans used to love Jairus Byrd. Then he pouted about having the franchise tag applied to him. Then he held out. Then he came back… sort of. He's yet to play a down for the Bills in 2013.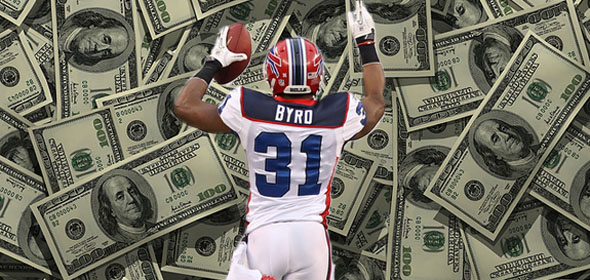 Plantar fasciitis sounds painful— but in the glow of a victory in which the Bills intercepted Ravens QB Joe Flacco FIVE TIMES, fans are less than sympathetic.
LET'S BE REASONABLE HERE.
@jairusbyrd ur stock drops w/every gm u miss! ur agent is flushing ur career dwn the crapper? U wn't get a deal whn u gt tagged 4 2 str8 yrs

— Greg MacPeek (@GTMAC21) September 30, 2013
GIRL JOKE 1.
I see @jairusbyrd has been taking advantage of his down time and finding a way to get some extra cash #BillsMafia pic.twitter.com/pW9XcDncEx

— BILLS (@AlexDub182821) September 30, 2013
I BLAME YOUR AGENT BUT I WILL SWEAR AT YOU.
Eugene Parker can jump off a cliff tell @jairusbyrd to get in the game you asshole.

— Ryan Sixbury (@SixburyRyan) September 30, 2013
BITCH. (#BITCH)
@MattInBlo @jairusbyrd He's a greedy ass bitch who has let his teammates and his fans down .# ByrdBitch

— GO BILLS (@EsideGangsta) September 25, 2013
LET'S BRING RELIGION INTO IT BECAUSE IT'S SUNDAY.
@jairusbyrd jesus didn't quit on his apostles, shame!!!!!!

— Scott Stejbach (@ScottyStej) September 30, 2013
GIRL JOKE 2.
@BobbyQuitter @jairusbyrd Placed on Injured Reserve after Season Ending Vaginal Tear. #broomstick

— Phil DiGennaro (@PhilDisFunny) September 30, 2013
SARCASM.
.@jairusbyrd Great game today! Oh wait….. #dick

— David P. (@stunner81) September 30, 2013
WE FOUND A NEW GUY TO LIKE BECAUSE HE'S NEW.
Kiko is considering cutting his foot off for @jairusbyrd and playing with one foot #TheLegendOfKikoAlonso #TheLegendOfKiko

— MCD (@mcdavis99) September 30, 2013
LET'S BE HONEST.
There are few players in the NFL who can't be replaced and @jairusbyrd sure as hell ain't one of them!

— Bobby Francis † (@buffalobills12) September 29, 2013
HOW ABOUT WE PLAY FOLLOW THE LEADER?
Your move @jairusbyrd "@AlbertBreer: Fred Jackson says he suffered a MCL sprain, and that he'll be able to manage it and play Thursday."

— Trending Buffalo (@TrendingBuffalo) September 29, 2013
Oh, Twitter. You never let us down.