Finally.

5. I LOVE MY GUYS (Except the good ones)
Because Drew Stafford and Tim Connolly were worth all the time they got. And Dmitri Kalinin. And Ales Kotalik. And Derek Roy. Of all those teams after the lockout, the Sabres kept and grew only two really good players – Ryan Miller and Thomas Vanek. Regier would have told you they had ten great players.
The team always manged to trade its stars when they needed them most. Funny thing.
And yet the aforementioned stiffs always managed to make out with great deals. You won't negotiate with Chris Drury, Danny Briere, or Brian Campbell during a season, but hey, what the f***, four years at $4 million seems a fair price for all our other role players. There is nothing that appeals to American sensibilities less than someone not earning their pay, and the Sabres were ACES at paying the wrong people the wrong amount of money at the wrong time. Hey look, Cody Hodgson just got a six-year deal. Sweet.
Never accuse them of being cheap – accuse them of being stupid.
Keep in mind the next time Ryan Miller swears in a postgame presser, he played through almost all of this. You'd crack, too.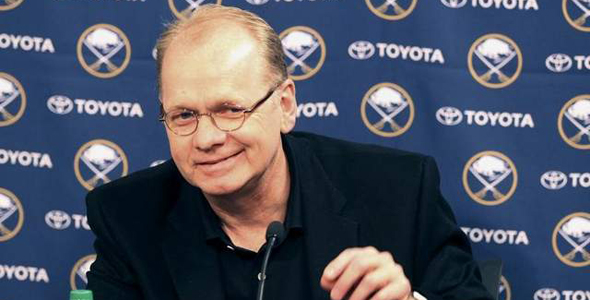 4. We've Managed To Trade Everyone You Love
Look, they weren't all great, but A LOT of team captains got the ol' heave ho from this organization in one form or another. Let's see if I can name them from memory.
LaFontaine– Traded to Rangers for Andrew Peters. I'm not kidding.
Peca– Unsigned, eventually traded to Islanders for Tim Connolly and Taylor Pyatt. Looks like we won that tr[GUNSHOT].
Barnes– Traded to Dallas.
Drury–  Signed elsewhere by his own choice. Probably because he had good sense.
Briere–  Signed elsewhere because $5 million was too much for a guy who ended up getting $8 million.
Rivet– The poor sap.
Pominville– Traded to Minnesota. Scored maybe the greatest goal in team history.
Vanek– Traded to Islanders for Matt Moulson for your crushed dreams of greatness.
48 Captains Of The Month–  Captaincy in the sport of hockey: Nothing is sacred anymore, because the Sabres violated it.
Getting attached to anyone with this team was taking your life in your hands. It was bound to end in heartbreak. It started with LaFontaine and went right through to Peca and beyond. It never got better. Even when they got good we ended up getting cracked in the skull again.
3. Hey Guys We Almost Won The Stanley Cup Two Years In A Row. I Brought The Dynamite.
July 1st of 2007 is a day that ranks just shy of domestic terrorism as worst in Buffalo sports fans lives. The Sabres lost two tremendous assets for nothing. The joy of that team was completely destroyed all too soon. This was they day all of our hopes died. At least Regier had the guts to say that they were going to be worse at the press conference. Larry Quinn couldn't even manage that.
Awesome. Good thing he stayed on for another six years. SIX WHOLE GOD DAMNED YEARS. He fit a World War Two in between ruining the franchise twice.
2. Hey Sorry About Your Heart. Also F*** You.
Teppo Numminen had a heart condition when the Buffalo Sabres acquired him. He already had two corrective procedures on it. Yet, when they signed him to a $2.6 million one-year contract, they didn't insure it. Maybe because they couldn't. Buyer beware.
So when he needed a third procedure, the Sabres got him prompt care and eagerly awaited the retuBWBABWBWBWBAAAHAHAHAHAHAHAHHA just kidding they suspended him without pay.
This has that special Tom Golisano touch of class. The Sabres organization found a way to be more heartless than a man who needed heart surgery. This is two months after the departure of Briere and Drury. Stalin would approve of how quickly the Sabres decapitated their own leadership.
Golisano was a piece of gutter trash for doing this to a guy who was nothing but class. Regier is just as much a slime ball for going along with it. No one should have ever signed off on this. It was a cold move by a cold owner. Pegula, with his efforts to court the franchise alumni, was trying to make up for acts specifically like this.
Numminen eventually said there were no hard feelings. Clearly, because Darcy hired him to work with Ron Rolston and Lindy Ruff.
That's okay. We'll get angry for him. Still.
Unforgivable.
1. 16 Years Of This
HE DIDN'T EVEN WIN ANYTHING. FDR BEAT THE GREAT DEPRESSION, HITLER, MUSSOLINI, AND HIROHITO BEFORE HE CHECKED OUT AND REGIER GOT MORE TIME THAN HE DID TO PLAY FAKE SPORTS AND CAME UP WITH SQUAT. THAT'S SOME FRESH BULLSHIT, SON.
*****************************************
BONUS: