Click here for this week's "16 Years of Darcy Regier" edition of The Five Dumbest Things in Buffalo.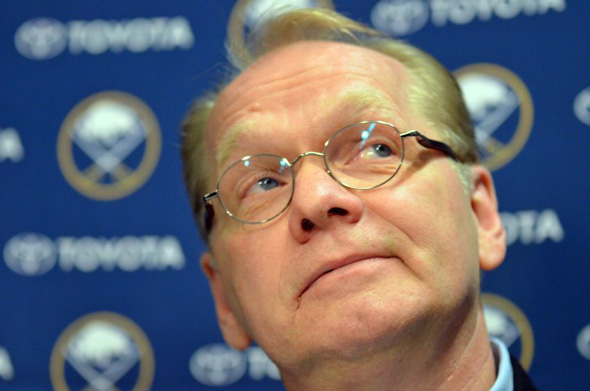 I needed a little more space this week… and other voices needed to be heard. Hence, Part Two.
Hey, anyone remember any dumb stuff?
@TheDefenseman Taking MSG feeds for Ranger, Islander, and Devil away games instead of supplying their own.

— JR (@JJJJShabado) November 15, 2013
More of a Golisano thing but, f*** it. If you are a "yes man", this is what you get.
@TheDefenseman Do you have blue ice and pentagon-shaped goals? — Tim Graham (@ByTimGraham) November 15, 2013
The innovation that leads a team into greatness except for missing the fact that the league would stop calling interference for about five years. Fart.
@TheDefenseman The. Slug. — Matthew (@hustledouble) November 15, 2013
This is a Larry Quinn Special. Darcy Regier took orders from him. Twice.
@TheDefenseman Every backup goalie after Marty and before Enroth

— Alex Beilman (@AlexBeilman) November 15, 2013
Bob Essensa OH MY GOD, BOB ESSENSA. Also, how about re-signing Patrick Lalime after it was clear Lindy Ruff would rather play a dead baby seal in net than him? Way to talk to your coach.
@TheDefenseman Darcy and Lindy being, by extension, part of Rigas family business and a league that locked out twice, but they survived.

— Barrister (@theycallmedubs) November 15, 2013
"Hired by a convict" probably doesn't look good on LinkedIn. Did I mention the organization acted without class at times under his helm? I know, I know… who cares? You know who does? The players on your team, dipshit.
@TheDefenseman Me signing up for an NHL themed credit card at the arena that one time we met was pretty dumb, too. — Dave Kelly (@davekellywny) November 15, 2013
Owners who commit felony fraud and selling credit cards in the building that are complete scams– two great tastes that go together! Cool, we should definitely keep this GM guy around he worked with good people.
@TheDefenseman Quinn making threats to get even with the Oilers over Vanek, then not paying an ill Nummimen "because the CBA allows it."

— Tim Graham (@ByTimGraham) November 15, 2013
Via the Tribune News Services from July 7, 2007 (WHAT A GREAT YEAR. HOLY SHIT.)
"I'm happy we have Thomas for seven years. I think that's really important to state here," Quinn said. "But it's not doing the Edmonton Oilers any good what they did today."
Maybe get on the f***ing ball, you turds and sign him to a better deal before this. How did this man survive that year?
@TheDefenseman The franchise founder's widow leading a protest against team management outside the arena.

— JG_1611 (@JG_1611) November 15, 2013
THIS IS HOW HE STARTED.
@TheDefenseman basing a team build off of a game you didn't respond to your star getting run… — Cory Zaranek (@bigblackzaranek) November 15, 2013
The lack of a plan is what got this guy killed in the end – because the plans always came from other people – and this is proof of it. The entire concept of the team after the Milan Lucic Affair was to prevent another incident like that from happening again. It essentially ended Paul Gaustad's Sabres career. Way to not overreact, guys. How many times did we hear about his teams wanting emotional stability and not getting too high or too low?
@TheDefenseman Having "Neidermayer" skate around for at least 3 games was kind of dumb. http://t.co/JoWCsB9HAQ — Scott Michalak (@ScottyMCSS) November 15, 2013
Sigh.
@TheDefenseman Off the board, but not offering MVP Leggio a K, then saying to him "But we might have a K for you later if you wait" is DUMB

— Bradford Reid (@BradfordReid) November 15, 2013
"This is going to be a team that rewards hard work. Except for you. You're a douchebag." Oh cool. Thanks guys.
@TheDefenseman getting rid of the entire scouting staff was a bad idea. Replacing it with "video scouting" was a worse idea.

— OrangeSeats1940 (@OrangeSeats1940) November 15, 2013
This is the same crap the gets you New York Rangers announcers calling your games on the home feed. It's nickle and dime crap, and he signed off on this one at the least.
********************
Is this piling on? Absolutely.
Is it in poor taste? Not as poor as telling a guy who needs heart surgery to f*** himself.
Farewell.
It was worse than we ever wanted to believe.