Good seats still available! Call now!
5. We May Be Close To A Hockey Season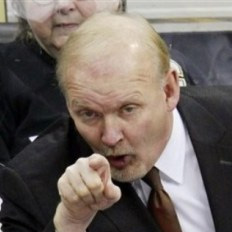 We are close to the time of year where, traditionally, Lindy Ruff quits on his backup goaltender and the Sabres start to try after losing a bunch of games in a row to teams that are worse than they are. The Sabres would have skipped all of the losing and gone straight to the point of the year where they go on a tear should the NHL season start soon, which may happen given how negotiations have gone over the past few days.
The Sabres are winning the cup this year. They won't have time to screw it up.
4. Making Your House A Giant Stereo System For Christmas
It was probably a few years ago that the trend of synchronizing your Christmas lights to music played through speakers became a thing. YouTube videos would show up and end up on the Today Show during the news block. People would get in a tither because look at the blinking lights in order with the music that is hip and new and all the kids are dancing to it at the parties!
Originally you had to tune your radio to a certain station to be able to hear the music. Now it is becoming more common for people to just play the music out into the night air so that anyone within 50 yards are rolling their hips and dropping that ass to Trans Siberian Orchestra. This is a threat to our culture, our nation, and our civilization.
First, I'm pretty sure the people doing this also complain about how loud people listen to rap music in their cars. The folks who get so worked up over how they are going to decorate their house probably express their anal retentive nature in other ways. Whereas they are super pumped for their own brand of holiday cheer, they would be just as likely to be angered by anyone working it out to Christmas in Hollis.
Second, I'm sure true Christmas enlightenment can only be obtained by maximizing every inch of space for light emitting diodes. These folks might be missing the point, although it is admirable of them to be giving this holiday season to the electric companies.
These homes are exciting for four seconds, and are for the exclusive benefit for the owners of the home. They like being stared at. They like being the center of attention. This is why we have bloggers, folks. Your house looks stupid. You look stupid. Get yourself to a food bank and volunteer to get some karma back.
3. We Have More Salt Than The Baltic
Everything is gross this time of year. There is salt on everything and the snow turns to cookies and cream instead of being nice and white. Snowfall is one of the most beautiful things we have in our environment and Buffalo can look pretty awesome when the snow arrives… for like five minutes. Then we have to coat it in enough salt to clog our arteries just by looking at it.
It is the 21st century. We need to have a cleaner way of making travel safe in our city and one that doesn't make everything outdoors into one giant pile of gross ice water.
2. No He Was Not A Chemistry Teacher
All we do is make teachers in Buffalo now. Canisius, Buffalo State, The University at Buffalo, Medaille, Niagara, St. Bonaventure… you name it the school makes teachers. All of these new students, many of whom are local, have to leave after graduation because there are few openings in the area. This is especially true as districts have to compress and destroy their budgets due to lack of funds.
And the folks who are here are on cocaine. There are thousands of people who would do anything to have this guy's job just to be back home. No teacher in Western New York should take their job for granted. There is an army that would replace you instantly.
That any teacher would take this risk with their job, (let alone being in charge of kids and such you know like an adult,) dumb.
1. What Are We Going To Do With That Tower
HSBC is bailing out of the tower named for them which dominates the skyline of our fair city. This is not particularly new news because HSBC had pretty much said as much a few months ago. Now its just been confirmed.
The Buffalo News reported that HSBC leaving that tower will double the vacancies for businesses in downtown Buffalo instantly. Double.
I know we have an aversion to ditching buildings that are empty because we think they are important or something. I cannot believe that HSBC Tower would have that kind of historical cache. If the decision were made to demolish it, I don't think we would hear from preservationists.
The issue is, if downtown Buffalo has all of these vacancies, is there any prospect of filling them relatively soon? What is the demand for office space in the city? I mean it seems like the Electric Tower has been available for a few years now and there is still a bunch of space in it. Not to mention that people are moving out of the older buildings and moving into new builds like what is happening to the Donovan Building just a few yards away.
For HSBC Tower to be saved, someone is going to have to want to be in it, but I'm not even sure people want to be in THE CITY let alone that tower. We need demand and it doesn't seem like there is any to be had.
Unless something comes up quick, we may be staring at the largest tomb in WNY. Do you trust your city leadership to come up with a plan quickly and efficiently? Didn't think so.
***
Correction: In a previous update, Trending Buffalo reported that Larry Korab was Music Supervisor on Unsolved Mysteries.  In fact, Larry Korab is the pseudonym for The Defenseman, who now writes for himself at The Defenseman. You may follow him on Twitter by searching @TheDefenseman.  Trending Buffalo regrets the error.