"I see you struttin' around in your Sunday best thinking you're all fine and whatever well I say boo to that Jim Dandy. And you can print that!" – Jefferson Davis, 1860
5. Jourmalisn
Hey let's go take a look at the WGRZ page and see what's going on in the news.



Oh.
4. And While We Are Talking About Channel 2
Apparently WGRZ has aligned itself with a known sports criminal organization. This author finds the BillsMafia tag to be weak for several reasons.
(Editor's note: While we agree that the name "BillsMafia" is less than ideal, Trending Buffalo has a tremendous respect for Del Reid and the others involved in the "fambase." It's a group of fans rooting for our favorite football team and raising money for cancer research in the process. What's not to like? The opinions contained within this post are those of the author alone.)
1) Come on, really are we 19 and just getting a dorm room? Is Scarface our mascot?
2) Just like our football team, Italian crime families haven't been dangerous since the early 90's.
3) It sounds like people you would never want to be around. Sideways hat. Horrible orange tan. You know the drill.
Well apparently they have elected themselves as representatives of Bills fans everywhere. They have a logo and everything so they must be legit! And because it has something vaguely to do with the Internet Channel 2 has agreed to, like, talk about them or something. they'll probably read tweets on the air so old people can understand what all the kids are doing on their ENIAC machine.
Something has to replace the lazy "send a photographer out to a local bar and ask drunk people about the game" footage. This is cheaper and faster. Expected more of this in the future from the Bandits La Cosa Nostra and the FC Buffalo Yakuza.
The only thing that would make this funnier is for a PatriotsBureauOfInvestigation to exist and constantly break up the BillsMafia.
3. The Sabres Edge Blog, Industrial Safety, And YOU! An Instructional Video
This commercial by the Buffalo News for their sports coverage is… well. Just watch it and try not to imagine you are being told how to avoid losing a hand in a meat packing machine.
Even the substance of it, man. IT MUST BE THE FUTURE BECAUSE WE ARE USING A LIVE BLOGGING TECHNIQUE DEVELOPED FIVE YEARS AGO WHATS TWITTER?
Minor league commercials from a minor league paper. [BN]credulous.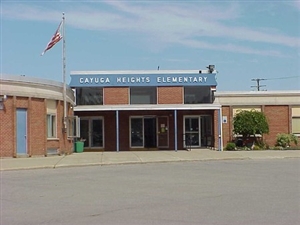 Stop stealing money from people at Cayuga Heights Elementary holy crap people! We just talked about this!
1. Dear Lord
Turns out there is a funeral home that was burned out a while ago in the city that had been storing cremated remains in a closet. Those remains have just kind of been hanging out there. Someone got into to the site and managed to find the remains of 30 people in there.
Best/Most Depressing Part That Makes You Question Your Faith In Humans –
White said she tried to pick up her father's remains after his cremation, but was told she could not do so until she paid off her bill for funeral services.

"I had the bill down to $250, but then I got very sick," she said, "and I couldn't pay it all off."
Good to know that ripping of people who have lost loved ones is a cottage industry in our fair city. Desecration of the dead is usually a sign that you have antisocial tendencies. Oh bonus the guy who ran the funeral home now works as a funeral director in Georgia. Don't die there.