Smart Thing 1: The #BillsMafia and 26Shirts
Del Reid of the #BillsMafia has come up with another great charity idea. Stick taps and football spikes to Del and Co. for the work they've done. They've earned some huge clout (not Klout, that's for silly people) online, and instead of using it for their own personal gain, they've turned their opportunity into a platform for helping others. I can't say enough about that, but maybe "Hey, thanks guys" is all we need to say.
Their latest project is "26Shirts," and it's going to be one of those things that you're going to want to be a part of. "Why," you ask? Limited edition, locally designed Bills t-shirts are being sold. Proceeds will help families in need.
Support @scottlunn's daughter (who's fighting eye cancer). Get a limited edition t-shirt in the process. #BillsMafia http://t.co/2bFcgzCMKG

— 26shirts.com (@26shirts) November 19, 2013
I'll let Del take over from here. From 26Shirts.com:
"Every 2 weeks, we release a new Buffalo sports-themed t-shirt. All profits from the sales of that shirt go to a family or organization that needs help. After the 2 weeks is up, the shirt is retired forever. A new design is released, and a new family benefits from your fandom! Our high-quality, soft fabric shirts are made by Buffalo-based business YouAndWho. Not only will they be designs you love, they'll be on shirts you love wearing."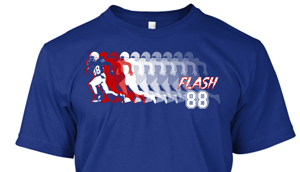 Buy the shirts folks, and let's keep paying it forward. Meanwhile, you can also follow some of the creative designers who are on board for this project:
Smart Thing 2: The North Park Theater
Renovations at the North Park Theater are underway. The theater opened up originally in 1920, and is a wonderful part of our history that many of us – particularly those in families that moved out of the city – may have never heard of before. For some fun little history lessons as told by your neighbors in the Queen City, head on over to NorthParkTheatre.org. And hey, check this guy out:
I've enjoyed James Bond movies since my days as an usher at the old North Park Theater in Buffalo. Loved #Skyfall

— Wolf Blitzer (@wolfblitzer) November 11, 2012
You can also already start requesting film screenings on their homepage. You might want to get on that early. You might also want to give them a follow on Twitter, as they have been posting some really eye-catching photographs of the renovation:
Another day, another step closer to bringing the movies back to Hertel Avenue. pic.twitter.com/sEXoGKiYK0

— North Park Theater (@NorthParkTheatr) November 9, 2013
Smart Thing 3: The Sabres Change Little, Win All Their Fans Back
Firing Darcy Regier after such an incredibly long tenure was a big move. Mostly. The team hasn't hired his replacement yet.
Firing Rolston was merciful for all sides involved. I suppose they've found his replacement in Ted Nolan. Maybe. He's here on an interim basis, and there is no guarantee that the eventual new GM will want to keep him behind the bench.
Bringing in LaFontaine as President of Hockey Ops reads somewhat of an experiment in progress. He's a smart, smart man – but his experience (or lack thereof) has raised a lot of eyebrows around the league.
The Sabres did achieve one huge thing. They won back the fan base – and they did so without hiring a new GM, or a permanent coach. Holy hockey gods how we love a Pat LaFontaine and a Ted Nolan in this town of ours. Hockey has been fun for a few days. And when's the last time we heard something like this?
Nolan on Myers: "I'm well aware of what happened after his rookie year..but what I saw in Toronto the other night was flashes of brilliance"

— WGR 550 (@WGR550) November 19, 2013
Enjoy the Pat and Ted show for what it is – and so far it's been a pretty swell time – but let's wait until the Sabres hire that replacement GM until we get serious about this new future of ours. That will be the big hockey move that truly resets the rebuild.
***
Note: "3 Smartest Things" is being produced to go along with the "5 Dumbest Things" series here on TB. "Why three," you ask? Well – far be it from me to break our time honored tradition of berating each other on the progress of our fair Queen City. Tell you what, when the new Peace Bridge goes up, we'll go up to five. And of course, feel free to follow me on Twitter to discuss all things trending in Buffalo, and check out my blog "Buffalo Sabres Nation" when you're bored at work. Your boss will appreciate your increased productivity afterwards.