From a previous post:
On the radio and TV, in the paper, on our phones — we spend time with Buffalo's celebrities and media elite every day. But in a town like Buffalo what really counts is who you'd actually like to sit down with over a beer. And there's only one fair way to decide. That's with you– the people– and a bracket.
THE FIELD IS SET!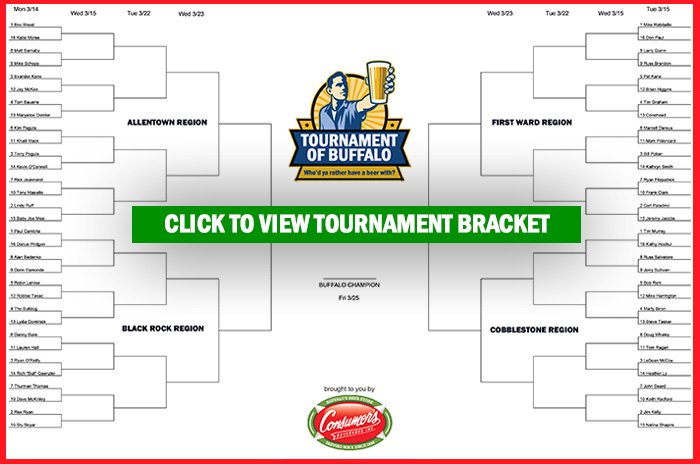 Beginning Monday, you'll vote via Twitter to decide the winners of 63 individual match-ups until a champion is crowned.
(THIS WOULD BE A GOOD TIME TO MAKE SURE YOU'RE FOLLOWING US ON TWITTER.)
SCHEDULE:
MONDAY 3/14
Round One, Allentown and Black Rock regions
TUESDAY 3/15
Round One, First Ward and Cobblestone regions
WEDNESDAY 3/16
Round Two, all regions
TUESDAY 3/22
Sweet Sixteen
WEDNESDAY 3/23
Elite Eight
THURSDAY 3/24
Final Four
FRIDAY 3/25
Tournament of Buffalo Championship game

Once our winner is determined, we'll do everything in our power to give one lucky winner the opportunity to actually have a beer with the Tournament of Buffalo champion, so vote with your heart.
Can we promise it will work?
No, but we have faith that the person Buffalo most wants to have a beer with also wants to have a beer with Buffalo.
That's how champions are made.