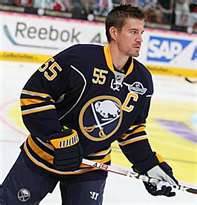 Way back in the day, at some other site, I was known for occasionally dissecting an opinion piece written by a member of the media. Now kids [/puts on Saget's HIMYM voice], back then we called it FJMing an article, but I believe the eternal term for it is fisking.  
Oh, sure, I had grand plans for my first piece on Trending Buffalo, but damn it, Jerry Sullivan dropped one in my lap today with his article about Mikhail Grigorenko. Sometimes it's best to lead with your strength, right?
But there was no mistaking him on the ice. The gifted ones always catch your eye. This is an extreme parallel, but as Grigorenko glided along the ice, it reminded me of the first time I saw Mario Lemieux, a big man who skated so effortlessly he barely seemed to be trying.
That is a really extreme parallel, but sometimes you have to build things up to make your point. Also, Jerry Sullivan CANNOT WAIT to write an article in three years about how Grigorenko's skating seems so effortless because he does not give any effort.
Grigorenko said he doesn't feel any pressure. On the day he was drafted last June, he said he expected to be in the NHL this season. But he said it shouldn't be any great disappointment if he doesn't stick here.

"If I do, people will be amazed," he said. 

Will you be amazed, I asked him? 

"Yes," Grigorenko replied. 

Maybe he understands how things work with the Sabres, who have a history of caution in these matters. It certainly won't be a shock if they send Grigorenko back to Quebec for more seasoning.
So it WON'T be a shock if the Sabres send him back to juniors? You're sure? Because I have a feeling you're going to move around a bit on this one.
It often comes down to what's best for Ruff's precious defensive system. Jochen Hecht, one of his long-time favorites, joined the team Sunday after signing a one-year contract for $1 million. Hecht's teammates tapped their sticks on the ice in a ritual welcome.
You know when he was writing this that Jerry said "precious" in his best Gollum voice, which is exactly how I read it. As an aside, I think the entire team stopping practice and welcoming Jochen with the ultimate sign of hockey respect, the stick-tap, says something about Hecht's character and how he fits in the room.
Hecht is 35, the senior Sabre. At that salary, he could be a helpful addition. But he also represents a tired, failed culture. He is part of a core group – including Ryan Miller, Jason Pominville and Thomas Vanek – that is going on six years without winning a playoff series.
When you think of Jochen Hecht, is "part of a tired, failed culture" what springs to your mind? He was also a part of the 2005-06 and 2006-07 teams as well, and has been a Sabre since 2002. Not everyone who played in that span is the same person.  Just thought I would point that out.
The Hecht signing could mean that Grigorenko is ticketed for another year in juniors. That would be typical of an organization that becomes infatuated with its own players and is often too slow to elevate promising young players to the parent team.
I have so many problems with this. Yesterday, Sullivan tweeted "Just hope Hecht doesn't take the kid's spot on the roster."  Not long thereafter Mike Harrington, the beat writer for the same organization for which Sullivan works, tweeted "Just to be clear: Grigorenko is not taking a spot from Hecht or vice versa." This seemed obvious to me, especially since Hecht can play wing and actually did so for much of his career in Buffalo. So Hecht makes for nice depth at center but can play wing on a third or fourth line and kill penalties if Grigorenko makes the team. Sounds good, but it also seems like Jerry had his story already written despite whatever his own colleague might be saying on Twitter to disprove it. Also, who are the players the Sabres have been too slow to elevate? The last time they were in this spot was Tyler Myers, and we know what they did there. Who is he referring to, the tortured soul of Mark Mancari?
Grigorenko is too good to spend another year in juniors, playing against boys. No doubt, his game needs polish. He has to mature. But if the Sabres want him to learn how to compete against men, they should allow him to learn alongside them at the NHL level.
Another year in juniors? What the hell is that? The Sabres just drafted him, and this is his first year in juniors. (Note – I stand corrected, this is his second year in juniors. His returning to juniors would not be another year though, it would be a half-year. That's the best I can come up with to defend my error.) And you know what else? I don't think Jerry Sullivan has seen more than 30 minutes of Grigorenko playing hockey in a game, so he's the last guy I would trust to judge how "good" he is.  What parts of his game need polish, exactly? How does he need to mature? These are meaningless words on a page based not on observation but on cliché instead.
Ruff loves his grinders. Maybe what he needs is more real stars. But Grigorenko might be too risky an idea at the moment. Ruff is under fire, more so than General Manager Darcy Regier.
Did you see Pegula speak of Lindy Ruff with tears in his eyes? What fire is Ruff under, exactly? Beats me.
But Hecht, the coach's ideal, is back on the ice.

Why would Ruff take a gamble on great when he can settle for reliably average?
Ah, the kill shot. Since most thinking people realize it's not a Grigorenko OR Hecht conversation, I guess this is moot. But damn, it's phrased well. HOW CAN YOU ARGUE AGAINST BEING GREAT INSTEAD OF AVERAGE? At this point I picture Jerry Sullivan hitting "send", picking up his laptop, and dropping it like a mic while walking out of his den.
Here's the thing. I bet Grigorenko and Hecht both make the team and this is all pointless, but what kind of shitty article would that be?