We went 2-1 with last weekend's picks and tacked on an (unpublished) bonus win last night.  (Luck -3.5 against Gabbert and Mularkey?  C'mon.)
Dating back to September 30th, we're 13-4 against the spread in our last 17 swings at this.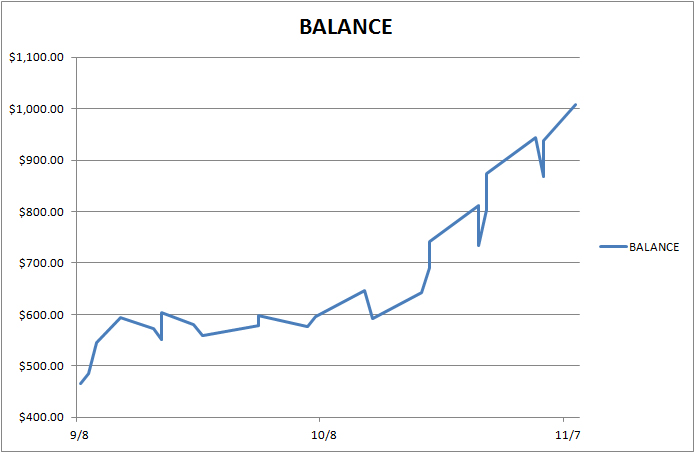 We highly recommend you get on board.

COLLEGE:
Take a look at Maryland.  They've got a LB playing QB and this week announced that their leading RB and WR are out for this weeks game.  Perfect timing as they play at Clemson.  I expected this line to be near 40 so I'll try to go back-to-back weeks making cash against the Terps.  TIGERS -31 at home all day.

Again, I took a peak at the Oregon game but the only problem with betting the Ducks is that they get up so quickly that teams score against backups in the second half.  Cal has lost three straight and will be without the services of starting QB, and former UB starter, Zack Maynard and star WR Keenan Allen is out with a knee injury.  Last time the quack attack came to Memorial Stadium it was a 15-13 win for Oregon but since that point the Ducks have scored under 27 points just twice (both against top 3 ranked SEC teams LSU & Auburn).  They have yet to score under 42 points this season.  Oregon Ducks -28.5 is tempting.
PRO:
The Baltimore Ravens are one of the AFC's best teams and a playoff lock. They always play tough at home and their offense if humming on the ground and through the air. The Raiders are traveling cross country and are without their best player in RB Darren McFadden. And they're also the Raiders. It all adds up to a Baltimore blowout. I'll take OAKLAND +9.
Sometimes it's as simple as looking at the QB matchup and I'm going right back to the Peyton Manning well. Somehow, Vegas has not yet jumped on the "hey, I remember this guy" bandwagon that Manning's opponents are being forced to join on a weekly basis. This week's opponent is the anti-Manning– Cam Newton, who forgot to turn the ball over last week against the Redskins. Put me down for 3 Newton giveaways in this one. Take DENVER -3.5.