After starting Trending Buffalo several months ago, we're pleased to announce our first full-time hire — Brad Riter.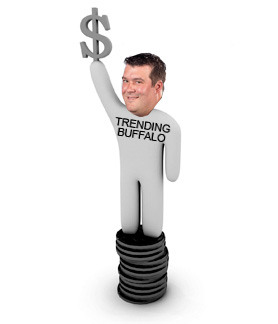 In the spirit of full disclosure, we thought it would be helpful to our readers and the entrepreneurial community at large to see how it was that this local start-up monetized its assets so quickly in order to create value and add jobs. "What," we're sure so many of you are wondering, "enabled you guys to so quickly turn a fledgling sportnewsertainmnent site into a thriving business?" So, in the interest of full disclosure, here's a timeline of key events that have helped to make Trending Buffalo into the economic engine it is today.
April 24, 2012 – 0 Pageviews
Trending Buffalo goes live. Anything is possible. The world is our oyster. So, to distinguish ourselves from every other Buffalo news source we write our first article on the NHL's Buffalo Sabres. The month ends with a torrid 385 visits and 990 pageviews. The staff celebrates with Jim's Steakout subs, and imagines the day when Jim's Steakout will pay for the honor of having us link repeatedly to their website.
Revenue: $0.00
May – 30,710 Pageviews
The month with our highest pageviews to date sees us tap into the Buffalo zeitgeist with articles on the Sabres, Bills, and an intrepid piece of investigative reporting bent on revealing Buffalo's most influential sports media. Based on explosive audience growth, the Operations team of Trending Buffalo activates Google Advertising, and up to a half dozen or so of you click on something. Not since the plot of Superman III has a revenue scheme worked so flawlessly.
Revenue: $2.40
June 2012 – 43,511 Pageviews
Brad Riter submits his first podcast because, according our business plan and in-depth market analysis, he just "really likes doing them." We find the time to write about the Sabres, make fun of some bank advertising, and point out some things going on around Buffalo.
Revenue: $11.87
July 2012
We join the ranks of Buffalo's most influential news sources when an article we write on Wegman's T-shirt rack results in Wegman's pulling their t-shirt rack.  No matter what happens from here on in, we're good.
August 1, 2012
We hire Brad Riter. We do this because, based on our revenue models and financial projections, "we like him."
******
What's cool is that we don't have (m)any rules.  The FCC can't fine us for what we say on a podcast.  We're not beholden to advertisers. We don't have to pull punches based on business agreements because we don't have any. We don't have to live up to century-old editorial expectations or traditions.
We really have only a couple rules.
1. Be good.
2. Be interesting.
3. Be real.
While our position as an all-digital entity gives us some advantages in the kind of content we can produce, we're pretty far behind in reach.  We don't have a radio tower, a TV station, or a printing press.  The truth is that out our audience is our medium and Twitter and Facebook are our airwaves.  We'll only go as far as our audience will share us.
Thanks for checking us out so far.  We'll try our best to be not horrible in the future.
Whatever.