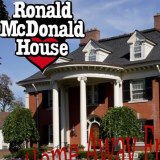 Beer, mixed drinks, wine, mac & cheese, quesadillas, french fries and more all for $20 with donation of a household item!
Come join the Ronald McDonald House of Buffalo Young Professionals group on Thursday, May 23rd from 5:30-8:30pm at Fat Bob's Smokehouse to network and learn more about the Ronald McDonald House and how they help the community. The recently formed young professionals group is hoping to help spread the word about the Ronald McDonald House of Buffalo to raise community awareness and support.
For those that don't know, RMH of WNY offers a home-away-from-home for families who have sick children that are receiving care in Buffalo area hospitals. They provide home cooked meals and transportation to and from local hospitals so the families can face the weight of illness together. They truly provide a wonderful service to those in need.
You can learn more about the volunteer opportunities at the house or you can just have drinks with friends and enjoy the amazing food Fat Bob's is known for (the mac & cheese is worth it alone!). Either way you're supporting a wonderful cause!
Contact Breanna Pugh (@BreWLP) with any questions.