Congratulations to Jhonas Enroth (and Hank Tallinder) for bringing home the gold in the IIHF World Championships.
Buffalo, I know you miss the playoffs, and I feel your pain – but if there is anything we need right now, it must be experience and confidence in net for the Blue and Gold after Ryan Miller leaves (especially if he decides to leave sooner rather than later).
Enroth was named the tourney's top netminder. He allowed just 8 goals in 7 games, including 2 shutouts. These are the latest accolades in a career-long journey which has earned him a shot at a starting position in the NHL.
We'll miss you Ryan. Oh, and:
#MillerForKane
Because it never gets old.
Smart Thing 1: Students Receive Anti-bullying Awards
It's difficult to get a true measure on how far we've come as a society since the death of Jamey Rodemeyer, who took his own life just about a year and a half ago after years of being bullied. I guess as adults, we like stats and numbers to measure progress.
Well, here's a quick stat (from YNN):
"More than 200 people came out to Lorraine Elementary in South Buffalo to run and walk to put an end to bullying.

…Since their son's death Traci and Tim Rodemeyer have become advocates for anti-bullying programs in schools and legislation to combat bullying. They say Saturday's run is just another way of making sure the issue of bullying doesn't fade away.

'We honestly feel deep in our hearts is if we go to an event like this if we touch one family, one child, and that they can make a change in their life we feel that it's worthwhile,' said (Traci) Rodemeyer.

In fact, they're already seeing a change. Eight students here at Lorraine were given the first Jamey Rodemeyer Active Bystander Award for taking a stand against bullying.

Seventh grader Zachary Holewka was one of the students recognized.

'Whenever I saw bullying I'd just report it to the nearest teacher, because students should have a safe environment to learn in the school building,' said Holewka.

'We see changes already we see people talking about it, so if we can just get it going, get the dialogue and that going, that's our goal and we'll just keep pushing that,' said Rodemeyer.
It's amazing for someone like myself (of somewhat an older generation) to see that a student is willing to stand up to bullying, and to actually put his name in print. That in itself is major progress in the bullying culture. Zachary Holweka is still a child, yet he is still helping to lead his peers into a better future.
Stats and numbers give us some meaning, some measure of progress. But now we have a movement, we have names – we have champions of Jamey's legacy. And of course, when we have champions, our numbers grow stronger.
I'll take that over stats anyday.
Smart Thing 2: Pianos in Public Buffalo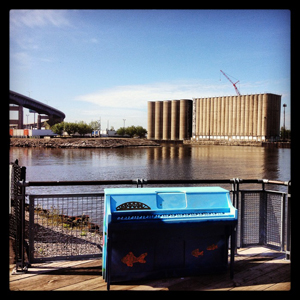 If you haven't been to Canalside yet this year – well, what are you waiting for? One of the newest additions to the growing district is an outdoor piano, set in place by artist Mark Weber.
His Kickstarter effort aims to repurpose old pianos and place them around the city for public use. Questions about how these will last are quick to come to mind, but Weber has the answers already in place:
"Everyone asks, 'What about rain?' The piano at Canalside has a custom made canvas cover. Then they ask, 'What about vandalism?' The Canalside piano is chained to the boardwalk's strong wall. Security guards and cameras watch over the area. Of course, people want to know, 'What about tuning?' There are two piano tuners regularly checking up on the pianos to help make them sound decent. Remember, they're outdoors and old, so they're not perfect, and that's okay.

In the unlikely event that a piano is stolen, hopefully the police can retrieve it since it's colorful, big and unique-looking. If not, a replacement piano will have to be painted and placed at the site."
Please head over to Mark's kickstarter page and make a donation. With a modest goal of just $4,000, this project seems like a no-brainer for all of us to get behind to continue to improve upon the experience of life downtown and along the waterfront.
You can also find Mark on Twitter at @MeetMarkWeber.
Smart Thing 3: The Diversity Prom
This is a wonderful idea and opportunity for the LGBT (lesbian, gay, bisexual, transgender) community in WNY: a big time prom for LGBT youth. A prom that comes without the burden of being ostracized – or from being banned outright – from basic attendance and acceptance. From Generation Why:
"Sadly, many gay, lesbian, bisexual and transgender students often opt out of attending prom with their significant other, while some schools in the US actually ban (same)-sex couples from attending.

For the first time ever, the Gay & Lesbian Youth Services of Western New York are hosting a prom for Buffalo area teens who identify as part of the LGBT community.

The event is scheduled for Friday, June 7th at Ashbury Hall/Babeville, which is a 19th century historical landmark owned by Ani DiFranco, a bisexual entertainer and Buffalo native."
***
Note: "3 Smartest Things" is being produced to go along with the "5 Dumbest Things" series here on TB. "Why three," you ask? Well – far be it from me to break our time honored tradition of berating each other on the progress of our fair Queen City. Tell you what, when the new Peace Bridge goes up, we'll go up to five. And of course, feel free to follow me on Twitter to discuss all things trending in Buffalo, and check out my blog "Buffalo Sabres Nation" when you're bored at work. Your boss will appreciate your increased productivity afterwards.