After much ado, Syracuse-based chain Dinosaur Bar-B-Que has finally opened it's doors in Buffalo.
But wait… isn't there a local barbecue joint we've been meaning to check out?
There it is.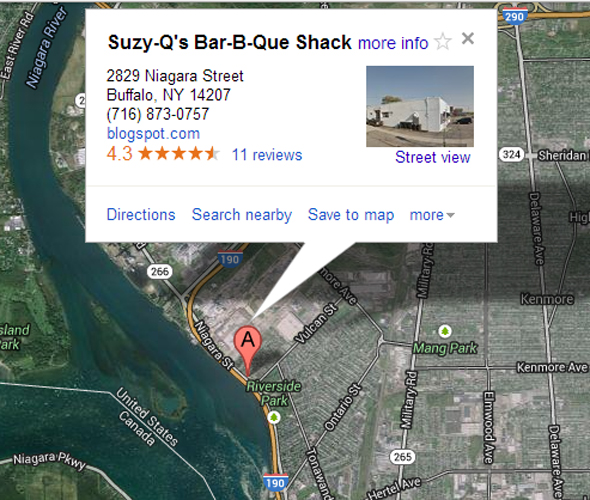 We arrived a little before noon.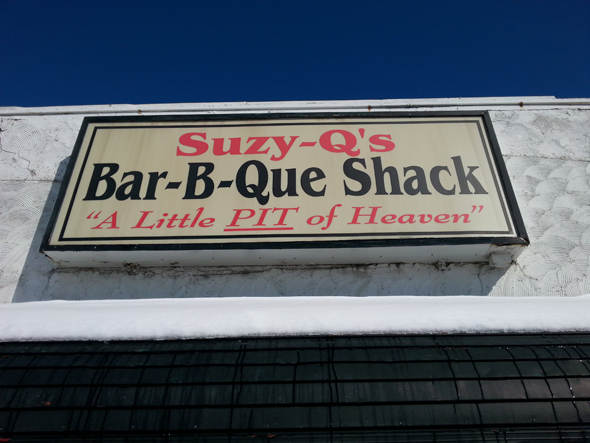 The Menu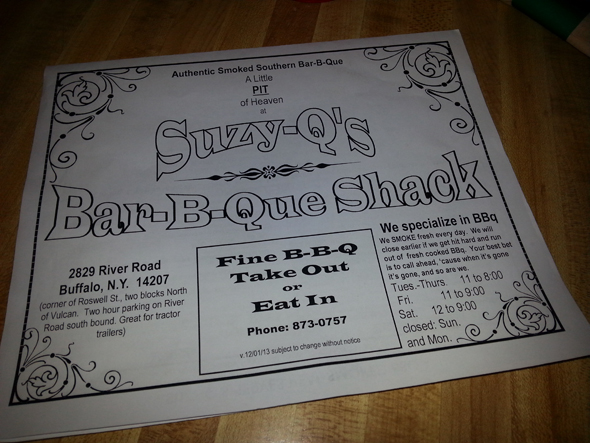 This is the kind of menu you keep reading after you place your order– plotting what you'll get the next time you're there, who you'll invite, etc.
Items under consideration include:
Piggy Pie or Salty Hog ($6.95)

This mountain of food is 5 layers high. Choose between a layer of fries or salt potatoes. We'll add baked beans, pulled pork, Smokin' salsa, and shredded cheese.

BBq'd Spaghetti ($5.65 / $7.95)

Choose between Traditional Style Spaghetti with Pulled Pork or Polish Style Spaghetti with Smoked Sausage smothered in BBq Sauce and Smokehouse Salsa. Topped with shredded cheese and baked to a golden brown.

The Heavenly Hog ($8.95)

Our version of BBq pot pie. Potatoes, pulled pork, fried corn, baked beans, corn bread, topped with shredded cheese, bbq sauce, salsa, jalapeno or mild banana peppers, and baked until it's hot and bubbly.
Things we loved:
Plentiful side dish selection– creamy coleslaw, mac and cheese, collards greens, baked beans, fried corn, mashed potatoes and gravy, fire and ice pickles.
3 sauces on table- regular, hot, Carolina (vinegar-based).
Styrofoam plates and red Solo cups- passing on the savings to you!– 5 meals and 5 beverages came to just over $50.
Also, everything was straight-up delicious.
One more thing worth noting:
Bring cash. No credits cards are accepted.
THE STARS OF OUR SHOW
Beef brisket sandwich + 2 sides ($10.40)
Messy Marvin's Super Deluxe BBQ Sandwich ($6.25)
Only thing we didn't love:
Inconsistent spelling of the word "barbecue." Between signage, the menu, and the proper spelling of the word (nowhere to be found), we count seven different takes on how the term should look in writing. Here they are, ranked in our order of preference.
BBQ – Ease of use, both to type and to read.
B-B-Q – Looks good but trickier to type than number one.
barbecue – This one's good because it's correct.
bbq – Lazier version of number one.
Bar-B-Que – Superfluous letters which, to us, causes it to read "Barbie Kay".
BBq – Now why would you do that?
barbeque – No.
We'll be back very soon.
We don't need these Syracuse upstarts to teach us about Barbie Kay– we've got Suzy Q's.