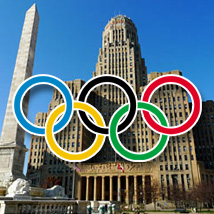 As the country watched the 2012 London Olympics opening ceremony Friday night, a positively hilarious and somewhat sobering new twitter-meme emerged in Buffalo.
It all started with this tweet.
What if Buffalo had an opening ceremony? What would we have? #BuffaloOpeningCeremony

— Jill (@BuffaloJill) July 28, 2012
Hundreds of replies followed… here are the 20 best.
#BuffaloOpeningCeremony stadium empties to reveal thousands of old shoes and clothing items left by "Team Canada"

— Jeremy White (@JeremyWGR) July 28, 2012
Beer pong & Kan Jam recognized as official Olympic sports. #BuffaloOpeningCeremony

— Kevin Snow (@kwsnow) July 28, 2012
dignitaries arrive by driving cars into buildings #BuffaloOpeningCeremony

— a tramp abroad (@trampabroad) July 28, 2012
#BuffaloOpeningCeremony Hundreds dressed as Anchor Bar cooks preforming synchronized chicken wing tossing in big metal bowls. Cc @BradRiter

— HockeyHeavenBuffalo (@HockeyHeavenBuf) July 28, 2012
#BuffaloOpeningCeremony: Airport Plaza Jewelers buys all the gold medals and melts them down for cash.

— Matt Butler (@JMatty_Ice) July 28, 2012
After years of planning, studies, etc & countless dollars spent the stadium is never built & the games go elsewhere #BuffaloOpeningCeremony

— Mark Poloncarz (@markpoloncarz) July 28, 2012
#BuffaloOpeningCeremony Adirondack chairs set up in the shape of the Olympic rings

— Eric Schmitz (@3rdManIn) July 28, 2012
#buffaloopeningceremony Blacked-out locally

— John Grace (@johngracehehheh) July 28, 2012
Towns refuse to merge into one regional opening ceremony and each holds their own. #BuffaloOpeningCeremony

— Andre Bickford (@Andre2999) July 28, 2012
@JeremyWGR The ceremonial flaming football is kicked towards the cauldron to light the flame but misses wide right. #BuffaloOpeningCeremony

— Andre Bickford (@Andre2999) July 28, 2012
#BuffaloOpeningCeremony 1/8th of it takes place in Toronto.

— Jeremy White (@JeremyWGR) July 28, 2012
#BuffaloOpeningCeremony Buster Bison and Chip interpret the closing of Bethlehem Steel through modern dance.

— Alan Bedenko (@buffalopundit) July 28, 2012
Instead of lighting the torch, Trent Edwards checks down. #BuffaloOpeningCeremony

— Jill (@BuffaloJill) July 28, 2012
#BuffaloOpeningCeremony sketchy guy invites the world to come work at Geico.

— Alan Bedenko (@buffalopundit) July 28, 2012
Elmwood Ave bubble guy provides the special effects. #BuffaloOpeningCeremony

— Kevin Snow (@kwsnow) July 28, 2012
Pat Kane drunk and stuck up a fire truck ladder. #BuffaloOpeningCeremony

— Scott Michalak (@ScottyMCSS) July 28, 2012
Parade of Nations has to keep stopping at unsynched traffic lights. #BuffaloOpeningCeremony

— Jill (@BuffaloJill) July 28, 2012
#BuffaloOlympicCeremony Games ultimately end up in Philly. #Sabres

— Fake Darcy (@FakeDarcy) July 28, 2012
@JeremyWGR #BuffaloOpeningCeremony just artist renderings of what it might look like

— Sean Kelley (@skelley13) July 28, 2012
#BuffaloOpeningCeremony Celery finally beats chicken Wing & Blue Cheese!!!!!

— Jen R (@droofer) July 28, 2012