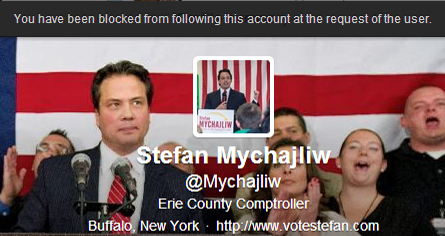 We may well be blocked by others but this marks the first time we've been aware of it.
We're not offended but we are a little confused.
Isn't Stefan Mychajliw supposed to be all about "transparency in government?"
Wasn't he one of the guys in the red coats, asking the tough questions?
Seriously, of all the people we'd expect to take the honor of "first blocker," how on Earth is it this guy?
We're still not entirely sure what "blocking" does but now that it's happened to us, we're going to find out.
All we know is this…
It's up to you, Twitter world, to find out what's going on here. We can't. We can't talk to him.
WE'RE BLOCKED!