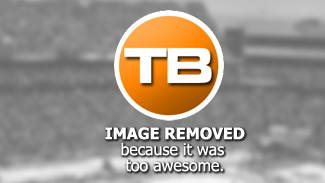 Pictured above: Manti Te'o gives his girlfriend a big hug In what is easily the biggest story of the 16-day-old sports year, Notre Dame linebacker Manti Te'o got busted for making up a girlfriend, or getting duped by wily tricksters.  Local media reaction on Twitter varied, and in some circles turned into a vigorous debate about journalism. The story broke on Deadspin a little after 4:00, and soon thereafter the tweets came pouring in as everyone tried to sort things out. Bear in mind that everyone had the same access to the article when they sent their tweets, and the only things that have changed since are the Notre Dame press conference and more time to digest what facts we have. Ed Kilgore, of all people, was the first local guy to tweet about it, writing: https://twitter.com/kedwinkilgore/status/291666211815710720 No links, no hints to what he might be referring to, but he was the first out of the gate. Does that mean Ed Kilgore is a diligent reader of Deadspin?  I sure hope so. He quickly followed up with this: https://twitter.com/kedwinkilgore/status/291687333261103104 Howard Simon weighed in not long thereafter, linking to the ESPN report that did manage to somehow credit Deadspin. I have no idea why he didn't simply link to the Deadspin article itself. https://twitter.com/hsimon62/status/291684266524409856 Basically, Ed Kilgore is more hip than Howard Simon. Let that settle in your frontal lobe for a bit. Let's try to remember this when over the summer I am desperate for column ideas and decide to run the "Least hip Buffalo sports media guys" piece. Jerry Sullivan weighed in with his usual brand of logic: https://twitter.com/TBNSully/status/291685622811340800 And then it descended into the usual Twitter fight between snarky bloggers and the mainstream media. Mike Harrington took up the MSM cause, which seems to be his nightly role on the Twitters: https://twitter.com/BNHarrington/status/291686374996860928 People responded: https://twitter.com/BNHarrington/status/291692277405990912 https://twitter.com/BNHarrington/status/291692779954900992 Pay particular attention to that last one, because we'll deal with that issue in a minute. From a national standpoint, Bill Plaschke had this to say about his colleagues in journalism: https://twitter.com/BillPlaschke/status/291690766986788864 To add to Plaschke, Brian Moritz posted what I thought was a brilliant piece on his blog, Sports Media Guy (which is a must-read site in my opinion). Some money quotes:
There's no way to sugarcoat it. This story is an embarrassment to sports journalism. The fact that this "story" was reported as fact, and nobody sniffed out anything about it, is embarrassing. It feeds the worst perceptions of sports journalism – that we're all fanboys and fangirls, looking to tell cute little stories about games and that we're not real reporters. Here's the thing: Verifying facts doesn't necessarily mean being confrontational. It doesn't mean asking Te'o "Yeah, I want to make sure your grandma and girlfriend really died." Because yeah, you'd look like a terrible person if you did that. It also doesn't mean harboring doubts about what you're being told. It's doing your diligence…Maybe you call Stanford, where she went to school. Maybe you request the police report for the accident, which is public record.
An interesting difference of opinion, and I know that hindsight is 20/20. To settle it in my mind I talked with a long-time, local investigative reporter to get his thoughts. His words: "I don't expect sports reporters to get death certificates, but it is unforgivable that none of them placed a call to Stanford to confirm she was a student (emphasis mine)…just a phone call." In the end, it's easy to see how it happened. The South Bend Tribune wrote a piece on how Te'o met his girlfriend (Woah, the article is now unavailable, so there's something). SI and other outlets pick it up, don't do their due diligence because the article has been out for a while and nobody has squawked about it yet, and it rolls from there. Very easy to see how, and something tells me many newsrooms around the country are going to be having some skull sessions tomorrow as they try to balance due diligence and reason. The why's and how's of the Te'o story are all going to come to light in the near future. I know I have my opinion on what happened here, and I am sure you do as well. In the meantime I am very interested to see how the media adapts and changes based on this incident.