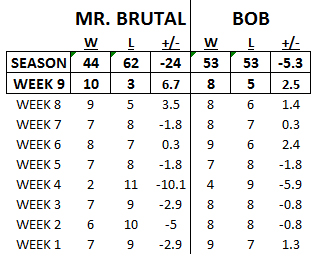 Sunday, November 9, 2014
1:00 pm Eastern Standard Time
Kansas City (-3) @ BUFFALO 43
Coming off this bye week, the Bills look unstoppable. Nothing seems to be able to stand in their way.
No running backs… no problem.
Rookie wide receiver Sammy Watkins tweaks his groin during practice… no problem.
Old retread starting quarterback who could blow an ACL or achilles at any point running out of the locker room onto the field… no problem.
Defensive-minded head coach who almost always doesn't utilize his offensive weapons properly… no problem.
Delusional dreams of winning the AFC East from an aging Tom Brady, senile Bill Belichick and the Patriots? Maybe a problem.
QB Alex Smith didn't look all that great last week in the Kansas City victory over the Jets. This could be a real letdown for the Chiefs, on the road against a tough run defense to counter their vaunted running game with Jamaal Charles. Alex Smith with his soft voice trying to yell out audible audibles could become a fruitless exercise because the Ralph is just about as loud as the Chiefs' world record decibel amphitheatre in Missouri.
Pick: BILLS (+3)
Bob: BILLS +3
Miami @ DETROIT (-3) 44
The Detroit Lions hiring of a former CIA psych-ops expert and consultant to the "Homeland" television series was poised to pay dividends this week. However, when informed that their plan violated several league rules and initiatives, the measure was cancelled.
The Lions' plans to utilize unemployed guard Richie Incognito as a Ford Field visiting locker room attendant have been quietly shelved.
Miami is on a roll and has been good on the road, but the Lions are healthier than they have been for weeks and need a decisive win to challenge the Packers for the NFC North. Our "Team of Destiny" gets back on track.
Pick: LIONS (-3)
Bob: Lions -3
Dallas (-7) @ JACKSONVILLE (London, England) 45
This week in Dallas news, Doctor Kildare Jerry Jones announced that he offered up his wife's first class seat to Tony Romo on the team flight to England. Since the journey could be hard on Tony's surgically stitched spine and contusioned ribs, Jerry thought this was magnanimous, humorous and showed the world what a 24/7 philanthropist from Texas looks like.
What a generous idiot. First of all, he should be investigated by the AMA for impersonating a medical professional and throwing a crunched spine Romo back into that game a week ago last Monday in the loss against the team with no name from Washington. Then we watched him panic the next week after his Cowboys lost to Arizona with Brandon Weeden starting. Then he reinstated (without any confirmed medical clearance) Tony as the starter just before undertaking this long road trip to Great Britain to play against Jacksonville with the Cowboys' bye week following.
All this means Romo could have had a month off to get healthy, but Jerry Jones got so dismayed, so self-absorbed, and so schoolgirl-skittish afraid of the embarrassment of losing to the lowly Jags, that he panicked. So he flies him over the pond, rushing him back for a game against the toothless Jags that the Cowgirls should be able to win with Brandon Weeden, Babe Laufenburg, Clint Stoerner or head coach Jason Garrett himself starting at quarterback.
The Jaguars like their adopted second home in London, even though they play pretty much as badly here as they do in the New World. The nominal home team has been embraced as lovable losers by all the kindred spirit fans of London's lesser known and also-ran Premiership and lesser division soccer squads. So expect to see a lot of MiIlwall, Brentford, Leyton Orient, AFC Wimbledon and Kray Brothers Forever FC paraphernalia adorning fans cheering for Jacksonville.
They'll still be mightily outnumbered however by Dallas Cowboy jerseys in Wembley. England has just as many celebrity jock-sniffing wannabes and front runners who worship, bow and sup at the altar of manufactured corporate sponsorship and exaggerated media-driven imagery as America… the same type of human-form bipeds who gossip, ogle, tweet, gasp and purchase solely based on the public relations-manipulated daily banalities of a certain overrated double digit IQ English ex-Futbol star and his synthetically altered paramour.
We have a really, really, really bad feeling that rushing bad backbone Tony Romo back into the fray on the slippery, uneven, easy-to-divot, synthetic/natural grass hybrid turf of Wembley Stadium like some Willis Reed – Bobby Baun wannabe pipe-dream moment of glory is going to end in tragedy… like a William Inge play, a Franz Kafka novel or Benito Mussolini's final appearance in Milan.
In other words, it will end like a typical Cowboy season from the last ten years.
Pick: JAGUARS (+7)
Bob: Jaguars +7
San Francisco @ NEW ORLEANS (-4.5) 44.5
Suddenly, it is the 49ers who are in the must-win situation and not the Saints. Arizona could be pulling away in the NFC West, Seattle will probably start playing better and the Rams are just a game behind the Niners after their weird win over San Francisco last week.
I think the Saints are the easy pick here, but their momentum, positive karma, bio-rhythms and equilibrium could all be thrown off by the unsettling cause and effect dichotomy deriving from the unsettling presence of Gaughan & Clan in the Greater Crescent City area this weekend.
Pick: SAINTS (-4.5)
Bob: Saints -4.5
Tennessee @ BALTIMORE (-11) 44
Cheap shot artist and Ravens' LB Terrell Suggs awaits league action regarding his attempt to perform in-game hip replacement surgery on Steeler RB LeGarrette Blount of the Steelers last Sunday Night.
Who knows how long that will take? Captain Crunch Commissioner Roger Goodell has been in seclusion cramming for his court appearance this week in the ongoing Ray Rice debacle.
If I were Suggs, I'd be more worried about Blount when these teams play again next year.
When Blount played at Oregon, he was suspended for sucker-punching and knocking out a Boise State player on national television. Frequent temper and disciplinary problems have followed him throughout his pro career in Tampa and Pittsburgh– notwithstanding his recent conversion to Namaste therapy involving yoga and frequent cannabis imbibing with teammates, we would be very wary of the elephantine memory and grudge factor logic that Mr. Blount obviously possesses.
The Ravens should win this game easily over the continually rebuilding, moribund and "Wheel of Fortune" approach to naming a starting quarterback Titans. This week, Tennessee is starting former LSU star Zach Mettenberger, a young man who after being named the starter last week, took to social media to enhance his celebrity with his wit, clothing and accessory style choices through a surplus of selfies.
Unfortunately it just showcased his immaturity… but it did start a viral fashion trend on the internet of young men adapting 1970's porn star mustaches and Olivia Newton-John headbands in desperate attempts to be noticed, communally-accepted for seizing the latest trend or perceived as relevant and loved.
Ravens should kill the Titans at home after two straight losses… but who knows? The weather is supposed to be wet and rainy. It will mostly depend on the disposition of their field marshall. The Ravens often follow the lead of their schizophrenic quarterback Joe Flacco.
Sometimes he looks like the determined small-school overachieving Super Bowl winner from Delaware with the big arm, great accuracy and steely repose in the pocket when the bullets start flying. Other times he plays like an overly-content Cheshire Cat, looking forward to relaxing after the game, lounging on the overstuffed pillows of his chaise lounge, drinking absinthe with the mesmerized lack of eye focus that comes from staring too long at the multiple zeros in his latest paycheck.
Pick: RAVENS (-11)
Bob: Titans +11
Pittsburgh (-5.5) @ NEW YORK J-E-T-S, JETS! JETS! JETS! 45.5
1.)  The over/under on how many TD's Ben Roethlisberger will throw in this game is 4.5.
2.) The odds of him throwing 6 touchdown passes again for the third game in a row are 12-1 against.
3.) The odds of Jets' starting QB Michael Vick taking selected media with him to a postgame victory meal eat and greet at an off-the-grid Jersey restaurant featuring a menu of Gaejang soup, Jeongol stew appetizer and a main course of boiled and spiced Suyuk are 10,000-1 against.
4.) The odds of Rex Ryan getting fired after this game if the Jets are embarrassed again are 5-2. The stars are aligned, this could be Rex Ryan's last game as head coach of the seized turbines, since the dreaded kiss-of-death bye week looms for New York next week.
Already there are billboards going up outside the stadium urging the firing of Jets' GM John Idzik. The fans themselves raised the $10,000 to purchase the advertisement. If they pass the hat at this game and each fan throws in $20, they might be able to buy a quarterback better than anyone Idzik has brought to the team.
Pick: Steelers (-5.5)
Bob: JETS + 5.5
Atlanta (-2) @ TAMPA BAY 46
What a dumpster-diving bonfire of a game this will be. With the season down the sewer, and possessing a personal long term contract, Tampa coach Lovie Smith is thrilled that he can embrace the Buccaneer youth movement and start planning for the future.
He will do that this week by starting 35 year old journeyman Josh McCown at quarterback.
Of course, we know this because previous starting quarterback Mike Glennon announced his own benching on his radio show this week 24 hours before the team told the press. The next day Lovie Smith at first refused to confirm the switch, then later in the day, he did.
If Captain Kidd had run his ship as loosely as the Buccaneers do theirs, the privateer would have never got the Adventure Galley beyond the English Channel.
Atlanta owner Arthur Blank has indicated that Coach Mike Smith's job is safe for now, but everything is under review at the end of the year. That should really satisfy the thousands of extremely loyal Falcons' fans who choose to not show up each week. Things have gotten so bad that some fans have started a "Bring back Bobby Petrino" website.
Pick: BUCCANEERS (-2)
Bob: Atlanta +2
4:05 pm
Denver (-14.5) @ OAKLAND 49.5
…. Yes, the Isomorphic Machine branded Peyton Manning and the rest of his Cyborg army will be out for revenge against the winless Raiders after their deplorable humiliation in Foxboro.
…. But the Raiders stay in most games, have played well lately, and this is an enormous spread for the Broncos to cover on the road at the home of a divisional rival.
However, the biggest factor going for the Raiders covering this spread involves the Black Hole being bolstered/reinforced/rearmed Sunday because this coming weekend is a regular monthly release date for parolees.
Pick: RAIDERS (+14.5
Bob: RAIDERS +14.5
4:25 pm
Saint Louis @ ARIZONA (-7.5) 43.5
We said it in Cincinnati, we said it in Oakland and we'll say it now in the desert: Carson Palmer can win you games if you build a solid offensive line to protect him and close your eyes when he scrambles.
Carson is a big, lumbering, medium-low declining to sloth speed target prone to injury. When he runs, he looks as rickety, athletic and elusive as a Ray Harryhausen stop-motion animation creation. For the sake of the Cardinals' chances of winning this year, Bruce Arians must instruct the living statue to throw the ball to Tucson if the blitz pressure is oppressive.
If that option isn't feasible, Carson should adopt the Los Angeles Rams' era Joe Namath fetal curl-up pose when the pocket starts to collapse.
Can the Rams win two in a row? Maybe not this week, but they should be able to keep this one close because the Cardinals' offense doesn't like being a north of a touchdown favorite.
Pick: Rams (+7.5)
Bob: RAMS +7.5
New York Football Giants @ SEATTLE (-8.5) 43.5
Finally, a game the Seahawks can win, cover and relax while playing. The Hawks should be basking in the comfort of watching Eli Manning and the Giants offense succumb to the ear-piercing cacophony of the "Twelfth Man," this week featuring guest hecklers Peisone, Aglaope & Thelxiepeia.
Pick: SEAHAWKS (-8.5)
Bob: Giants +8.5
8:30 pm
Chicago @ GREEN BAY (-8) 53.5
Betting and cheering for the Bears with starting quarterback by virtue of huge financial investment Jay Cutler is a losing proposition gambit with the House holding too many advantages.
Similar to playing Russian Roulette in a bamboo hut over a Vietnamese rice paddy with Christopher Walken, Robert DeNiro and three bullets in the cylinder.
Pick: Bears (+8)
Bob: Green Bay -8
Monday, November 10, 2014
8:30 pm Eastern Standard Time
Carolina @ PHILADELPHIA (-6) 45
Lots of people believe that the Eagles are not as good as their record. Lots of people believe that Chip Kelly is not as good a coach as he thinks he is.
We'll soon see. Ex USC Trojan & Jets' whipping boy Mark Sanchez gets the start at QB this week with the season ending collar bone injury of Nick Foles. If Chip Kelly can win with the Human Hand Grenade starting at quarterback, then maybe he really is an offensive genius. If it doesn't work out, Matt Barkley another Trojan QB, will be backup, a guy whose career peaked in his junior year in Los Angeles. What is it with the Eagles' obsession with Southern Cal passers?
Maybe we're just disappointed because our wild pre-season prediction of Eagles' practice squad QB E.G. Kinnie of Tulsa becoming the starter before the season ends looks like a lost flight of fancy– a far-flung fantasy on a par with the Democrats retaining control of the Senate by running on a positive platform of six straight years of economic growth out of a recession, record stock market levels, declining healthcare costs, no more American troops on the ground in the allergic-to-peace-and-harmony Middle East and the lowest unemployment rate since the middle of the Connecticut Cowboys' disastrous two term run… rather than running on "I don't like Obama either."
The Panthers have not been playing well, and self-proclaimed super hero Cam Newton has looked lethargic in recent games. Concerned about the trend, the Carolina management has decided to be pro-active.
Under a new security measure, the Carolina Panthers' ground crews have started surreptitiously sweeping all stadiums the Panthers play in for kryptonite.
Pick: EAGLES (-6)
Bob: Eagles -6