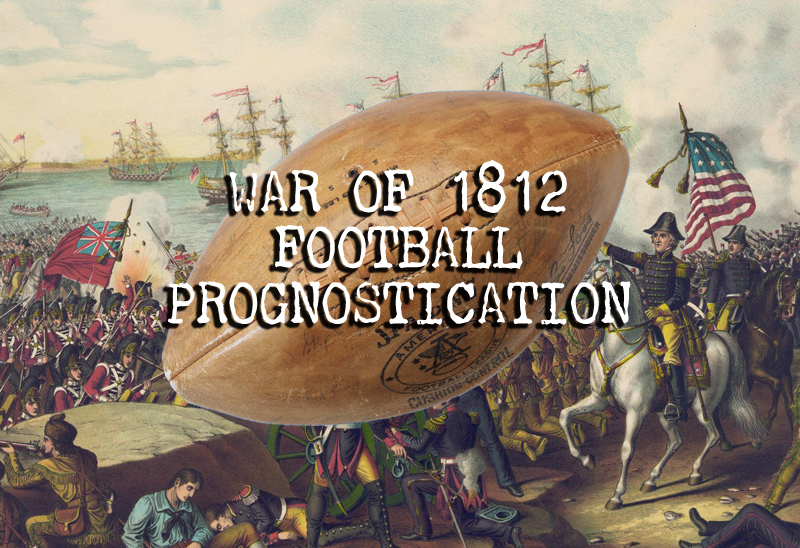 (Editor's note: Mixed into a rambling narrative about the current state of affairs in the NFL loaded with historical and pop culture references, Mr. Brutal makes some football picks. Why does he call it the "War of 1812 Football Prognostication"? He likes history, he's Canadian, Bob Gaughan is American and includes his picks as well.)
Thursday, September 18, 2014
8:30 pm
Tampa Bay @ ATLANTA (-6.5) 44.5
The signing of Lovie Smith as head coach was supposed to be a stabilizing influence on Tampa after Greg "The Great Santini" Schiano's fiery reign the last few years. The Bucs' turnaround has hit a snag however, and if they don't step up against their divisional foes in this game they will fall to 0-3 in the NFC South Division and overall, a death knell for this season according to the New Bohemian horde of football cyber-metric actuarial experts.
It doesn't really require a degree in Theoretical Mathematical Probabilities to see the problem. Lovie Smith has always seen offense as something ranking just above a necessary evil or a Thanksgiving invitation to your mother-in-law.  In Chicago, he and GM Jerry Angelo presided over a decade of drafting 80% defensive players and relying on trades and free agents to fill out the offensive side of the roster. This isn't a problem necessarily, if along with that dominant defense you hire the right offensive coordinator. But the Bears and Lovie were happy to run an ever-revolving carousel of coordinators through the last decade, directing a few good but mostly over-the-hill free agents, poor over-reach draft picks, castoffs and practice squad all-stars. Although they went to one Super Bowl on the back of that stellar defense and special teams, the chronic neglect of the attacking squad on the other side of the line of scrimmage caught up with them… that and the misguided, delusional and criminal belief that QB Rex Grossman could win a Super Bowl game without Divine Intervention.
So upon moving to the Retirement Bay area, Lovie made it a priority to find a starting quarterback. Well, QB Josh McCown looked pretty good for a couple games last year playing for his old team in Chicago. He was a free agent, and he is old… so he met two of the ideal Lovie criteria for offensive employment. So they signed him as a free agent to a 10 million dollar, two-year contract. Now Josh is a nice guy and has persevered through a lot of adversity and we're happy to see him cash in but he has played for EIGHT(!) NFL teams and he couldn't stick with any of them. Not even his sojourn with the Hartford Colonials of the USFL was successful.
The worst thing is that defense-first obsessed Smith will not take any chances on being progressive, so he will have McCown direct boring and predictable schemes that thrill rival defensive coordinators when they game plan against the Buccaneers.
Lovie loves a ground attack dominated offense that in predictability and imagination resembles French Army strategy at the Battle of the Somme. Lovie has already directed talented OC Jeff Tedford to run a simpler scheme than he is used to. This means burning all the pages in his playbook that involve plays designed after the AFL-NFL merger and working on variations of the Wishbone, Wing-T & Antebellum "I" formations in practice.
So far this year, the Bucs have lost two close games at home. Thanks to a good defense, they've stayed in them but fallen short in fourth quarter comebacks behind an offense that isn't designed or equipped to open it up.
The short week doesn't do anyone any favors, but Atlanta has several excellent receivers. They're much better at home, especially with the noise and fast turf in the dome. The Tampa defense may keep it close for the third week in a row, but the Falcons should have enough to win by more than a touchdown in a typical
Thursday
Night game where the players look like they are running in molasses in the second half, usually preventing big comebacks.
Mr. Brutal: FALCONS (-6.5)
Gaughan: Bucs keep it close as always +6.5