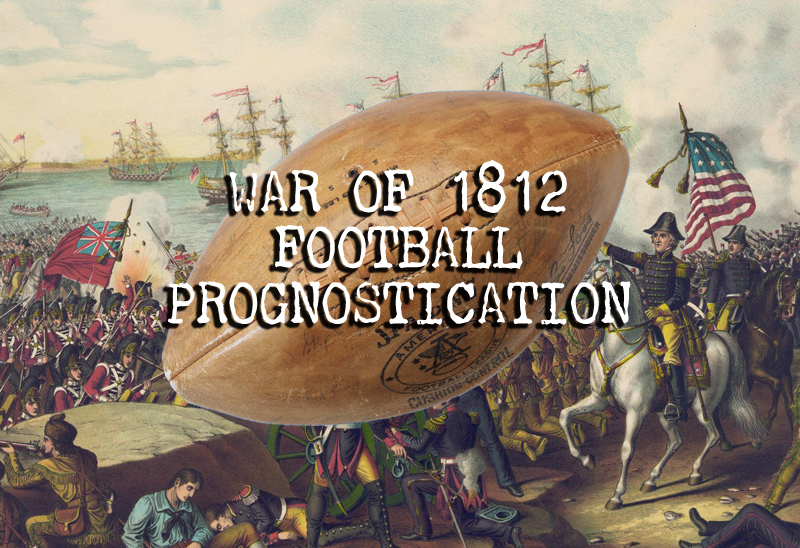 (Editor's note: Mixed into a rambling narrative about the current state of affairs in the NFL loaded with historical and pop culture references, Mr. Brutal makes some football picks. Why does he call it the "War of 1812 Football Prognostication"? He likes history, he's Canadian, Bob Gaughan is American and includes his picks as well.)
What would the NFL give to have a dozen Michael Sam type distraction stories to deal with right now?
People have every reason to be outraged at the NFL for the events of the past week. What a sad carnival cruise of hypocrisy, backsliding and expedient reactionary kowtowing to special interests, sponsors, public relations and general paranoia. The newest criminal expose, the latest on-line polls and media attacks have all forced Goodell and the gang to lead from behind. They are reminiscent of totalitarian regimes in the dying days of Communist Eastern Europe trying hard to catch up with events overtaking them and fantasizing that they will still be able to maintain control.
This ambiguous allegiance to a turnstile morality isn't surprising, the Shield has always valued money and image over doing the right thing… unless events, science and overwhelming public opinion force their hand. Then they experience a conversion on their latest road to Damascus moment.
Anyone who has watched the PBS Documentary about the evolution of concussion and brain injuries in the NFL knows just how low and how far the League will go to destroy anyone who dares to interfere in, or threaten the money orgy they worship and wallow in.
With all the bad decisions, reverse decisions and no decisions this week, there was one that stood out that had a positive result, although it was taken for the wrong reason.
CBS decided to pull a song by Rihanna from their Thursday Night Football broadcasts. Now this ostensibly is because of her own intimate history with Chris Brown, a singer/wrapper/constant street cred seeking thug who is also famous for being a serial domestic abuser. The Network (and we're pretty sure the League) doesn't want people making the obvious and negative connection with all the legal problems involving Rice, Hardy, Peterson, McDonald, Dwyer, et. al ad nauseum.
Now, blaming the victim is never right, so CBS and the NFL should be ashamed for banning something for second degree association rather than content. But on the other hand, another crappy, over-produced, exceedingly forgettable piece of borderline music has been prevented from mind numbing our sensibilities. Hurray!
Rihanna is just another in a long line of Internet/Media Pop Stars of the LAT variety (Little Apparent Talent). However, she is a celebrity/personality whose everyday mundane, foolish and predictable actions seem to fascinate a very large 24 hour twitter culture that lives and dies vicariously through them. The NFL and the broadcast networks therefore usually love to take any opportunity to associate their product with that desirable demographic of non-discerning 16-40 year old consumers.
Twice we have seen her supposedly perform "live." She was lip syncing once, and the other time she was doing a semi-live, octave enhanced, auto-tuned charade in front of a band that was masquerading playing to a pre-recorded instrumental track. We realize this is par for the course today, but it makes the mediocrity of her performing skill all the more amazing.
"Pop" music was once a term used for simple, catchy music of generally mediocre quality, mostly appealing to the lowest common denominator. Listeners would include people who have just begun to discover music, prepubescent teenage girls and people who take as much interest in the quality of what they allow to fill their ears as they do in selecting which one of a bunch of grapes they are going to eat next. Then usually over time, these same people would progress into more advanced music; Rock, Progressive, Jazz, Blues, Classical– exploring the totality of real artists' work, embracing the long playing album format, lyrics, live performance… anything that expanded the sonic experience and relationship.
Today "Pop" music, celebrity and internet hits rule like never before. Fewer people move on to anything more challenging to digest. So, boo to CBS for dissociating themselves from something for cowardly reasons, but kudos for taking such sonic drivel off the telecast.
But what if something even worse replaces it– like that new pathetic brand of pseudo Country Hair Metal that ABC dedicated an entire two hour show to broadcasting several weeks back? Well, whatever it is, we're going to make the safest bet of all time– the CBS Thursday Night NFL Football game opening song will not be one composed by or sung by Chris Brown. Call your bookie.
Sunday, September 21, 2014
1:00 pm
San Diego @ BUFFALO (-2.5) 44.5
Welcome Philip Rivers and the Chargers to Pegulaville!
Coming off an emotional win over the Super Bowl Champ Seahawks, a big letdown is in order. Flying to the Eastern Time Zone for that dreaded 10:00 am Pacific start time is always detrimental to West Coast teams due to disorientation… because most NFL players are attending church services at this time each Sunday before heading to the stadium.
Mr. Brutal: BILLS (-2.5)
Bob: BILLS
Dallas @ SAINT LOUIS (-1) 45.5
The Cowboys have a win and the Boys' owner is ecstatic. However, the million dollar lawsuit against him surrounding his voyeuristic semi-sexual escapades is a minor distraction. He could make it all go away with a settlement and avoid the publicity. After all, a million dollars is tip money that J.J. keeps in his breast pocket to tip his on-call valet son-in-law for cleaning his glasses during football games.
However, Jerry John Holmes Jones is torn. He likes publicity, especially gossip that involves talk surrounding his amazing virility, stamina and sex appeal as it relates to (much) younger females. Besides, settling this lawsuit would encourage who knows how many more… dozens? There are probably more than a few skeletons in that closet, and the Commissioner has issued a secret fatwa telling all the owners to curb their hedonistic excesses and to cancel all "Key Parties" during the current NFL Public Relations disaster storm.
But then again, more lawsuits would mean even more, a lot more, maybe endless personal publicity, and since when did Jerry ever listen to someone from a lower rank like the NFL Commissioner? A "Sophie's Choice" dilemma indeed for Humbert Humbert Jones, his massive ego, reckless id and non-participatory super ego.
When he isn't pursuing the real life embodiment of a Vladimir Nabokov caricature, Jerry is pursuing pristine personal appearance perfection– in other words, a lot of dollars and time spent on reconstructive surgery. The quantitative estimate might be approaching Joan Rivers proportions (Too soon?) and the qualitative assessment lies somewhere between Bruce Jenner and Kenny Rogers.
But when we look at the results, we have to wonder if it is only just money poorly spent. Jerral Wayne Jones is listed in his bio as being 71 years old. Even accounting for the usual vanity shaving that applies with people of his nature, Jerry is probably no older than 75. Hell, he looks a lot, lot, lot lot older. Is it just the result of shoddy blepharoplasty? Disastrous dermabrasion? Or is there a more sinister force at work?
At some point, did Shah Jahan Jones make a deal with someone from the dark side– the iconic Faustian bargain of everlasting youth and success in trade for one's eternal soul?
Neither success nor immortal juvenescence appears to be the byproduct. Maybe the facilitator of the imperishable transaction is playing a cool ironic joke on this egomaniac. With each passing week, the great man appears to be aging at an accelerated pace and his beloved Cowboys' performance continually alternates between mediocre, pathetic and circling the drain.
Somewhere in his domicile or office, a commissioned portrait of Jerry Jones grows a little bit younger with each passing day.
Mr. Brutal: RAMS -1
Bob: Cowboys +1
Washington @ PHILADELPHIA (-6.5) 51
Little Danny Snyder and the Unmentionables won last week and are counting on the Eagles to be tired after the short week's rest after their Monday Night win in Indianapolis. Head coach Jay Gruden is going to have to do it with Kirk Cousins at the controls since RG III got hurt again with another non-contact injury. No, not the one that occurred last week as he ran out of bounds, but the one that happened earlier in the week and weakened his ankle, setting him up for another lengthy visit on the IR. This time he tripped over his Heisman Trophy in the Hall of Mirrors in his DC Mansion while angrily tweeting that he was not self-obsessed.
Mr. Brutal: EAGLES -6.5
Bob: Redskins +6.5
Houston (-2.5) @ THE NEW YORK FOOTBALL GIANTS 42
The story of the 0-2 Giants this year has been disturbing… Alistair Crowley disturbing. On the sunny side of the situation, Eli Manning increased his completion percentage by 7% in the anemic 25-14 loss at home to the Carson Palmerless Cardinals last week. He now stands at 61% for the year, just 9% below the Mendoza-Clooney line that the Giants' offensive coordinator and resident genius Ben McAdoo has deigned the definitive measure of success this year as opposed to wins and losses.
How bad are the Giants? The Texans who went 2-14 last season are coming to Gotham without number one overall draft pick and Greek God Jadeveon Clowney… and they are still the favorite because DE J.J. Watt is playing like Hercules & Ivy League-educated QB Ryan Fitzpatrick is directing the offense like Aristotle, despite having an arm with the rigidity of overcooked linguine.
Mr. Brutal: Texans -2.5
Bob: Texans -2.5
Minnesota @ NEW ORLEANS (-9.5) 50.5
There is some sad irony in the generational/regional/gender/philosophical debate that has arisen over what constitutes excessive corporal punishment this week around the actions of "Whooping Room" Adrian Peterson. Although AP plays for a team that is named for First Millennium Barbarians and he shares a Scandinavian surname, real ninth-century Vikings didn't treat their "toddlers" as harshly as "All Day" Headmaster Peterson. Punishment of the severity cited in this case would often result in the village council meting out much harsher and gruesome consequences for the adult perpetrator.
Bad News: The Official Sponsor of the Vikes, the Radisson Hotel chain has suspended sponsorship of the team pending further developments and other sponsors of the team and the NFL have followed similar paths.
Good News: "Amber Alert" has signed on with the Vikings as a new sponsor.
Mr. Brutal: SAINTS (-9.5)
Bob: SAINTS -9.5
Tennessee @ CINCINNATI (-6.5) 43.5
The Bengals have a lot of issues to deal with… major injury issues (LB Vontaze Burfict, WR A.J. Green, WR Marvin Jones and OT Andrew Whitworth)… a quarterback in Andy Dalton who now has a big money contract, a lackluster reputation & low expectations among the fans… a predictable run-first offense that results in poor red zone performance and an epidemic of field goals… and two new coordinators running the offense and defense who are mostly unproven.
The Tennessee Titans have QB Jake Locker
Mr. Brutal: BENGALS -6.5
Bob: BENGALS -6.5
Baltimore (-1) @ CLEVELAND 41.5
The old carpetbagger Modell Browns vs. the new Manziel-in-waiting Browns.
Mr. Brutal: BROWNS +1
Bob: Ravens -1
Green Bay @ DETROIT (-1.5) 52
Note to Packer linebacker Clay Matthews: Human Growth Hormone testing is coming as part of the new NFL drug policy. Please make appropriate adjustments to your offseason training regimen.
Mr. Brutal: LIONS -1.5
Bob: Packers +1.5
Indianapolis (-6.5) @ JACKSONVILLE 45.5
The Jaguars are playing hard, but it still looks like they are going to be in line for the first pick in the 2015 Draft. They are already set at quarterback with their top 2014 draft pick QB Blake Bortles watching, learning and holding a clipboard on the sidelines this season, so they won't have to go through the awkward exercise of evaluating Heisman-winning QB Jameis "Deadliest Catch" Winston.
Potential number one pick Jameis got himself in trouble again this week when he jumped up on a table in the Florida State cafeteria and gave a completely misinterpreted soliloquy combining the sentiments of Peter Finch's character in "Network" and a celebration of the freedom of sexual expression as defined in the gangsta-wannabe-on-YouTube handbook.
Mr. Brutal: JAGUARS +6.5
Bob: JAGS +6.6
Oakland @ NEW ENGLAND (-14.5) 47
Nice guy Raider rookie QB Derek Carr leading the Silver & Black into New England for a friendly Sunday afternoon game of football has all the appeal of watching the last specimens of an endangered species become extinct before your very eyes… but that is a big spread.
Mr. Brutal: Raiders +14.5
Bob: PATRIOT -14.5
4:05 pm
San Francisco (-3) @ ARIZONA 42.5
Carson Palmer should be back this week from injury. He's almost as big as the Colossus of Rhodes and somewhat less mobile, but him playing should just be enough to put the Cards ahead in a close game at home.
Mr. Brutal: CARDINALS +3
Bob: CARDS +3
4:25 pm
Denver @ SEATTLE (-5) 48.5
A petition has garnered 30,000 signatures in Colorado asking CBS to stop assigning Phil Simms to broadcast Denver Bronco's games. The fans are fed up with what they consider his biased color commentating regarding their beloved Broncos. Normally, we would support any effort that would result in muting "Teacher's Pet" Simms and his monotonous, repetitive and suicide inducing drone. We couldn't care less about any weak-sauce criticism that the blonde glider occasionally elicits.
Attention Broncos' fans, Denver is 10-0 in the last ten games in which Simms has graced us with his verbal eloquence. Table the petition until further notice.
This is Denver and Peyton Android's chance to make up for that Adrian Peterson-caliber "whooping" they took in last year's Super Bowl, and to take advantage of the new pass interference rules that were brought into the game specifically to help them get back to the big game before Peyton is sent to wrecking yard.
It won't matter.
Peyton Whiner and the rest of the untamed equines will get taken to the dog food factory in the open air Decibel Dome by the angry Seahawks who are not pleased with the nature of their loss last week in San Diego. The return to the Broncos' lineup of wide receiver and Kentucky Derby Raver Wes "Humpty Dumpty" Welker will make negligible impact.
Light a candle for the Broncos and pray for Mr. Welker's cerebellum.
Mr. Brutal: SEAHAWKS -5
Bob: SEAHAWKS -5
Kansas City @ MIAMI (-4.5) 41.5
The Chiefs almost beat the Broncos in Denver last week, but two road games in a row don't bode well for Andy Reid's team. Travelling from the oxygen-deprived Himalayan atmosphere of Colorado to the suffocating Amazonian humidity of Miami Gardens to play in Joe Robbie Stadium could be especially challenging. Sorry, Pro Player Park… Pro Player Stadium… Dolphin Stadium… Land Shark Stadium… ahhh… Sun Life Stadium.
Don't ever let anyone tell you that the NFL and the Dolphins don't value historical tradition.
Mr. Brutal: DOLPHINS (-4.5)
Bob: DOLPHINS -4.5
8:35 pm
Pittsburgh @ CAROLINA (-3) 41.5
It appears that the Panthers are going to have to win the NFC South with a stellar defense minus recently suspended defensive end and convicted wife beater Greg "The Kraken" Hardy. They could still use some help in the offensive weapons department to aid Cam Clark Kent Newton, but the current political climate has put a hold on GM David Gettleman's latest brainstorm.
Plans to sign Oscar "Scissor-Legs" Pastorious as a free agent wide receiver have been indefinitely shelved.
Mr. Brutal: PANTHERS (-3)
Bob: PANTHERS -3
Monday, September 22, 2014
8:35 pm
Chicago @ NEW YORK J-E-T-S, JETS! JETS! JETS! (-1) 46
The Indignity of it all for New York City– the Jets and Giants are 1-3 so far this year, and the only win was the Jets at home beating the Raiders which might not really count.
On the positive side, the winner of the Miss America Pageant hailed from New York State for the third straight year. What are the odds of this occurring? They have to be really highly against in a state free of any corruption or favoritism like the one presided over by Governor Andrew "The Saint" Cuomo.
Note: The Roman Catholic Church has a zillion Saints, some with designated patronages against negative entities, from hailstorms to demonic possession, but no official Saint against corruption. Facebook and several African dictatorships however, do have one.
The J-E-T-S, JETS! JETS! JETS! had a busy off-season. In the quest for sponsorship dollars, their team nickname has always been seen as a blessing, providing them with an abundant choice of potential big money air carriers and free charter flights. The "Jets" signed Malaysian Airlines to a big money deal as their international sponsor. The unfortunate events of this past year, the layoffs and the financial restructuring of the company have voided that deal and vaporized those benefactor dollars.
Bears' QB Jay Cutler is due for a trench in his biorhythm cycle this week. Also, the surprising but physically/mentally draining win over the Niners in San Francisco last Sunday night and the early morning flight back to Chicago make this a tough week for the Bears to prepare for Rex, Geno and the Jets. Also, New York and New Jersey's tough cigarette smoking restrictions are known to really put a crimp in Cutler's pregame preparation.
Mr. Brutal: JETS (-1)
Bob: Bears +1