I accidentally typed "Pegula" instead of "September." Pretty much sums up our fun little month so far.
Smart Thing 1: The Bookmobile Returns To Buffalo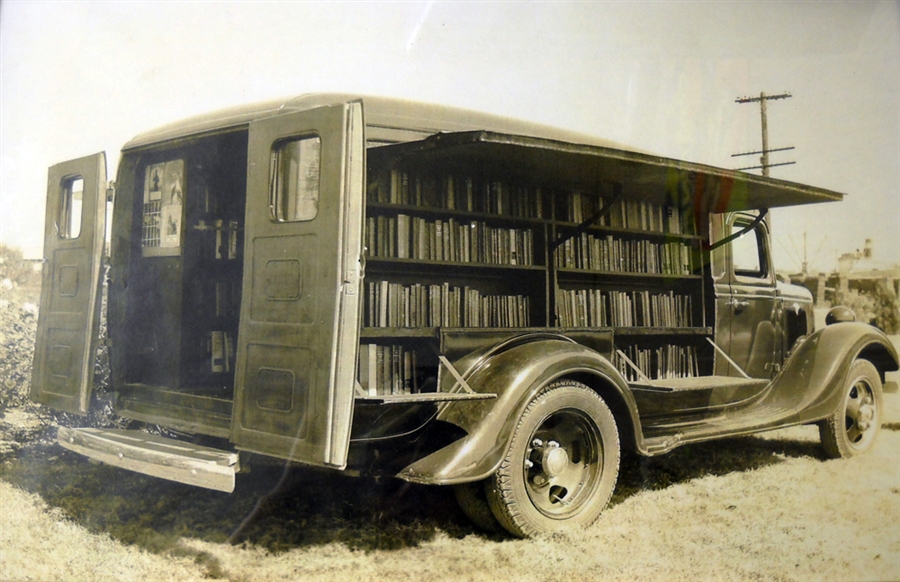 I had an interesting conversation on Twitter this month. What started as a casual, nostalgic tweet about our "great old literacy ambassadors" turned into some fantastic news: the bookmobile is coming back to the streets of Buffalo.
I also had a chance to sit down and chat with Mary Jean Jakubowski, the Director of the Buffalo and Erie County Public Library, and her team. They couldn't share everything about this project in motion, but she did confirm that the library is indeed "in the process of solidifying a bookmobile." It will be on the roadways in 2015.
"This will not be yesterday's bookmobile," Jakubowski added. Bookmobiles have changed a lot over the years, with the incorporation of free wifi, laptops, and other media – bookmobiles are now "techmobiles," bringing book and digital literacy to those who could otherwise not afford it.
"We're very excited for this project, and we're very grateful to Erie County for providing the funding for this," she said.
I'm grateful too, but maybe grateful isn't the right word – more like thrilled, maybe. Literacy outreach is a big deal, especially in a city that is currently digesting negative reports  that show that half of its kids are growing up in poverty (more than twice the national rate). This is one tool that can reach all of them, and make a positive, measurable difference.
It's also important to remember that bookmobiles are fun. While the library has already had a presence at Canalside, I'm imagining a day or two out of the year where the new cruiser rolls up to the waterfront.
Maybe not too close to the food trucks though. We don't want to get our books handled with greasy hands.
You can find the library's informative and entertaining Twitter at @BuffaloLibrary, and make sure to check out their upcoming events and activities.
Smart Thing 2: Buffalo Game Space Aims To Keep Citizen Programmers Home
It's been a while since I had a good kickstarter on here. Citizens, welcome to the concept of Buffalo Game Space:
Our @BuffGameSpace Kickstarter is already up over $3K! Please keep spreading the word https://t.co/3PQnARUa36

— Blockade Runner (@BlockadeRnr2011) September 18, 2014
On the heels of the bookmobile news, all I can think of for this idea is: BEST. FIELD. TRIP. IDEA. EVER. Seriously. Throw some money at those guys. Game-based learning is a thing – like book/techmobiles, it is all about the educational empowerment.
Smart Thing Three: Heart Walk Scheduled For This Saturday
Dreams from the Heart Camp was "created in 1994, for children with severe congenital heart disease, many of whom are limited and are unable to participate in camps designed for 'healthy' children." Buffalo icon Pat LaFontaine has celebrated the charity and its efforts to help children, but like any hopeful destination for ill children, it still needs our help. Their annual Heart Walk is this Saturday at Chestnut Ridge, from 11-1 (registration begins at 10). The event is rain or shine. As some of you may already know, this is a personal favorite charity for me. So come on down and meet me at the Commissioner's Cabin, won't you?
Smart Thing Honorable Mentions/Tweet Roll:
For my canine readers:
#Buffalo police K-9 assists in burglary arrest. http://t.co/36FSYzDEdB pic.twitter.com/e7n8BIB4ny — WGRZ (@WGRZ) September 17, 2014
And back to the whole educational empowerment theme…
Thanks to @SayYesBuffalo, #Buffalo Public School students have more programming & support than ever before: http://t.co/08NRGfKjOU — BNPartnership (@BNPartnership) September 18, 2014
And back to the Bills, and #FancyStats. Make sure you follow Michael Purinton, if you aren't already.
Same mesh/shallow crossers play as TD here in the middle of the field. 84 in yellow clears space for 14 in red pic.twitter.com/T3zlxp80Ne — Michael Purinton (@NickelCityBills) September 16, 2014
A city fell in love with a shark this year. A shark, that was a girl.
#MirroredRoomSharkGirlSelfie pic.twitter.com/JNKhV3le2O — Albright-Knox (@AlbrightKnox) September 5, 2014
My favorite Buffalo tweet from the Ray Rice horror:
Here is a list of things Haven House (shelter for battered women) in Buffalo needs: http://t.co/qAsiZ9yCFx I'm going shopping later. — Rich Mattingly (@nickelcity) September 8, 2014
BALLPARK BREW BASH.
This Saturday: @BPBrewBash! Our Tripod will be in the VIP room, but we'll be pouring in the general area as well! pic.twitter.com/i6J1YiC0uQ — Community Beer Works (@communitybeer) September 16, 2014
And finally, again, back to the Bills.
you HAVE to listen to this. be prepared to cry. Caller cries at Pegula News http://t.co/XZNUEqzT02 — Howard WGR (@hsimon62) September 9, 2014
What are the stages of whatever is the psychological opposite of grief? I'm pretty sure this radio call-in hall of famer was experiencing all of them at once. Bliss.
Emotions aside, I cannot wait to see how Terry and Kim/Kim and Terry lead this team back to glory, and how they might use this new acquisition to continue to help build our city.
I'd suggest a Bills/Sabres sponsored tech/bookmobile, but again, that's just me.
***
Note: Questions? Comments? Have a Smart Thing? You can find Scott Michalak on Twitter awaiting the news that he is going to be the new bookmobile driver at @ScottyMCSS.