It's Christmas Eve. No one cared about the Bills vs. Dolphins game yesterday and we're damn sure no one cares about this "Best of Twitter" post today.
We're doing this thing in just four tweets but promise it'll tell the story no less accurately than anything you'll read in The Buffalo News.
***
TWEET 1 – "Set the scene"
Maybe people have last minute shopping to do? #Bills #Dolphins twitter.com/JeffRussoWKBW/…

— Jeff Russo (@JeffRussoWKBW) December 23, 2012
***
TWEET 2 – "Game story"
This is just brutal.

— Jerry Sullivan (@TBNSully) December 23, 2012
***
TWEET 3 – "Close scene"
YOUR MOM runs wildcat on 2nd & 20.

— JG_1611 (@JG_1611) December 23, 2012
***
TWEET 4 – "Happy Alcoholidays"
Oh oh oh Fitzmagic.. ya know… blah blah blah blah blah blah… drunk.

— Megan (@BuffaloHippie) December 24, 2012
***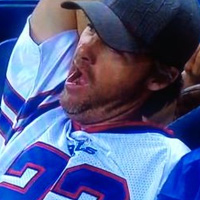 Simple as that… thanks for coming folks!
What's that… You want more Twitter hilarity from yesterday's game? Try this on for size.
Randy Cross even worse than Buffalo Bills