There's a reason the Bills seem to play the Browns every year.
"Hey, you finished in last place? So did we! Wanna have a pillow fight?"
No, the NFL doesn't promote it that way… but it's true.
How this game wound up on prime time television is an entirely different question. NFL Network is doing the best it can, promoting it as "EJ Manuel and the Bills" against the "first place Browns."
But here it comes– Bills versus Browns live from FirstEnergy Stadium on the shore of Lake Erie. And with the Bills having the ability to jump from 1-2 to 3-2 in just 5 days, we're all pretty pumped. (Plus, Kiko Alonso.)
@TrendingBuffalo from the stadium in Cleveland. there is no other acceptable answer.

— Kevin McDonnell (@mcdonnellkevin) September 30, 2013

Actually, sir, here are three pieces of evidence to the contrary.
EXHIBIT A: BROWNS 8, BILLS 0
DECEMBER 16, 2007

You can watch all of "highlights" here.

Actually, you can't. Apparently, the NFL threw film of this game into the incinerator with the tapes of the Patriots cheating. Good move.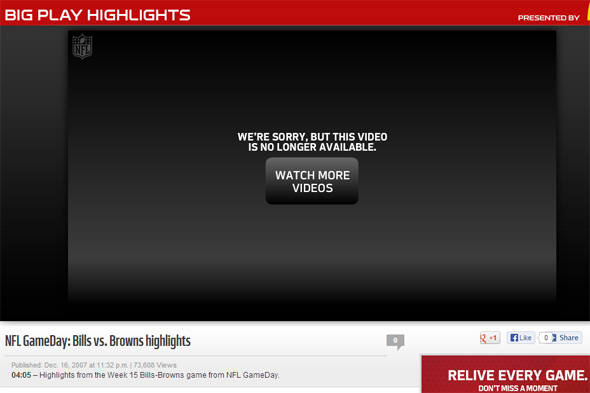 Here's what I remember– a guy in a Sam Adams jersey being pelted with snowballs during the interminable walk into the stadium, Braylon Edwards being tall, and lots of falling down. I didn't take any pictures because my camera was in my coat pocket and my coat was frozen stiff from the ridiculous rain/snow/wind combo. Oh, and then there was the disastrous drive home with countless cars running into light posts and each other.
Nightmare.
********************
EXHIBIT B: BROWNS 29, BILLS 27
NOVEMBER 17, 2008
After the 8-0 thriller, the league said "we'd better get the rematch on Monday Night Football."
"Great," said Bills fans.
"Oh no," said Bills QB Trent Edwards.
From the AP game recap:
Much of the blame for this loss falls on the shoulders of quarterback Trent Edwards, who threw three interceptions on his first four possessions, putting the Bills in a deep hole.

"It's frustrating right now. I don't really have any good answers," he said. "I'm frustrated with myself and the way I performed."

The miscues — two poor reads and a pass tipped by defensive tackle Shaun Rogers at the line of scrimmage — were an extension of the troubles Edwards had in his previous three games. Over a 10-quarter span, including the first quarter against Cleveland, he threw eight interceptions, lost two fumbles and gave up a safety.
Despite Edwards' abysmal performance, Buffalo had a chance to win it.
With a confident nod to coach Romeo Crennel, (Phil) Dawson went out and calmly hit a career-long 56-yard field goal with 1:39 left that sent Cleveland to a 29-27 win over the Buffalo Bills on Monday night.

Dawson's fifth field goal of the game capped a wild finish. The teams traded leads during a 46-second span in the final 2 1/2 minutes — after the Browns appeared ready to squander a 13-point lead for the third straight week. And the game wasn't decided until Buffalo's Rian Lindellmissed a 47-yard field-goal attempt wide right with 38 seconds remaining, allowing Cleveland to run out the clock.
Delightful.
********************
EXHIBIT C: BROWNS 6, BILLS 3
OCTOBER 11, 2009
Take it all in.
Yuck.
To make matters worse, this game lived on as a marketing tool. A MARKETING TOOL! (Thanks, @TheKickIsGood.)
********************
I'm not driving to Cleveland.
To be fair, the Bills have pulled out a win in each of the last two games against the Browns. (We were spared a 2011 contest because the Browns' 5 win season in 2010 skyrocketed them past the Bengals for a third place finish in the North.)
So… where are watching this thing?