Look, I want to get behind the "analytics" movement in football. I really do.
I read Moneyball and then saw the movie. I enjoyed both. When I was 13 years old, I purchased and devoured The 1988 Bill James Baseball Abstract. I'm wholly on board with Doyle Brunson's logic of playing suited connectors in No Limit Texas Hold Em.
In short, all of the above to point to the value of thinking differently than your opponent. I love it.
Then what's my problem with football analytics? Well, there are many which have been well-documented. Without getting into the "you never played the game" stuff, here are a handful of my chief complaints.
1. YOU DON'T KNOW WHAT YOU DON'T KNOW
Precise breakdowns of every player on every play of every game can be found on countless websites but "Player X failed to execute his route" and "Player Y is responsible for the B gap" ring pretty hollow when you don't know what the players were supposed to do. Remember when Doug Flutie discredited analysts because "You watch the game. We watch the film"? He should've added "and we know the play calls." Without that crucial information, your analysis is a really, really in-depth GUESS.
2. WHAT HAPPENED 45 MINUTES AGO IS PROBABLY MORE RELEVANT THAN WHAT HAPPENED 45 YEARS AGO
You want to tell me I should've gone for it on 4th and 2 because of the success rate of the average offense versus the average defense on the average day since the merger? Well, what if my offense is below average and my opponent's defense is above average and the perennial Pro Bowl defensive tackle is eating my rookie interior linemen alive and my best available RB is nursing an ankle sprain? What do your numbers tell you now?  Fact is– you're not telling me what's going to happen to me. You're telling me what already happened to others. This is useful information and I'll treat it as such… but that's where it ends.
3. NOW NERDS CAN PLAY!
Football is a big, tough manly sport and analytics provide a way for all of us to get involved without getting hit. It's appealing. We value our ability to think our way through the game and, after the fact, it makes a lot more sense to say "I wouldn't have done what that coach did" than "I wouldn't have thrown that interception" or "I wouldn't have fallen for that juke move." We can imagine ourselves in the role of coach. We all have Madden. We all have Excel. Plugging flawed data (see #1) into a spreadsheet in an attempt to accurately predict results is a fool's errand.
4. IT'S (MOSTLY) PSEUDO-SCIENCE
I'm 100% in support of professional teams utilizing all of the data at their disposal in an effort to make the best decisions possible but it all breaks down when we get to the amateur/armchair level.
Pseudoscience is a claim, belief, or practice which is presented as scientific, but does not adhere to a valid scientific method, lacks supporting evidence or plausibility, cannot be reliably tested, or otherwise lacks scientific status. Pseudoscience is often characterized by the use of vague, contradictory, exaggerated or unprovable claims, an over-reliance on confirmation rather than rigorous attempts at refutation, a lack of openness to evaluation by other experts, and a general absence of systematic processes to rationally develop theories. A field, practice, or body of knowledge can reasonably be called pseudoscientific when it is presented as consistent with the norms of scientific research, but it demonstrably fails to meet these norms.
The lack of reliable data (primarily because of the inability to use a control group to isolate specific events within the context of an 11 on 11 game) severely injures the credibility of any conclusions derived from said information. So, the average NFL play nets 4.8 yards? How many yards is the average team attempting to gain on each play? 2? 4.8? 80? Without that knowledge, we have nothing.
5. IT'S GETTING WORSE
Looking at data before making decisions is a positive development and I hope every team I support keeps up with the times. But the further we go down this road in popular/public/amateur conversation, the more bad information creeps in. Suddenly, the word "analytics" starts to sound a lot like "run and stop the run" and "defense wins championships." Research all you'd like but we're getting into "He made the wrong decision and I can prove it" territory (even though you can't) and it's growing tiresome. The day that "Analytics Guy" realizes his information is helpful but not definitive, everybody wins.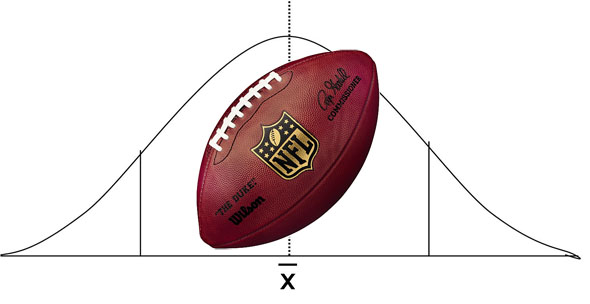 I haven't even hit "publish" yet and I already want to add to my list so I'm sensing a "part two". We'll see.