There was a lot to read leading up to the draft and no way to get through it all.
Here's my favorite piece that you may have missed, courtesy of Rolling Stone's Matt Taibbi, on some guidelines teams might be wise follow while making selections.
The (reported) post-draft signing of WR Da'Rick Rogers makes it all the more interesting.
(UB fans may remember Rogers putting up 7 catches for 180 yards against the Bulls in 2011.)
DRAFT THE WEED GUY. There's never been a more obvious year to capitalize on failed-drug-test draft fallers. To quickly recap: guys who batter cheerleaders with bricks or commit armed robbery or drive drunk with loaded pistols in their glove compartments are genuine character concerns, but a kid who just likes to smoke weed… that's every college student in America. You want your star athlete, if he's going to have a vice, to be a pothead. In fact, hopefully, he's going straight from practice to his TV, blazing up and watching cartoons all afternoon. That means he's not getting in real trouble. Yet every year, great talents like Percy Harvin and Moss and Sapp plummet in the draft because of failed weed tests, and smart teams scoop them up, put them on the Whizzinator therapy plan, and cash in big-time.

Three big-time players fall into this category this year: ex-LSU corner Tyrann "Honey Badger" Mathieu, ex-Tennessee/Tennessee Tech receiver Da'Rick Rogers, and that California wideout Keenan Allen. Minus the drug issue, Rogers might have been the top wide receiver on the board this year – he was one of the best wideouts in college in 2011 and should have been first-team all-SEC that year over both LSU's Reuben Randle (who had a good rookie year in the NFL last fall) and Arkansas wideout Jarius Wright (who didn't). The guy is built like a young T.O., has great hands, and runs like the proverbial bowling ball covered with razor blades. But he's going in the second or third round, if not later, because he failed drug tests, got booted from Tennessee and had to spend this year getting triple-covered at Tennessee Tech (where he still managed to run laughing through the whole Oregon defense on a middle screen last November)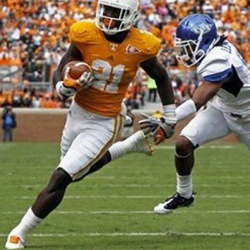 Sold.