Five games into EJ Manuel's NFL career, we like a lot of what we see and we'd love to watch his next start on Sunday. Unfortunately, he'll be on the shelf for a bit so we might as well use the numbers we have and see how his first five starts stack up against other "top QB off the board in the NFL Draft" types.
Peyton Manning is still playing at a fairly high level, so we'll begin with his selection by the Colts in 1998 and go from there.
Every situation/team is different, of course. Matt Ryan and Vince Young each went third overall. Manuel went sixteenth, Chad Pennington eighteenth. Everyone else on this list was the number one pick in the whole draft. In some circles, the bar is set considerably higher for the top picks. The reality of our world is as follows– the Bills needed a QB, they took Manuel, and now he's the most important player on the team. Ultimately, he'll be judged as if he were taken right at the top.
None of these numbers tell a full story but, in combination, they can give us a feel for where our guy stands.
WINS
Only Chad Pennington and Matt Ryan hit 3 wins in their first 5 starts. Manuel and 4 others won twice and you can make a strong case that had he made it through start number five without getting hurt, EJ would probably be on the first list. Pretty good.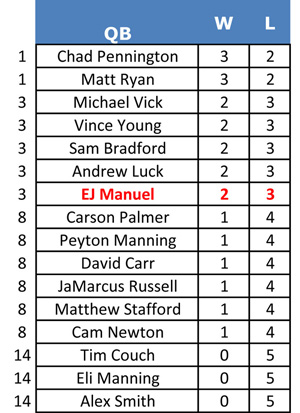 COMPLETION PERCENTAGE
Pennington's ridiculously strong numbers aside, Manuel is right where you'd like him to be. Yes, JaMarcus Russell tops the "best of the rest" here but he's not out of the league because his completion percentage was too high.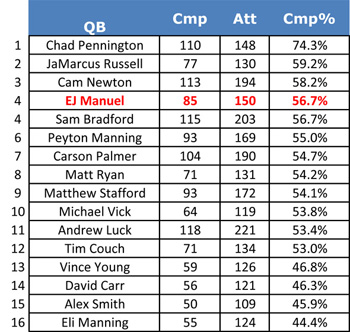 YARDS
Manuel's in the middle of the pack on this one. His 985 yards represent a few things: fairly conservative playcalling as he grows into his role, efficient but unspectacular performance, and lack of late game stat-padding (since each contest has been tight.)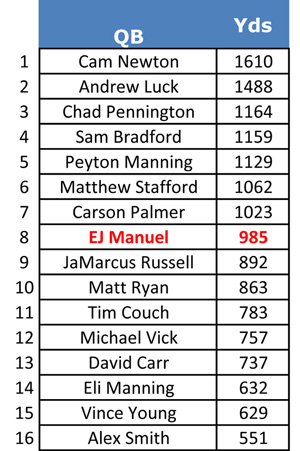 TOUCHDOWNS
Five games, five touchdowns. That's an average of (nearly) two TDs a game! If not for the ridiculous replay ruling on Robert Woods' grab in the third quarter against the Ravens, EJ's sitting at six. Solid.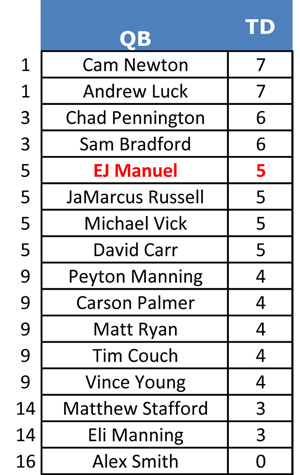 INTERCEPTIONS
A five-to-three TD/INT ratio is perfectly acceptable. It gets a little dicier when you add in the fumbles (three total, two of them lost) but we'll also tack on the aforementioned Woods "touchdown" and call it six up, six down. You'd love to see better but we've certainly seen worse. (We're looking at you, Alex Smith.)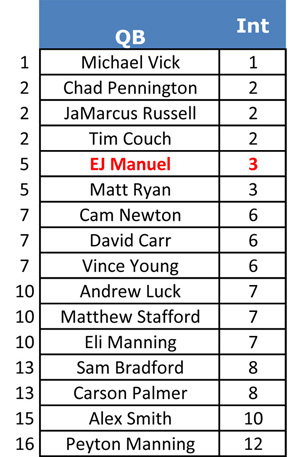 YARDS PER ATTEMPT
Middle of the pack again. OK.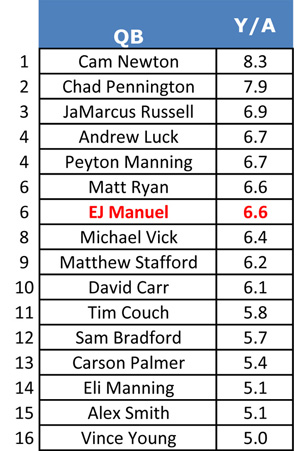 RUSHING YARDS
While we probably all expected a little bit more here, we'd gladly give back the fateful 14 yard scramble that put Manuel's season on hold.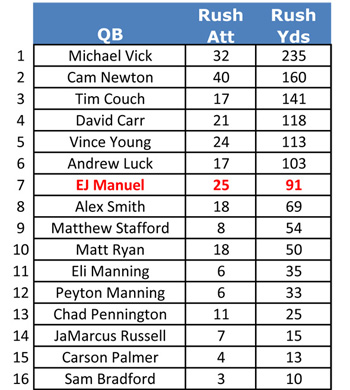 RUSHING TDs
None yet. He'll get there.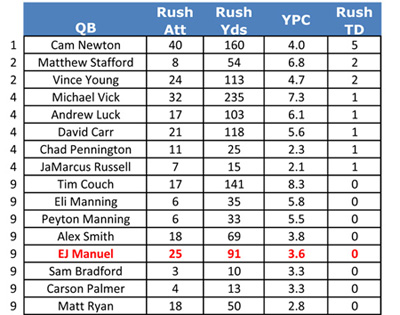 What does any of this tell us? It primarily confirms the prevailing sentiment that EJ Manuel has looked the part of an NFL quarterback thus far. The list contains a surefire Hall of Famer, some guys who are out of the league (or barely hanging on), and everything in between… and EJ's numbers land him near the middle.
We didn't learn a ton here but at least it gives us a bit of historical perspective as we try to figure out what the Bills have in this guy. Of course, look at Alex Smith's numbers throughout this post… then remember he's currently at the helm of the 5-0 Kansas City Chiefs.
Here's to a speedy recovery for EJ Manuel.