Buffalo, NY – "A friend asked it best. 'How does it feel to have the most intense moment of your life turned into a movie?' "
That sums it up for John Siller, the former Navy Mass Communications Specialist who was off Africa's coast, camera in hand, as the real "Captain Phillips" was rescued in 2009.
"It's not like I was just standing there, I was involved in it. I didn't shoot anybody, but I did a lot of work with the FBI, NCIS, taking evidence photos. I took the mug shots of the pirate we captured."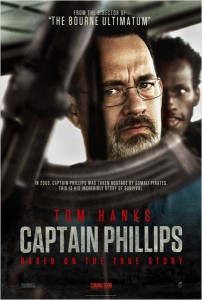 In the movie "Captain Phillips" to be released Friday, a bearded Tom Hanks plays Captain Richard Phillips, a merchant mariner whose ship, Maersk Alabama, was hijacked by Somali pirates.
"We were in the area doing counter-piracy operations, which up until that point, had involved us driving around in circles hoping to stumble upon pirates," Siller says with a laugh. "We had helicopters that would fly around the area… It was more of a deterrent than us actually doing anything."
Just like the rest of the world, the men and women with Siller on the USS Boxer were captivated by the story by watching it on the news. They had been in the general area of the hijacking, but were heading to the Persian Gulf for a scheduled port call and time off in Bahrain.
That was quickly cancelled, and the ship and crew were quickly moving toward the African Coast.
Soon, the Boxer was swarming with Navy SEALs."We ended up being the ship that actually staged the efforts. We were the largest ship, so they brought most of their gear on our ship, so we became their operating base."
On a normal day, Siller would be taking photos of daily operations on the ship, writing news stories and press releases. Those skills put him in the center of the operation.
"We were involved in documentation of everything," says Siller. "They wanted photos and video of just about everything. Not only as evidence, but also to make sure that we were doing things the right way."
Since word of the film came out, Siller and his old Navy buddies have been trading Facebook posts and jokes about what to expect from the movie. "I tell people that they got Denzel Washington to play me in the movie, which is obviously not true."
He's certainly going to see the movie, but he thinks alone might be the best way for him to watch. "It's going to be hard for me to just sit there and watch when I was there, and I know what really happened."
Siller is certainly expecting some Hollywood artistic license with the film, which could wind up getting dicey for him because some of what he saw, he's still not allowed to talk about. "Some things I can tell, some things I can't."
Still, the resounding feeling is one of this not quite being real. "A lot of people join the military and just have a 'whatever' experience," says Siller from his Buffalo home. "It's almost surreal to think here's this movie, and I was actually there.
Buffalo Journalist and Historian Steve Cichon brings us along as he explores the nooks and crannies of Buffalo's past present and future, which can mean  just about anything– twice a week on Trending Buffalo.
As he collects WNY's pop culture history, Steve looks for Buffalo's good stories and creative ways to tell them as the President and founder of Buffalo Stories LLC. He'd love to help your business tell its story. For a decade, he's also collected and shared Buffalo's pop culture history at staffannouncer.com.