10 Things I Think I Think About The Bills In 2014: PART 8 (h/t Peter King)
8. I Think I Think Sammy Watkins Will Have A Strong Rookie Year, But Let's Give Him Time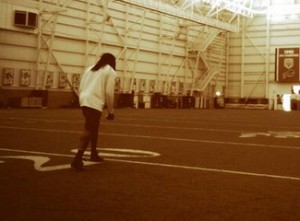 Sammy Watkins is tremendously talented, and the physical traits he possesses can be likened to many of the NFL's star wideouts.
He goes from first to fifth gear with Ferrari-like acceleration. He's super elusive and there's an authoritative flair to his running style. He has strong hands. He seems to be a very driven, hard-working 21 year old.
But I think it'll take at least a few weeks for him to get acclimated to the professional level.
Many want Watkins to enter the league and immediately take over. Or at least that's what they expect after watching him in college and after the Bills moved up in the draft and surrendered next year's first-round pick for him.
Because of his strength and suddenness, he'll eventually learn to beat the press at the line.
But I think it'll bug him initially and, in turn, take away some of the screen plays that made up a large portion of his Clemson highlight tape.
Don't be surprised if he tries to hit the home run too often, and it leads to a bit more East-West running than we're used to from him.
Keep in mind, the similarly explosive C.J. Spiller didn't erupt as a rookie.
Watkins' transition into the NFL will be faster than most wideouts. Most of them don't truly hit their stride until their second or third season.
I just believe it'll take until October for him to be comfortable scooting into Buffalo's "No. 1" receiver role.
I previously wrote on Robert Woods and how I envision him leading the team in catches with about 70.
Watkins should fall into the 50-60 catch-range in his first year. At 14.5 yards per catch, that's a 725- to-870-yard rookie campaign, which may not be enough for the naysayers but in reality would be a fine debut season.
Actually, I might be flat-out wrong about this.
Remember, Watkins' burst onto the collegiate scene as a true freshman with the Tigers — he had no issue making the jump from high school to Division I ball.
There's also a huge caveat to my Watkins projection.
If he does beat the press from the get go and is found by EJ Manuel downfield early, watch out.
The cornerbacks will back off and Watkins will be right back at home, living in the screen game.
Maybe offensive coordinator Nate Hackett will move him around pre-snap and get him in space right away.
That would shorten his learning curve, or, at least allow him to produce on familiar, high-percentage, YAC-predicated passes while he's learning the nuances of playing the receiver position in the pros.
Somewhere in the mid-October to early-November range, Watkins will be a foundational aspect of the Bills passing attack.
But I'm expecting him to start somewhat slow before he blossoms into a dangerous weapon.
Part 1 – Bills run D will FINALLY not be an embarrassment
Part 2 – Robert Woods will lead the Bills in catches
Part 3 – Stephon Gilmore will emerge as legit lockdown corner for the Bills
Part 4 – Spiller won't be Bills' offensive focal point
Part 5 – Did Mike Pettine Take Our Fun Away?
Part 6 – Remember this future household name, Bills fans
Part 7 – I have figured out Mario Williams, kind of