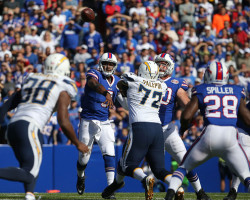 How has EJ Manuel performed through three games of the 2014 NFL season? To some, good. To others, ehhh. I re-watched every snap the Buffalo Bills quarterback has taken thus far and have posted my specific observations below.
Short Accuracy
Unsurprisingly, EJ has been very accurate on short passes. While it initially seems as though this isn't important, it really is. The best quarterbacks in the league excel in the short areas and give their pass-catchers a chance to gain yards after the catch. Between 60-70 percent of a signal-caller's passes will come shorter than 10 yards beyond the line of scrimmage or actually behind the line of scrimmage. Manuel's had 1-2 blatantly inaccurate tosses in this short range.
Intermediate Accuracy
Manuel's missed a few intermediate throws — like the deep dig to Watkins in Week 3 against the Chargers. However, Manuel has been a relatively sound passer between 11 and 20 yards whether it's been toward the sideline or down the middle of the field. The Bills like to throw the dig against Cover 3 in which the WR vacates a hole in the zone in front of the safety in the deep middle and over the linebackers. It seems like one of Manuel's "favorite" and most effective throws is the seam pass he can release instantly after the slot receiver passes behind the linebacker in zone. He's very comfortable and accurate making that pass into a usually tight window.
Downfield Accuracy
There have been 4-5 downfield passes in which Manuel has clearly thrown off target. Two of those throws have been slightly underthrown. Two or three others were either overthrown or it was impossible to tell the touch on the pass because the wide receiver got completely blocked off by the cornerback and didn't create any separation or a flag was thrown on the play. By my count, four of his passes beyond 20 yards have been accurate.
Pocket Movement
Manuel, like basically every young quarterback, is still a work-in-progress in this subtle but vital area. While it seems as though his natural reaction to pressure is squatting and letting his raw athleticism take over, I saw 3-4 occasions in which he calmly moved forward or to either side to avoid pressure and made a throw downfield. There have been 3-4 instances in which Manuel has left what I would call a "clean" pocket. Once Manuel leaves the pocket, he's certainly more likely to reset and get his eyes up to find a receiver than run. It appears he has a relatively good grasp of when he's able to drift and when he must vacate the pocket. For example, if a defender is running freely at him, he has to evacuate. If a defensive linemen is simply pushing back an OL but is still engaged, Manuel's much more willing to "drift."
Scrambling
Manuel's been a better-than-average scrambler thus far, and much of that has to do with his plus athletic ability. On some plays, he tries to do "too much," and turns his back to the line of scrimmage to reverse his field. Then again, his "extremely creative maneuvering" has led to a positive play for the offense, or at least, the negative play to be minimized. Most importantly, he's avoided the big open-field hit and has looked for the sidelines on almost every occasion.
Pre-Snap
Manuel's made a handful of checks at the line, although I definitely don't know what those checks were. Teams have brought blitzers late, which has hurt the Bills' protection from time to time. If Buffalo is going to operate at a slower pace, Manuel could take an extra second or two before he calls for the snap to check if any blitzers appear to be creeping up near the line.
Progressions / Decision Making
Manuel isn't an absolute "one-read" quarterback, but he doesn't run through 2-4 progressions very often. That's a very advanced but ultimately necessary quarterbacking trait. Offensive coordinator Nate Hackett has done a great job getting Manuel an open receiver on his first read but the Chargers secondary had a magnificent day in coverage, both in man and zone, and coupled with a poor offensive line showing, many times, Manuel either didn't have anyone open or was faced with pressure almost immediately or before pass-catchers made their breaks.
He's done a very good job not forcing throws into tight coverage, which is part of the reason why he's thrown only one interception thus far. Manuel's "missed" about 5-6 open receivers, which isn't out of the ordinary for any quarterback. It's impossible to know where he was told to look first and nearly impossible to understand where his eyes were / where pressure was / if a throwing lane was available when the "missed" receiver came open.
Overall
Through three games, Manuel has been a mostly-competent game-manager. He's taken what the defense has given in him almost every situation and has made a handful of solid strikes in the intermediate-to-downfield range. His pocket movement could get better, but he has showed signs of having the ability to drift away from pressure. More than anything else, Manuel needs to quickly move off his initial target if it's not open right away.
Also, the Bills receivers need to be aware of when they're the "hot" receiver, and the offensive line must give Manuel a clean pocket more often to allow him to get into a rhythm and become fully comfortable reading the defense and deciding where to go with the football. More YAC-predicated plays must be incorporated into the offense. Once Watkins is fully healthy, I imagine he'll be used on a variety of those short, high-percentage, YAC-predicated plays. Manuel's played only 12.5 regular-season games and has shown slight improvement from where he was last year as a passer and decision-maker.
Leave a question / comment below. Or find me on Twitter @ChrisTrapasso.