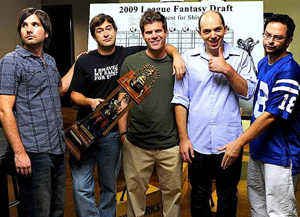 There was a time when fantasy/rotisserie baseball was appealing to me. 162 game season, two (mostly) separate leagues– nearly infinite players and all spring, summer, and fall to use them. Then I got too busy.
Fantasy hockey worked for me for awhile but the necessary tinkering, although less tedious than MLB, grew stale. I've never played fantasy basketball but I'm sure it would be more of the same.
The refuge? Fantasy football, of course. One game a week. Set your lineup. Get on with your life. Perfect.
Nope.
Stupid Thursday night games, while wonderful for the TV viewer, have taken the casual nature away from the most passive of fantasy sports. It used to be so simple– get your lineup in by 1pm on Sunday, find out if you won your game late on Monday night.
Now the week begins on Thursday. What time? I don't know. I lost track of all non-1pm kickoff times when Monday Night Football switched from 9pm to… a different time. Just as the NFL has convinced America  it's a twelve-month-a-year sport, the requirements to properly manage a fantasy team now leave no downtime in game week (which starts on Tuesday).
********************
TUESDAY:
Assess injuries/byes and submit waiver claims.
WEDNESDAY:
Find out you didn't bid enough for the Titans' 3rd string RB and still can't fill out a complete lineup. Submit a much larger bid on the Lions' 4th string guy who might get bumped to #2 this week.
THURSDAY:
Find out you now own that bum from the Lions. Figure out which of your guys are playing in the Thursday game and make lineup decisions about them while all of your Sunday/Monday players with injury concerns are listed as "questionable"– NFL-speak for "hey… maybe!" Gee, thanks for all your help, mandatory injury report.
FRIDAY:
This would be an off-day if not for the CONSTANT stream of information regarding who will play and who won't. Don't submit your lineup on Friday or risk missing a tweet from @NFLinjurymessiah or @hamstringtearchief about the health of your 2-catch-a-game tight end.
SATURDAY:
See Friday. They don't play until Sunday so hold off on that lineup. Let's not do anything hasty. Saturday is the day to PAY ATTENTION, DAMMIT. So many updates in so many places. Don't miss ANY of them.
SUNDAY:
Hey, it's game day. By 10AM, you learn that 3 of your guys will be "game-time decisions." Good luck!
MONDAY:
Guess there is an off-day. Waiting… waiting… waiting. You lose. Rinse. Repeat.
********************
I'll never quit playing because I love the draft so much but, man, this is killing me.
Or maybe it's just the 0-3 talking.