This season stinks. We expected the losses. We also anticipated entertainment. Whoops.
We thought "rebuilding" meant "young, hungry and aggressive."
We thought rebuilding was about giving young, hungry players the opportunity to acquire skills and experience. We didn't know rebuilding meant putting players with no apparent winning drive or desire the chance to let us see them ice skate. Buying a 200 level ticket right now seems like paying $150 for the right to see someone else's kid say, "Hey, watch me, watch me, are you watching me?" as they bravely plunge feet-first off the diving board. Over and over and over.
They say hockey is an "effort sport," right? If it didn't end up in wins, at least it'd be fun to watch. Yeah, nope.
Scoring
BREAKING: Scoring is fun. The Sabres don't score. This fanbase needs a young hockey prodigy to latch onto in the worst way– someone that can tease us with an occasional flash of hockey brilliance. But alas, Darcy Regier used last year's prime draft picks on a pair of giant defensemen in an apparent effort to squeak out 2-1 wins for eternity. Which leads us to…
Mikhail Grigorenko
What a mess. This guy was supposed to be the Sabres version of EJ Manuel– an organizational North Star of hope and promise. He's nowhere. And the Sabres haven't done him any favors with a thoughtful development plan.
Ron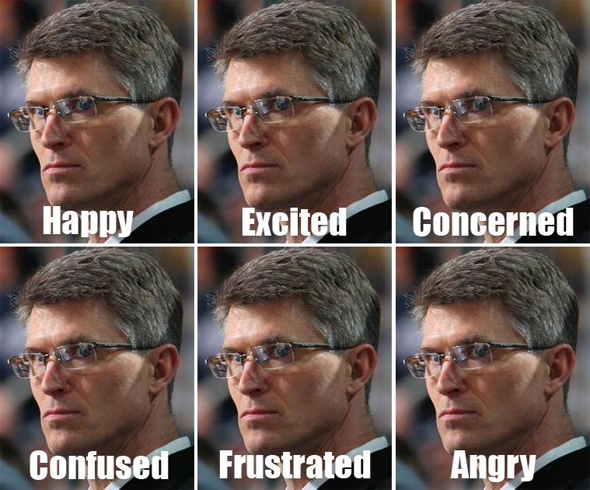 The book is written on Darcy. We're done with him but most fans have at least come to terms with the fact that "he ain't goin nowhere." But Ron? Yikes. He appears to be sinking fast. And his negative charisma quotient (#advancedstats) doesn't help.
Advanced Stats
Thank you, advanced stats, for killing interesting and tolerable sports conversations. Fans can't even hit up WGR 550 for some common-man Sabreventing anymore. If you ain't got your corsi and a calculator, THEN SHUT THE HELL UP!
New animation graphics
The new pre-game animation is outstanding, making us think we're about to see a Michael Bay or Ridley Scott movie. But the contrast between that light and graphics show and what we then see on the ice for the following two and half hours is like playing the trailer to Avatar right before a full viewing of the The King's Speech.
Drew Stafford
He might be a nice guy. He might even have been a good hockey player at some point but it's bordering on sadistic that the Sabres keep putting him out there in front of fans.
Eighty-two games
They should have tanked in earnest last year during the shortened season. EIGHTY-TWO of these things! EIGHTY-TWO… and probably eighty-two more after that.