The UB Bulls have won 5 straight, are off to their first ever 3-0 start in the MAC, and will become bowl-eligible with their next victory– which could come as early as this Saturday on the road against Kent State.
How has it happened? Take a look at the defensive side of the ball.
Remember when Baylor walked all over the Bulls back on September 7 and scared off all but the most faithful UB fans? As it turns out, that's what the Bears do to everybody. Look at what UB gave up in that game and then compare it to what Baylor is doing on a weekly basis. They've scored at least 69 points in every game but one– a 35-25 win over Kansas State. That's why they're #5 in the USA Today poll, #6 in the AP, and #8 in the initial BCS rankings.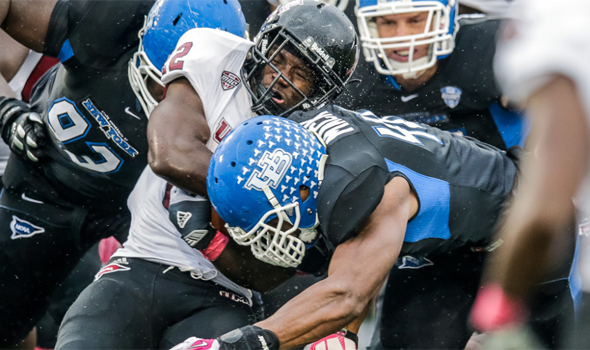 Once the early season schedule of national title contenders (and an FCS school) was out of the way, defensive coordinator Lou Tepper's crew really cranked it up. Check out the numbers surrendered by UB in the four games COMBINED against FBS opponents since then.

Whoa. The last four performances by the Bulls' D have been outstanding and look better when you stack them all together.

16 sacks, 14 takeaways, 29 points allowed in a four-game stretch? Crazy. Now, take away a 75 TD run by Eastern Michigan's Ryan Brumfield with 1:29 left in the 4th quarter of a blowout and the numbers are even more staggering– 56 rushing yards and fewer than 6 points per game.

Other notes:
UB's 24 sacks have them tied for 3rd in the nation, trailing only Clemson and Virginia Tech (each with 27.)
UB's 11 interceptions are tied for 9th in the nation. Missouri and Oregon State lead with 14.
19 takeaways to 6 giveaways for a turnover margin of +13 is 2nd in nation. Houston leads with +14. Average margin of +1.9/game also 2nd to Houston.
Over the last 2 games, the Bulls' defense has scored a TD and a safety and allowed just a FG. That's a combined score of 9-3, good enough to go 2-0 against UMass and Western Michigan if the Bulls' offense didn't score a point.
But the offense has been scoring points as sophomore QB Joe Licata has thrown 12 TD passes to just 4 interceptions, including 8 TDs and only 1 pick in his last four outings. Meanwhile, senior RB Branden Oliver eclipsed the 3000 yard mark for his career and broke the school rushing record previously held by James Starks of the Green Bay Packers.
Not a bad start for a program that has only played in one bowl game in its history.