Since "Corsi" became a thing in the NHL stat world, I've had trouble separating the whole thing from Jim Corsi, longtime Sabres goaltender guru and, eventually, coach.
As it turns out, that was not an unreasonable connection for me to make.
Legend has it that Vic Ferrari heard long-time Buffalo Sabre goalie coach Jim Corsi on a radio interview talking about measuring a goalie's workload by tallying up not only shots on goal but missed shots and blocked shots as well and then Ferrari went into his secret hockey nerd lair in Edmonton, crunched the numbers, sprinkled some magic dust and, poof, Corsi was born, named for the cerebral goalie coach and former math teacher who inspired it.

Not true.

Ferrari told me it was actually then Buffalo Sabre general manager Darcy Regier he originally heard on the radio talking about shot attempts, not Jim Corsi. In fact, at that moment, when Ferrari was listening to Regier, he had never even heard of Jim Corsi.
DARCY??? But, he's so stupid!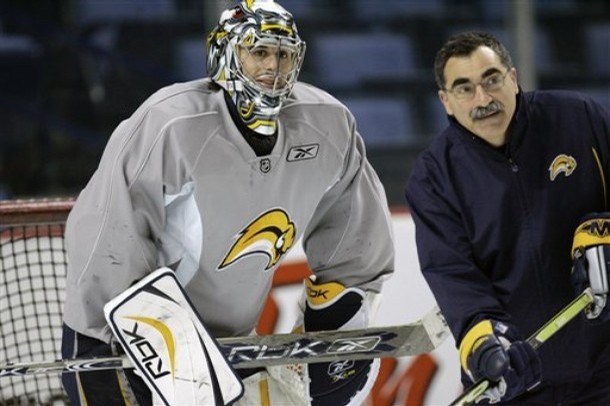 "I was going to call (the new metric) the "Regier" number. But it didn't sound good; it didn't seem right. Then I was going to call it the "Ruff" number (after then Sabres' coach Lindy Ruff), but that obviously sounded bad. So I went to the Buffalo Sabre website and looked at a picture of a guy on their website, and Jim Corsi kind of fit the bill. So I called it a "Corsi number" and then I pretended it was (Corsi) I heard on the radio talking about it – that's what I told people. That's basically (how Corsi got named)."

Wait a minute. Was Ferrari actually saying Corsi became Corsi because he liked the look of Jim Corsi's picture, especially his moustache, on the Sabre website and the sound of his surname?

That's exactly what Ferrari was saying.
That thing where you pretend that you know more than everyone else because you read somewhere that adding shots and missed shots and blocked shots together to produce a brand new number is revolutionary… unless you have ever observed a game called soccer, where that number is called "shots."
Sure, you take that number and mash it together with a defensive version of the same thing to get to your "Corsi" but can we just admit that it's a new version of plus/minus, which you people gleefully disregard?
"BUT IT HAS A FANCY NAME!"
Yeah. That's because the guy who recognized that "shots AT goal" can be as scary (and as/more indicative of offensive prowess) as "shots ON goal" liked Jim Corsi's mustache.
There's a lot more to this story.