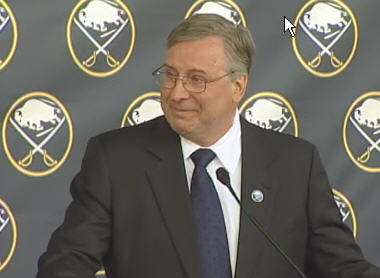 Looking back on my earlier Sabres post, I was a bit too vague.
Perhaps, what I really should've said was "I don't agree with anything Bucky Gleason wrote about Terry Pegula in his Sunday column."
(Note: If you can't get to the column because you're behind the paywall, I'd recommend spending the miniscule amount that TBN is charging so that its employees can feed their families.)
I should have been more suspicious when Terry Pegula purchased the Sabres and started talking about winning the Stanley Cup. I should have watched and waited before listening and believing. I should have been more skeptical. I should have realized he was too good to be true.
But you couldn't. In the moment, your cynicism couldn't overpower what you were actually witnessing. It was impossible to spin "there are no longer any obstacles" into anything but "well, this is nice" without any losses under the belt of the new regime. You were 100% without even pop gun ammunition.
It was about this time two years ago in which several people from Pegula's inner circle fawned over him and insisted the Sabres would change for the better. He would clean up this mess, I was told. He was obsessed with bringing the city a championship, I was told. Actually, it was championships, plural, I was told.
Well, they've only awarded 2 Cups since that day. One went to the Bruins, who were 13 points ahead of the Sabres on the day in question. The other went to the Kings, who finished with one more regular season win than the Sabres last year, grabbed the 8 seed out West, got hot, and brought it home.
They said he would restore credibility. And they were wrong.
Because the tail end of one season, a full season, and dozen or so games of another over the course of less than 2 calendar years should be enough time to remake an entire franchise, right?
High-ranking people from across the league are laughing at the Sabres, just as they did last year after the season turned ugly. What people, you ask? Sorry, but their names will remain private. It's an unfortunate but necessary aspect of the media that many don't understand, but with anonymity comes unfiltered opinions. And the general opinion from a wide range of hockey minds – general managers, scouts, agents, league officials, former players – is that Pegula's success in the real world means almost nothing in the sports world. Most are stunned Darcy Regier and Lindy Ruff have survived when common sense called for their dismissal long ago.
No knocking of anonymous sources here. They exist and that's where you get the good stuff. But if you get to quote them, we get to guess who they are, right? That seems reasonable. Without even getting into names, are these the same people you'd call if you were looking for glowing quotes about the franchise? The guess here is no. If you want someone to bash the team, you know who to call. You've been calling them for years. They say the same things. You write the same things. That's how this works.
The Sabres missed the playoffs six times in 14 seasons under Regier and Ruff, matching the DNQ total for Buffalo in all other seasons combined.
Let's ignore fact that this includes the lengthy era (1979-1993?) when 16 of the leagues 21 teams qualified for the postseason.
In truth, his affection for the Sabres, while admirable, has worked against him. They needed a cold, distant evaluation that would have revealed changes were in order. Members of his inner circle told him to clean house. Instead, he became smitten with Regier and Ruff. He embraced status quo and, with that, accepted mediocrity.
And, clearly, members of his inner circle also told him NOT to clean house. But let's pretend Pegula didn't take any advice and instead set an intended course for failure.
The real kicker was Regier's contract extension, a reward for years of failure, before the season.
With no financial obstacles, a contract extension means nothing more than "you're still my guy until such time as you're not my guy." If it is determined today that Darcy Regier is no longer the man for the job, he will be jettisoned TODAY. Pegula will sign the check and move on. (You understand this, right? It's a pretty important point, so consider reading it again.)
Obviously, they're convinced Regier holds the secret to winning the Cup. Otherwise, he would be gone.
Or they don't have a better solution in place at the moment. Come to think of it, I haven't read your solution either. What's the plan? Fire Regier and Ruff? OK, now there's no GM or coach. Is there a step 2 to your silver bullet solution? Go on.
It trickles down from there. Regier has refused to fire Ruff, who over time or repetition lost his voice. He might have reinvented himself again, but his players are getting coached by the same man with a message from the same lips. Players see the coach and general manager keep their jobs, and mediocrity becomes acceptable.
Irony alert– a stale message about a "stale message."
The Sabres can continue putting an inferior product on the ice, and I'll keep writing that their product is inferior. I'm not going anywhere. Pegula isn't going anywhere. Regier isn't going anywhere. Ruff isn't going anywhere. Until changes are made, it doesn't appear the Sabres are going anywhere, either.
2 for 4. Gleason and Pegula seem safe.
Ruff and Regier continue to be up for debate and this season, so far, hasn't done much to solidify their spots.
But they're not going away simply because panicking fans or columnists want to jam years of frustration into the last 720 days.