In an interview on October 9, 2014 on WGR550, Sabres GM Tim Murray used the term "big balls" to describe what he's looking for in his players.
Tim Murray just dropped a "big balls" during his live WGR interview re keeping the puck. Just flat-out calls it like he sees it.

— Mike Harrington (@BNHarrington) October 9, 2014

Murray was actually answering a question about how he uses statistical analysis to support scouting.
"If there's a guy that I don't like because he doesn't have much of a compete level… and I don't think he's very brave… and you look at the numbers and his Corsi's high and his Fenwick close is high… he enters the zone with the puck 30% more times than he dumps it in… that would make me look and say… maybe I can overlook the fact that he's not very brave or he doesn't have big balls because that's what I like in a player."
With Murray's love of "Big Balls" in mind, it's clear to see last week's trade was all about making a major upgrade in the analytics of testicular fortitude.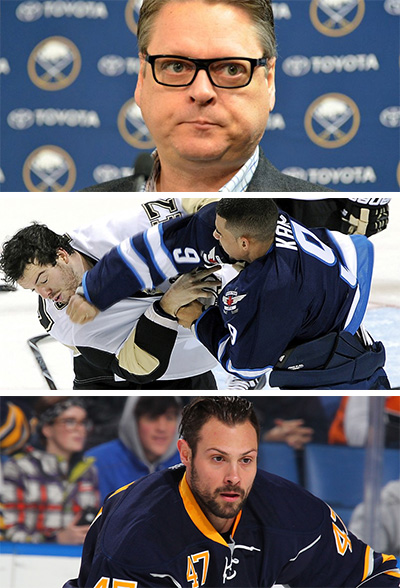 Out goes Tyler Myers… The picture of anti-aggression on ice. A relative pacifist of a defenseman who always left coaches, analysts and fans wanting more from a physical standpoint.
In comes Zach Bogosian… who in two games with Buffalo has been credited with 15 hits. Compare that to the aforementioned Tyler Myers who had just 46 hits in 47 games this year.
Out goes Joel Armia (and parts)… a player in which nearly every mention of his name was followed by "having trouble adjusting to the North American game."
In comes Evander Kane… a 6-foot-2-inch, 198-pound dynamo who plays with speed, skill, and sandpaper. He scores. He checks. He fights.
"He plays hard," Sabres general manager Tim Murray said in a news conference following the trade. "He plays in traffic. He doesn't play a perimeter game. He plays a heavy game. He scores goals from around the net. He plays the game right. He finishes checks. He's a good fighter. I don't know how much I want him fighting. But that's his character on the ice."
Myers and Armia were made to play in Darcy Regier's system–  guys with elite level skills that should be enough punch to carry the load during a meandering and coastable 82-game regular season. Regular season heroes that propel the team to 7th place year-in and year-out.
Kane and Bogosian are players made for Tim Murray– the kinds of insane nut-jobs that will damn near commit suicide to win a playoff series.
All this and Drew Stafford is finally gone, too!
Long Live Big Balls.